Headline Highlights: Miami and Miamians in the news in June
Our editors' picks for June provide a snapshot of recent news media coverage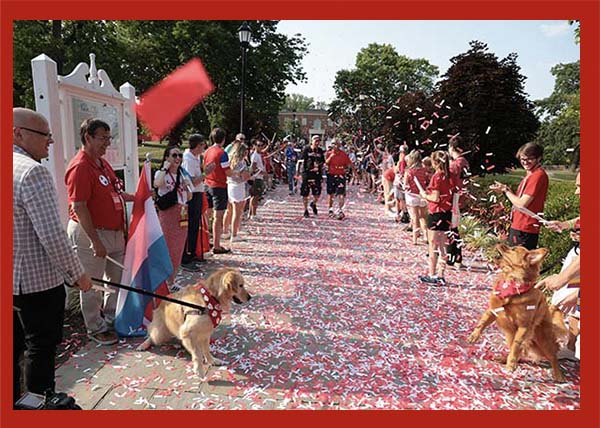 Newton (left) and Ivy enjoy the Alumni Weekend Parade, held June 10 (photo by Scott Kissell)
Headline Highlights: Miami and Miamians in the news in June
Newton (left) and Ivy enjoy the Alumni Weekend Parade, held June 10 (photo by Scott Kissell)
Headline Highlights: Miami and Miamians in the news in June
Our editors' picks for June provide a snapshot of recent news media coverage
Compiled by university news and communications
University Business, June 28:  How two college equity leaders advise navigating a changing climate amid backlash
This article on DEI in higher education features Darryl Rice, associate professor of Management.
CBS - WKRC, Ch. 12, June 25: 'Anti-dopamine parenting' can help encourage healthy habits
This broadcast news story discusses how sugar and screen time can affect a child's mind in the same way as dopamine.  Anna Radke, associate professor of Psychology, is featured. 
Forbes, June 19: KickGlass Pride Over Prejudice: Authenticity, Empathy, And Resilience Key To LGBTQ+ Loyalty
Forbes, June 13: How Businesses Can Prepare For The Future With Basic Scientific Discovery
This article, written by Miami President Gregory Crawford, details how businesses can better prepare for the future by implementing scientific discovery and research.
U.S. News and World Report, June 12:  Parent PLUS Student Loan Forgiveness
This article quotes Brent Shock, vice president for Enrollment Management and Student Success, regarding parent student loan forgiveness.
The Chronicle of Higher Education, June 12: A Martha Graham Moment
This article on the lasting legacy that Martha Graham left on the dance world quotes Ashley Goos, visiting assistant professor of Theatre.
The Conversation, June 10:  Supreme Court rules in favor of Black voters in Alabama and protects landmark Voting Rights Act
This article written by Rodney Coates, professor of Critical Race and Ethnic Studies, explains the June 8 decision of the U.S. Supreme Court to protect voting rights of Black voters in Alabama. 
CBC Radio, June 9: Noise-cancelling tech leaves us less able to listen, argues researcher
Mack Hagood, associate professor of Media and Communication, appeared on a new episode of Tapestry from the Canadian Broadcasting Corporation. The episode featured his research into silence, listening, and noise-cancelling headphones, as well as the social and personal opportunity costs of using headphones to control what we hear.
The Conversation, June 5:  How building more backyard homes, granny flats and in-law suites can help alleviate the housing crisis
This article was written by Murali Paranandi, professor of Architecture, and Jeff Kruth, assistant professor of Architecture, on the trend of ADU's (adaptive dwelling units) as a way to help ease the housing crisis.
Journal-News, June 2: Cincinnati State leaving downtown Middletown for Miami University regional campus
This article reports on the growing partnership between Miami University and Cincinnati State. Ande Durojaiye, vice president and dean for the College of Liberal Arts and Applied Science, is quoted.
NPR - June 1: The 1A Record Club remembers Tina Turner
This broadcast radio program on the life and music of Tina Turner features Tammy Kernodle, University Distinguished Professor of Music.