Miami's health services opening in new location June 6
Clinics operated by TriHealth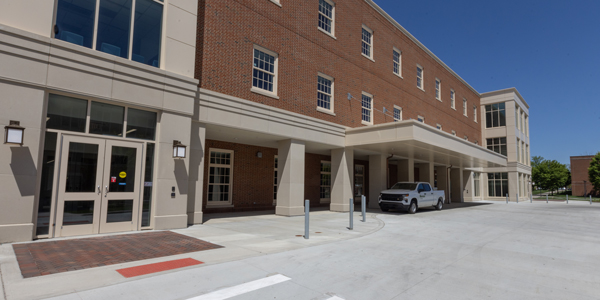 Miami University's Employee Health Center and Student Health Services are moving to a new home. 
Operated by TriHealth, the employee and student clinics will be open and available starting June 6 in the Clinical Health Sciences and Wellness facility, located at 421 S. Campus Avenue. 
One of the premier health care providers in the region, TriHealth provides a wide range of clinical, educational, preventive, and social programs.
TriHealth's Student Health Services provides comprehensive health care to students, and TriHealth's Employee Health Center provides high-quality care at no cost for faculty and staff. The new location offers 33 treatment rooms, compared to 23 previously. On average, more than 7,000 students and employees utilize health services each year with approximately 13,760 appointments.
"TriHealth is proud to continue our partnership with Miami University to provide health services for their faculty, staff, and students when they need it most," said Terri Hanlon-Bremer, TriHealth Executive Vice President and Chief Operating Officer. "The beautiful new Clinical Health Sciences and Wellness building is a health and wellness hub that provides centralized access to our high quality clinical services, ranging from acute episodic care to mental health care and travel medicine. We are honored to serve the Miami University community."
Steve Large, Miami's assistant vice president of health and wellness in the Division of Student Life, described TriHealth as "a consistently strong and collaborative partner" and highlighted their "patient-centered and compassionate approach in all that they do."
Health Services is not the only department transitioning to the new Clinical Health Science and Wellness facility. Miami's Student Counseling Service will also move into the new facility June 8 and features 37 counseling rooms and two group rooms equipped with new technology to facilitate treatment. On average, student counseling will serve 1,800 students and provide 10,500 appointments each year. 
Miami's Speech and Hearing Clinic moves from Bachelor Hall into the building and will be open for services June 20. The clinic serves more than 2,800 appointments and 670 patients from the tri-state area annually. 
With a square footage of 165,000, the building will also house multiple academic programs, including Nursing, Physician Associate Studies, and Speech Pathology and Audiology.
The new facility will also feature enhanced and expanded space for the Office of Student Wellness, providing increased opportunities for members of the Miami community to experience wellness practices in the building's "wellness studio." Other building features include a garden, cafe, group study rooms, and interprofessional lounges.
The new facility demonstrates Miami's commitment to the community's well-being, Large said. "It also speaks to the growing demand for well-trained health care professionals and the expectation for accessible and comprehensive health care services on campus. We are all so excited and grateful for this incredible new space."