University Communications and Marketing, Advancement win top awards from CASE Circle of Excellence
Miami also honored for multicultural campaign by The Communicator Awards
University Communications and Marketing, Advancement win top awards from CASE Circle of Excellence
Miami University Communications and Marketing (UCM) and University Advancement won seven CASE 2023 Circle of Excellence Awards, including a Gold Award from the Council for Advancement and Support of Education.
In another contest, The Communicator Awards honored Miami with an award of distinction for its Multicultural Campaign in the category, Campaign – Diversity, Equity & Inclusion.
CASE Circle of Excellence is the premier recognition program for educational advancement. Winners are selected based on factors including overall quality, innovation, use of resources and the impact on the institution or its external and internal communities, such as alumni, parents, students, and faculty and staff.  
In 2023, CASE received 4,021 entries from 583 institutions in more than 20 countries. Of those, volunteer judges selected 521 entries for bronze, silver, gold, or Grand Gold recognition.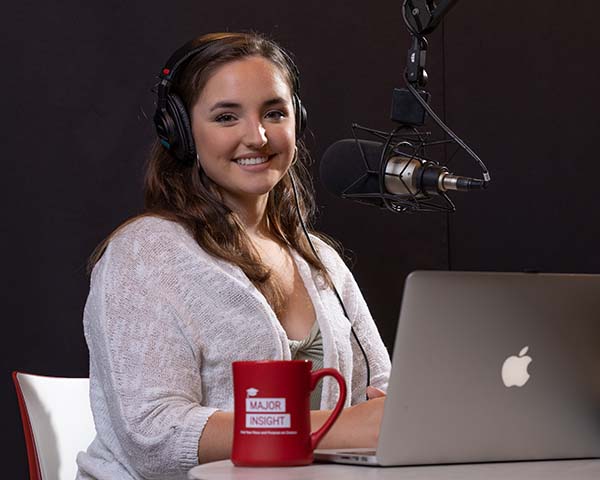 The "Major Insight" podcast, produced by James Loy, won a gold award from CASE. Meredith Aliff, a senior with a double major in Speech Pathology and Psychology, hosts the podcast.
University Communications and Marketing wins two CASE Awards
Gold — Communications/Podcasts (Frequent)
The project: "Major Insight" — Find Your Place and Purpose on Campus

Judges comments: "

Truly a team effort from Miami, with a podcast spanning all aspects of university culture from admissions to research to global initiatives. High-quality audio, engaging storytelling, and wise use of resources made this podcast a gold-winning entry."
Silver — Marketing: Branding (Institution — Brand Campaign Rollout)
The project:

Power of Will brand campaign

Judges comments: "

Miami University's superb Power of Will entry showed how to bring together all the ingredients for success in a brand campaign. A proper research phase, a strong and clear positioning, a sound strategy, smart creative execution, a fit-for-purpose budget and putting in place the correct measurements to track progress. Such a comprehensive and clear-eyed approach is all too rare in higher ed brand management. Judges loved the idea that prospective students and families are the authors of their own stories — what a great concept. Bravo, Miami!"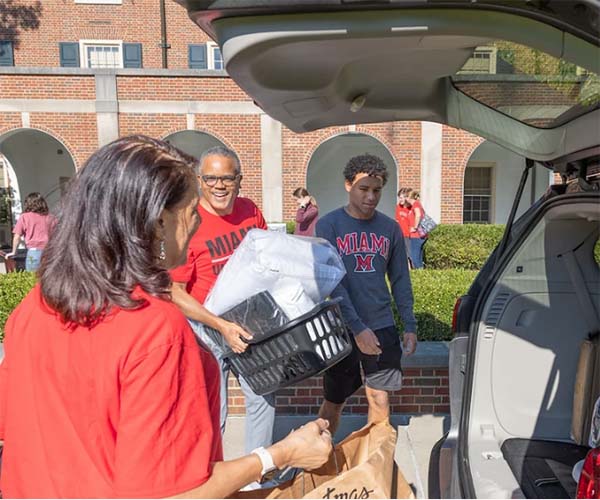 Miami's #MoveInMiami campaign, tied to the day first-year students move to campus, won two CASE awards.
University Advancement wins four CASE awards
Silver — Special Events: In-person – Multi-Day Events
The project:

Napa Wine Tour

Judges comments: "

The panel loved this entry as an example of an exceptionally-executed tried and true engagement trip. The judges were particularly fond of the attention to connecting the places and purpose back to the institution. This was not a trip to Napa just because it's Napa — this was a trip meaningfully tied back, at each turn, to institutional values, message, and impact. This strategic and thoughtful execution resulted in incredible ROI."
Silver — Fundraising/Flash Campaigns/Giving Day Campaigns
The project:

#MoveInMiami

Judges comments: "

This is a great example of using the multi-channel approach. Capitalizing on a strong memory for alumni to leverage engagement has proven successful. Perfect example for other universities to look toward for giving day/flash campaigns."
Bronze — Fundraising: Donor Relations and Stewardship Initiatives
The project:

Individualized Stewardship Strategies

Judges comments: "

The judges found the entry to be solid, showcasing a remarkable outcome that held significant meaning. The quality and impact of their work were highly regarded, reflecting their dedication and commitment to achieving tangible results."
Bronze — Marketing: Micro-sites (Fundraising)
The project:

Miami University Development website

Judges comments: "Judges saw this as a well-executed redesign. Judges appreciate the planning phase, with solid peer and market research employed to make the case to seek approval for a new approach to the institution's giving site. The result: A fresh, new, user-friendly site that has strong appeal and is enjoying a solid increase in traffic and site usage."
Bronze — Special Events/Online Fundraisers
The project: #MoveInMiami 

Judges comments: "Miami University should be proud of its successful #MoveInMiami day of giving, which saw over 5,000 supporters contribute to worthy projects and groups across the campuses. The theme of "Small Acts. Big Impact." was made a reality, and the commitment and support shown by alumni, family, and friends is truly inspirational. The nostalgic tie-in to first-year residence halls was a smart move that generated healthy competition among donors and brought awareness of private support to the student body."