Brent Shock to retire as EMSS leader
Alumnus worked more than 30 years at Miami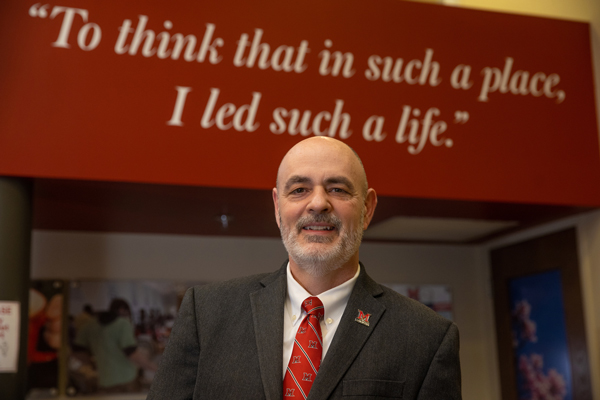 After more than 30 years working at Miami University, Brent Shock '92, vice president for Enrollment Management and Student Success (EMSS), has announced plans to retire at the beginning of the next calendar year. 
As vice president, Shock provides leadership to the offices of admission, the bursar, registrar, student financial assistance as well as One Stop, Center for Career Exploration & Success, and the Student Success Center. In addition to ensuring compliance with the awarding of federal, state and university aid programs, he works closely with university leadership to ensure enrollment and student persistence goals for the university are met. 
"Miami University is grateful for Brent's dedication, goodwill, and compassionate leadership over the last three decades," Miami University President Gregory Crawford said. "His resourcefulness, persistence, and collaborative spirit helped to lead us through the challenges of the pandemic. His student and family-centered approach to enrollment has changed the lives of tens of thousands of students and given them a head start toward student success."
Under Shock's leadership EMSS has partnered with other divisions throughout campus to improve outcomes for students and provide direct support to students and their families. The team and its partnerships have supported remarkable results for Miami. Miami has a 89% percent first-to-second-year retention rate, a 73% four-year-graduation rate, and a 83% six-year-graduation rate. These rates are among the best for Ohio public universities. 
"I came to Miami as a first-generation college student, and my four years as a student at Miami completely changed me," Shock said. "Over the last 31 years as an administrator, it's been an amazing experience to witness first-hand the power of a Miami education to change and better lives." 
Shock and his team also led the development and implementation of an enrollment plan to attract the largest first-year class in the institution's history, while maintaining an exceptionally high quality pool of applicants. 
"The heart and soul of Miami is its faculty and staff," Shock said. "There is no finer group of leaders than the individuals who provide leadership to each of the offices in EMSS. Collectively, they represent nearly 140 years of Miami experience. It has been the honor of a lifetime to work with them day in and out."
Prior to being named vice president in 2019, Shock served as the director of financial aid.
Shock earned a bachelor's degree in 1992 from Miami. After graduation, he joined Miami's financial aid office. He served as an interim clerical staff member, then counselor, assistant director for student employment, and associate and senior associate director of systems prior to becoming director of financial assistance in 2011.
"Our executive team will greatly miss Brent's institutional knowledge, kind demeanor, and Miami pride," Crawford said.
Miami will begin a search for the next vice president immediately with hopes to install the new leader by January.