Miami a 'special place' for university's senior vice president for Student Life
Jayne Brownell has developed strong relationships across campus over last 10 years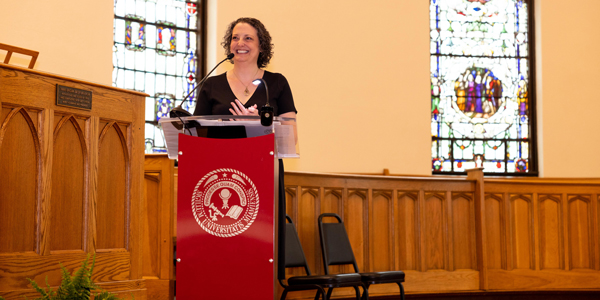 Jayne Brownell, senior vice president for Student Life, speaks at an event earlier this year.
Miami a 'special place' for university's senior vice president for Student Life
Jayne Brownell, senior vice president for Student Life, speaks at an event earlier this year.
Jayne Brownell has spent nearly a decade helping Miami University students succeed and thrive. It is, she said, the best part about her job.
The second best part? Building relationships — with students, colleagues, and across campus.
Those aspects will continue to be instrumental for Brownell as she takes on the role of senior vice president for the Division of Student Life.
"I think students change, grow, and develop more in this four-year span than at any other point in their lives, except for the first four years," Brownell said. "It's special to be a part of this really important stage in students' lives."
Brownell previously served as vice president of Student Life. She joined Miami in March 2014 and represents the division as part of President Gregory Crawford's cabinet.
"Jayne's care and compassion for student success and wellness are extraordinary," President Crawford said. "She sees the bigger picture and has worked tirelessly to create strong and meaningful relationships within the Miami community. Her expertise and insight are vital to providing an outstanding student experience."
Brownell's division focuses on enhancing the quality of student life and realizing Miami's vision of an environment in which the education of the whole student is a central value of the university.
Evolving to meet the needs of today's students is critical, Brownell said.
"There is a lot of energy and enthusiasm about being creative," Brownell said. "We are with students 24-7 in a relatively isolated environment. Miami attracts people who want to be there for that broad experience and who care about the student experience. That makes it a special place."
And this is a special time of year, too. Brownell considers this her favorite season, as students return to campus for the fall semester.
Classes begin Aug. 28.
"The energy just builds and builds over the next few weeks," Brownell said. "I always wish people a 'happy new year' now because this is the real start of my year."