Mother, daughter live in same residence hall room 33 years apart
First-year student Sarah Bowling will live in the same Emerson Hall room her mother Laura Everett Bowling '94 lived in 33 years ago. What are the odds of being assigned to the same room? About 1,099 to one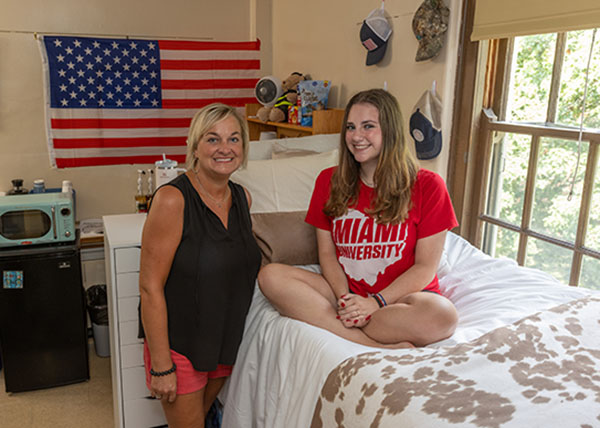 Move-In Day 2023: Laura Everett Bowling '94 (left) and her daughter Sarah Bowling in Sarah's Emerson Hall room (photo by Scott Kissell)
Mother, daughter live in same residence hall room 33 years apart
Move-In Day 2023: Laura Everett Bowling '94 (left) and her daughter Sarah Bowling in Sarah's Emerson Hall room (photo by Scott Kissell)
Incoming first-year student Sarah Bowling was floored when she received her housing assignment for the 2023-24 academic year. By random chance, she will live in Emerson Hall and the exact same room that her mother, Laura, moved into during the fall of 1990.
"When my mom told me, we both screamed over the phone, and I was in total disbelief," said Sarah, a 2023 Cincinnati Hills Christian Academy graduate who will major in Integrated English Language Arts Education (grades 7-12). 
Laura Everett Bowling graduated from Miami in 1994 with a bachelor's degree in Marketing and currently serves as the senior account manager for Cincinnati Magazine in advertising and event sponsorship sales. "My first reaction was total and complete surprise, and absolute shock. I just couldn't believe it," Laura said. 
"I was hoping she would be in South Quad just because that was where I lived, but never ever expected her to be in Emerson, let alone in my exact room."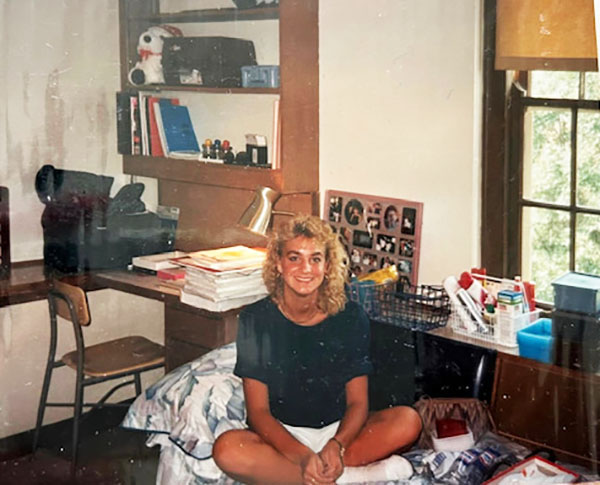 Laura Everett Bowling on Move-In Day 1990 in her Emerson Hall room
Both are looking forward to Move-In Day on Aug. 24 when Miami welcomes more than 4,000 first-year students to the Oxford campus. 
Miami University has many stories of students following in their parents' or older siblings' footsteps. They begin visiting campus as toddlers, wearing Miami-branded attire, joining their parents for Alumni Weekend and sporting events, all while developing a craving for Bagel & Deli and a love for the beautiful Oxford campus. 
Miami is home to many third- and even fourth-generation students, but this may be the first case of a mother and daughter occupying the same room 33 years apart.
"The odds of being assigned to the same residence hall of a parent are about 0.1 %," said John Bailer, Distinguished University Professor emeritus of Statistics. 
With 4,474 residence hall rooms on campus, the odds against being placed in the same room 33 years later is 1,099 to one, he said, basing it on the 1,100 dorm rooms allocated to first-year female students. One is more likely to be audited by the IRS than to be placed in the same room as a parent.
Laura first visited Miami as a middle schooler and fell in love with the campus.
"My older brother also attended Miami, so I visited him often in high school. We attended hockey games, and I spent the weekend for Lil Sibs Weekend, which sealed the deal on my decision," she said. "Miami was the only university I applied to. I applied for Early Decision, just like my daughter Sarah did. I still remember the day I got my acceptance letter in the mail in December 1989." 
Sarah said she "absolutely loves" the campus, too. "It just feels like home."
As they prepare for move-in day, Laura said,  "We are much more prepared this time around. In 1990 we didn't have pictures of the dorm rooms to help plan what to bring to campus. There are so many more fun options for dorm decor and storage now, so I'm sure Sarah's room will be much cuter than mine." 
Sarah's must-have for her new home in Emerson Hall is her guitar. "I feel most at home when I'm playing music," she said. 

As for the room, Laura recalled a pullout couch type of bed with a storage bin next to it. Both are now gone.
"I wonder if the desk is the exact same desk!"
One huge difference is that Sarah will come to campus with a Macbook Pro, whereas her mother used a "fancy Smith Corona Word Processor as nobody had personal computers then."  
Emerson, one of 46 residence halls, was dedicated in 1970. Over the past 53 years, Emerson has received many updates to keep the building modern and inviting to students. Originally built to house women, Emerson, along with all university residential facilities, is considered coed, a big change from the all-female housing Laura experienced in 1990.
The lack of computers caused headaches in registering for classes. Laura shares, "We signed up for classes by searching for the course in a paper book that listed all available sessions. We would circle the times we wanted (trying not to overlap any classes) and call the number in the book to sign up. If we had complications, we went to the registrar's window and stood in line." 
Thanks to modern technology, Sarah will experience a seamless registration, all completed online.

Aside from a campus address, mother and daughter share a love of Miami Ice Hockey, Bagel & Deli, and Kofenya Coffee — which will likely be their meeting location to catch up on college life. 
Laura is grateful for her lifelong friendships as a Miami student and "the professors who mentored me and assisted me in finding my first job out of college." 
While attending Sarah's orientation last month, Laura said she caught herself smiling ear-to-ear while walking around and showing her daughter various things. 
"It's a happy place for me with some of the best memories of my life." 
Sarah can't wait to start making some of her own.
"I am so excited for classes to begin," she said. "Like most people, I am a little nervous, but I also have a sense that I am coming home. Miami is where I am supposed to be."