Andrew Jones in Cincinnati Magazine profile: 'Pioneering psychedelic research for mental health treatment'
Bioengineer Andrew Jones is conducting groundbreaking research on using genetically engineered bacteria to produce hallucinogens with therapeutic potential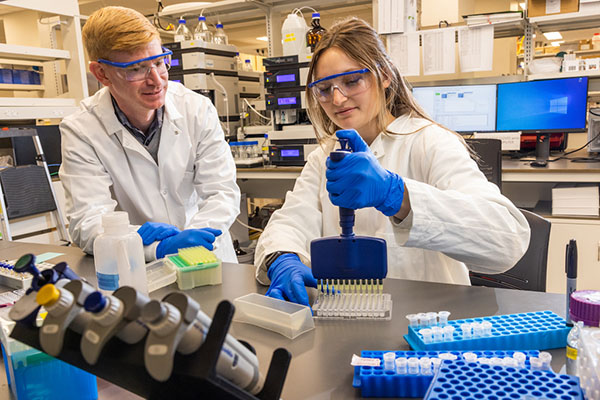 Andrew Jones with Fiona Kanis '23 in the lab
Andrew Jones in Cincinnati Magazine profile: 'Pioneering psychedelic research for mental health treatment'
Andrew Jones with Fiona Kanis '23 in the lab
In recent years, psychedelics have gained attention as a potentially effective option for treating mental health disorders such as depression and anxiety. 
Andrew Jones, associate professor of Biomedical Engineering, aims to create sustainable chemical production processes that can be used to make pharmaceuticals that may eventually become mainstream treatments. 
He describes his research as seeking sustainable, scalable options that cost about the same as traditional production mechanisms. 
Read the article "This Miami University professor is pioneering psychedelic research for mental health treatment" in Cincinnati Magazine (Sept. 6).