Cultivating Place podcast "Back to School: The Institute for Food Farm at Miami University" spotlights Miami's sustainable plant education programs
Learn about Miami's farm and more on this episode of 'Cultivating Place: Conversations on Natural History and the Human Impulse to Garden'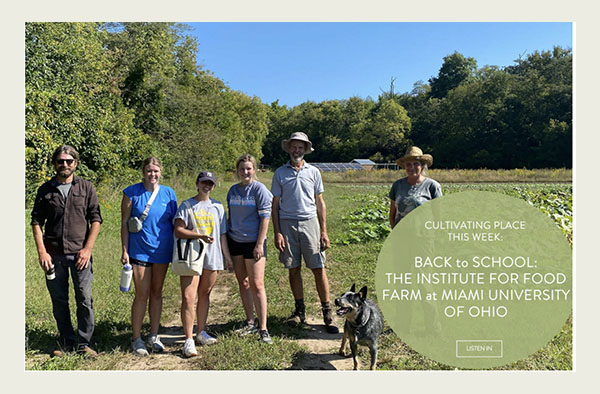 Cultivating Place podcast "Back to School: The Institute for Food Farm at Miami University" spotlights Miami's sustainable plant education programs
Cultivating Place podcast host Jennifer Jewell spent a day at Miami learning more about and interacting with faculty, staff, and students and getting a better understanding of the many ways plants and sustainable plant education is integrated into the campus and curriculum. Organized by Ann Rypstra, University Distinguished Professor of Biology, Jewell's visit last fall included Miami's Ecology Research Center, greenhouses, a Miami Tribe of Oklahoma informed garden, and the Hefner Museum of Natural History. 
Jewell spent a "Back to School" day at Miami's Institute for Food Farm during Miami's Move-In week, where she interviewed Ross Olson, assistant director and farm outreach coordinator; Colin Valantino,
combined bachelors and masters in Environmental Science
student doing his practicum with the farm; and Aisley Carpenter, Zoology major and Environmental Science co-major, a student worker at the farm.