Newly named residence hall honors David and Valerie Hodge
David Hodge was Miami president from 2006-2016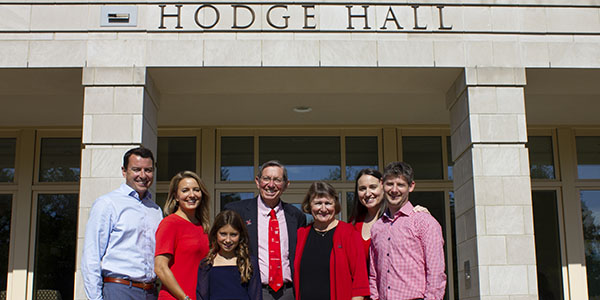 Make Miami more Miami.
That, recalled Don Crain '70, was the first objective of David Hodge when he was hired as president of Miami University in 2006. Hiring a new university president was one of the first tasks for Crain when he joined Miami's Board of Trustees, and he said Hodge made the decision an easy one. 
Crain was among the speakers during the Sept. 22 dedication of Hodge Hall, formerly Stonebridge Hall, a residence hall established in 2014 on Miami's Western Campus. Several members of the Miami community gathered in Hodge Hall's Michael Schwerner Lobby for the event, which honored David and Valerie Hodge, who served as president and university ambassador, respectively, until 2016. 
"Collectively, you made Miami better. Much better," Crain said of the Hodges.  
"David and Valerie, this is the much better Miami that you created. Yes, we faced great challenges, but with the help of the people that you hired, and developed, and a strong board of trustees, your leadership, your inspiration, and your passion made Miami a better place and a much stronger and vibrant institution." 
Current President Gregory Crawford and University Ambassador Dr. Renate Crawford highlighted many of the accomplishments of the Hodges' tenure — from sustainability efforts to infrastructure to academic excellence. 
"For a decade, from 2006 to 2016, President David Hodge and University Ambassador Valerie Hodge magnanimously led Miami University, further heightening and reinforcing Miami's commitment to the student experience and the teacher-scholar model," Renate Crawford said. 
President Crawford noted the renovation of residence halls and dining halls, and the construction of Armstrong Student Center, all happened during that time, as well as geothermal efforts that have reduced the carbon footprint at Miami by more than 50 percent. 
The transformation of the Myaamia Project to the Myaamia Center also occurred during the Hodge era, as did the implementation of the Code of Love and Honor. 
"Today, the Code of Love and Honor is what we stand for," President Crawford said. "It's our values. It's our virtues. It's what we believe in and our expectations for all of us and all other Miamians." 
With family, friends, alumni, and faculty and staff — past and present — in attendance, the Hodges reflected warmly on their decade at Miami. 
"This is welcome home for us," Valeria Hodge said. "Miami was a wonderful place, and we can't imagine who we would be if we hadn't been here." 
During the recruitment process for his presidential role, David Hodge quickly identified two overarching themes that dominated their time at the university. 
The first was the incredible dedication of everyone involved with Miami. "We used to joke it was in the water," he said. 
The second was the mission and vision of creating a vibrant learning and discovery environment that produces graduates of uncommon quality. 
"Think about that," David Hodge said. "The Miami experience, which takes all the aspects of one's life — character, intelligence, value — all those things and puts them together. It's a remarkable, remarkable place. 
"Whatever we may have given to the university, the university has given back to us tenfold." 
Valerie Hodge said, "I think David and I both feel that we lived that phrase, 'To think, that in such a place, we lived such a life.'"