Resources available regarding new Ohio voter ID requirements
Miami's Voting Rights webpage helps outline process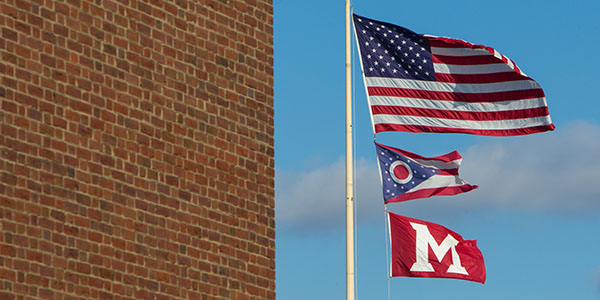 New ID requirements are in place for those planning to vote in Ohio's upcoming election on Nov. 7.
In-person voting requires one of the following: an Ohio driver's license, interim ID form, or Ohio ID issued by the Ohio BMV; U.S. passport or passport card; or a U.S. military, U.S. Department of Veterans Affairs, or Ohio National Guard card.
To vote by mail using an absentee ballot, one of the following:, the last four digits of the voter's social security number; Ohio driver's license number or Ohio ID number; or a copy of one of the in-person voting documents is required.
More information is available on Miami's Voting Rights page.
"Any student from outside of the state of Ohio who is interested in registering to vote and voting in the state of Ohio should thoroughly review the voting rights website," said Kimberly Vance, director of the Center for Student Engagement, Activities, and Leadership. "If they still have additional questions, they can use the related links to connect with people who can help them make the best decision for their circumstances."
More information can also be found at VoteOhio.gov and Elections.BCOhio.gov.
Kathie Brinkman, communication director for the League of Women Voters of Oxford, noted there is an Oct. 31 deadline for the Board of Elections to receive any vote-by-mail applications.
"It is paper, not an online system," Brinkman said. "You can go to VoteOhio.gov, print off an application, fill it out, and then put it in the mail. If someone doesn't have the ability to print, they can call the Butler County Board of Elections and ask that an application be mailed to them."
Miami's Wilks Institute for Leadership and Service is teaming with several student organizations to sponsor activities and tables with voting information. That includes RedHawks Count, a student organization centered around non-partisan voter education and registration efforts. RedHawks Count will have a table in Armstrong Student Center and will be handing out pamphlets about the new requirements featuring a timeline of deadlines for processes of registering and voting.  
RedHawks Count also received a MIAMI Women Giving Circle grant earlier this year for the Democracy Bus, which will take students to the polls. RedHawks Count can be reached at RedHawksCount@MiamiOH.edu and found on Instagram under the @redhawkscount account.
While all voters are affected, students especially should be aware of the new requirements, Vance stressed. Some options for out-of-state voters wishing to vote in-person in Ohio require a change in residency and would void their out-of-state license.
"The recent changes to voter registration most impacts our out-of-state students who wish to vote in Butler County and the Oxford area," Vance said.