Miami physics professor honored with APS Fellowship
Jennifer Blue also serves as associate dean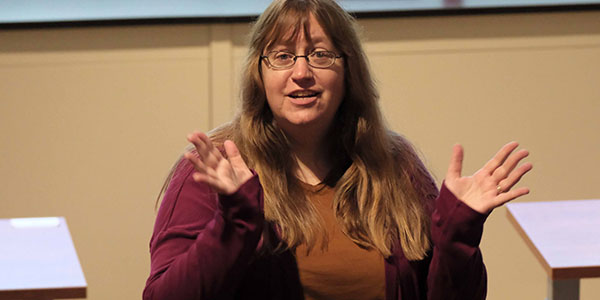 During Jennifer Blue's time at Miami University with the Department of Physics, Beverley Taylor served as her mentor, both officially and unofficially.
So, when Blue learned she had been recognized as part of the American Physical Society (APS) Fellowship Program for 2023, Taylor was one of her first calls.
It was fitting, since Taylor was the last from Miami to receive the honor, earning the distinction in 1999.
"It has been a real privilege to watch Jennifer grow and change," said Taylor, now a professor emerita of Physics. "I think our career paths had a lot in common, which is part of the reason we worked so well together."
Blue arrived at Miami in 2002 as a visiting assistant professor. Now a professor of Physics and an associate dean of the College of Arts and Science, Blue is especially passionate about being an advocate for marginalized communities in physics and astronomy. Her citation from the APS noted her advocacy as well as "pioneering investigations into gender dynamics in physics."
Created as a way to identify those who make advances in physics through original research and publication, the APS Fellowship Program awarded its first citations in 1921. In that time, only Taylor and Blue have been recognized for work while at Miami. James Garland, Miami's 20th president, earned the distinction in 1985 while teaching at Ohio State.
Blue's interest in inequities in science started as a student at Haverford College when, for the first time, she was the only woman in a physics class.
"I had a lot of support. It was just sort of startling to sometimes be the only woman in the room," Blue said.
Making introductory courses more friendly and giving students opportunities to speak to one another in class to prevent isolation are part of Blue's strategy for building a welcoming environment.
Her students conduct science education research, which recently included projects on test anxiety, imposter phenomenon, and what high school attributes could make for a successful transition to college.
"We are really coming at it from a lot of different ways," Blue said. "We are trying to make sure that people feel comfortable in their science classes and majors. Miami is making a big effort, and awareness is part of that."
Blue's fellowship is a rare one. According to the APS, "no more than one half of one percent" of APS members are recognized with the status of fellow by their peers.
"It is really well deserved," Taylor said. "Jennifer has made a big impact, in the last few years particularly, on the view of diversity in the physics community."
Taylor's own citation in 1999 mentioned her work designing education materials for K-12 teachers, as well as "developing and publicizing the physics of toys."
Blue was thrilled to be cited in the same manner as her mentor, and she's used some of Taylor's techniques during professional development with elementary school teachers.
"It is a great honor to share with her," Blue said.