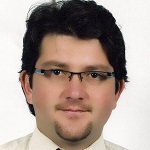 Dr. Mert Bal
Welcome!
Thank you for visiting the website of the Department of Engineering Technology at Miami University and considering us for your future career pathway. We are here to train you to meet the engineering technology needs of Ohio and beyond.
The ENT department offers both Associate and Bachelor of Science in Applied Science Degree programs in various disciplines of Engineering Technology.  Our degree programs will provide you with a strong background in engineering technology while allowing you to specialize in the engineering technology field of your choice.
Miami University's Bachelor of Science in Applied Science: Engineering Technology is a degree that provides you with an opportunity to work as an engineer with large, medium and small engineering companies and is available in both a remote and face-to-face format. We offer bachelor's degrees in three concentrations: Electromechanical Engineering Technology, Electrical and Computer Engineering Technology and Mechanical Engineering Technology, all of which are accredited by ABET, the Accreditation Board for Engineering Technology. We have also started a new bachelor degree concentration in Robotics Engineering Technology.
Our BS degree program courses are offered via distance learning to a range of selected college partner locations in Ohio.
ENT department also offers two ABET-accredited Associate in Applied Science programs in Electrical & Computer Engineering Technology, and Mechanical Engineering Technology.
All of our programs offer solid foundation courses found in traditional engineering technology degrees including a one-year senior design capstone and opportunities for co-op and internships.
In this website, you will find plenty of information and details to learn more about our degree programs, employment and scholarship opportunities, distance-learning programs, college transfer partnerships, our faculty and more.
Please feel free to reach out if you have any questions about our majors or need more information about the Department of Engineering Technology.