Darrel Grissom
Position: Head Coach/ Director of Baseball Operations
Hometown: Hamilton, Ohio
Alma Mater : Talawanda High School
Experience: 23rd Season
Graduated: 1974
Darrel Grissom is the current Head Coach and Director of Baseball Operations for the Miami University Hamilton Harriers. Coach Grissom is entering his 23rd season leading the Harriers. Under Grissom's guidance, MUH has won 17 of 19 conference championships, 17 of 19 conference tournaments and has averaged more than 30 wins a year in the ORCC.  Beginning in the 2022 season, Grissom led the Harriers into a new association:  The United States Collegiate Athletic Association (USCAA).  In their first year, the Harriers finished as the national runner-up, compiling a 25-20 record.  Coach Grissom was named National Coach of the Year in his first year in the association.  During Coach Grissom's coaching career he has compiled a record of 683 wins and 356 losses and one tie over 22 full seasons as Head Coach, making the Harriers one of the most dominant baseball teams in the state of Ohio.
In 2009, Grissom set out on a new baseball venture, co-founding the Hamilton Joes of the Great Lakes Summer Collegiate League (GLSCL).  The Great Lakes League is one of only 10 summer collegiate wood bat leagues in the US sanctioned by the National Alliance of Collegiate Summer Baseball (NACSB).  It is funded in part by Major League Baseball and consists of MLB draft prospects from around the nation.  As the inaugural Head Coach of the Joes, Darrel had the opportunity of working with elite athletes from all levels of college baseball.  In 2010, the Joes completed their second season by winning the GLSCL championship and ranking 12th overall nationally.  In 2013, Grissom took on a new role with Joes as the organization's General Manager.  He has since also taken over the role of President of the GLSCL.  The Joes are currently coached by former Harrier Tyler Thamann.
The Joes have since won 3 additional GLSCL championships: 2016, 2021 and 2022.  The back-to-back 2021 and 2022 teams were coached by current Harrier coaches Tyler Thamann and Ryan Finnerty.  Since 2009, the Hamilton Joes have had 55 players sign professional contracts.  Five alumni have made it to the Major Leagues (Brent Suter, Ryan Rua, Matt Marksberry, Andy Young, and Hunter Owen).
Off the field, Darrel is married to his loving wife, Jill, of 48 years and has three children; Amy Baker, Niki Hudson, and Adam Grissom.  Darrel also has eight lovely grandchildren that love to call him "Pawpaw".
Contact information: grissodl@MiamiOH.edu | (513)-659-0746
---
Tyler Thamann 
Position: Associate Head Coach
Hometown: Mason, OH
Alma Mater: Miami University
Experience: First season
Graduated: 2019
Tyler Thamann has entered into his second season as a coach with Miami University Hamilton. He was an outfielder and catcher who played under Coach Grissom for 4 seasons while attending Miami University Hamilton. He played a big part to help Harriers win 2 ORCC championships. He also played with the Hamilton Joes collegiate team for two different summers. The team won the Great Lakes Championship in 2016. 
Coach Thamann was an assistant coach for the Hamilton Joes 18u team after his final season with the Harriers.  He was the outfield and hitting instructor with the team, along with coaching third base during the season.  In 2021 Coach Thamann took over as the head coach with the collegiate Hamilton Joes, and won the championship.  Returning in summer of 2022, the Joes were able to go back-to-back.
On the side, he also is coaching at OBSA, Ohio Baseball Science Academy.  He will be going into his second full year as a trainer there, working private and semi-private lesssons.  Thamann is the head of hitting, fielding, catching, along with speed, agility and strength training.
Contact Information:  thamant@miamioh.edu | 513-846-3641
---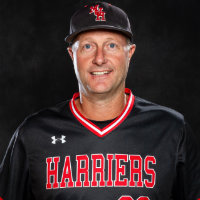 Jody Hansel
Position: Assistant Coach
Hometown: Hamilton, OH
Alma Mater: Ross High School
Experience: First season
Graduated: 1988
Jody Hansel is entering his first season as a coach with Miami University Hamilton. He graduated from Ross High School in 1988. Jody has helped with hitting development for the Ohio Force and the Midwest Prospects organizations. He will continue to assist in hitting development for the Harriers.
---

Ryan Finnerty
Position: Pitching Coach / Recruiting Coordinator
Hometown: Fairfield, OH
Alma Mater: University of Toledo
Experience: 2nd Season
Graduated: 2021
In 2023, Ryan Finnerty is entering his second season as Pitching Coach for the Harriers.  He also takes over this season as the Harriers' Recruiting Coordinator.  Prior to coming to Hamilton, Coach Finnerty spent 3+ seasons working on the staff at NCAA D1 University of Toledo.  During his time there, Coach Finnerty handled data analytics and scouting responsibilities, while also working with pitchers.
During the summer, Coach Finnerty has spent the last 8 years working with the Hamilton Joes of the Great Lakes Summer Collegiate League.  He is responsible for recruiting the players and also serves as the pitching coach.  Most recently, he, along with Coach Thamann, coached the team to the 2021 and 2022 championships.
Ryan Finnerty graduated from the University of Toledo in 2021 with a degree in Organizational Leadership.  He is currently finishing his MBA at Toledo.
Contact Information: finnerr@miamioh.edu | 513-255-0513