ThunderHawk (and Warriors) History
Miami University Middletown's Athletic teams are known as the ThunderHawks; however, up until 1998, they were known as the Warriors. In 1997, the Oklahoma-based Miami tribe withdrew its support for the Miami University "Redskins" nickname and the board of trustees voted to change the nickname to the RedHawks. The branch campuses followed and changed their nicknames as well.
A committee of students, faculty, staff, and alumni was given the task of finding an appropriate nickname for each of the branch campuses. After much discussion and a list of over 100 suggested names for the Middletown campus mascot, the mythical bird symbol of the ThunderHawk was chosen.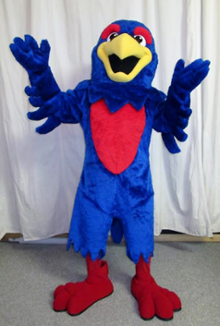 Known as "Flash" the ThunderHawk is a mythical bird symbol that was conceived out of the following folklore.
The legend of Thunderhawk was born when a young Cherokee warrior discovered the bird on the verge of death. Thunderhawk was only six months old and shot by a careless human. The young warrior, who was named "Running Deer" was foraging for food when he came upon the critically wounded hawk. It was a terrible day, with powerful thunderstorms ripping through happy valley.
As the youth picked the dying hawk up to look into its eyes, a tremendous clap of thunder echoed down from the heavens. The young Cherokee decided to name the beautiful raptor "Thunderhawk", to immortalize the moment that he and the bird had shared. It was an acceptance of each other and a lifelong promise to remember this powerful moment. Thunderhawk was an unbelievable sight. His massive body, the awesome blaze of white across the front of his body, the majestic manner in which he soared, and the way the sun glistened off of his striking red tail feathers made this hawk a sight to see!