Stories in the Rocks: MUH Alumni Turn Undergraduate Research into Careers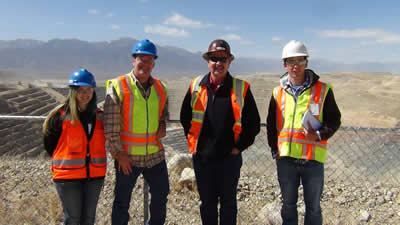 Dec 18, 2015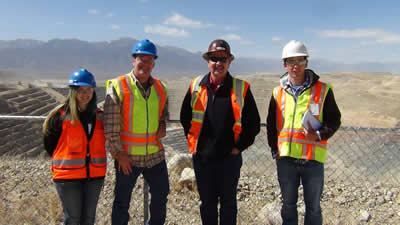 Pictured from left to right, during a visit to Round Mountain Gold Mine
in April 2015: Michelle Burke, Miami Hamilton alumna and a visiting
faculty member; Dr. Mark Krekeler, Miami Hamilton associate professor
of geology & environmental earth science; Dave Emmons, retired Chief
Geologist of Round Mountain Gold Mine in Nevada; and Sean Kelly, a
current Miami Oxford master's degree student.
Although much of her research has been done on the formation of native metal deposits, Miami University Hamilton alumnus Michelle Burke said that it was the stories in the rocks that drew her toward a geology major.
"You can learn a lot about what the earth was like in the past just by looking at the rocks that are present now," she said. "I also never realized all of the different things that minerals are used for."
A graduate of Colerain High School, Burke said that she enrolled at the Miami Hamilton campus with her major undecided. She even once scratched geology off of her list.
"That doesn't sound like me," she told herself. "I don't want to study rocks."
But then she took an environmental geology class with mineralogist Dr. Mark Krekeler.
"When it was over, he said to me, 'I know you're undecided, but you did really well in this class and maybe geology would be something you'd be interested in.'"
Then, he said the magic words: "So let's do a research project."
Burke was then given the opportunity to analyze samples of native copper from Michigan using the electron microscopes in the Center for Advanced Microscopy and Imaging on the Oxford campus. That led to more geology courses and presenting papers at national geology conferences as an undergraduate. Before she finished her bachelor's degree, she graduated from copper to silver, exploring the microscopic textures and learning to interpret the story of ore formation hidden in these metallic samples.
Burke said she learned that mineralogy and geology aren't just about pretty gemstones and shiny metals, but how these earthly compounds contribute to our society, used in everything from building materials and electronics to beer bottles and solar panels.
"All of these different things that we use every day all have mineral components to them," she said. "I think that learning about all these different minerals teaches you how important geology is to our society, which was one of the things that really drew me in."
She stayed at Miami University for her master's degree, moving up the precious metal scale from silver to gold, and her research caught the attention of officials at the Round Mountain Gold Mine in Nevada from where her samples originated. They invited her out to the mine where she got to collect her own samples and learn even more about the process of refining gold ore.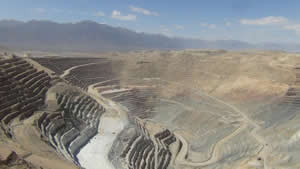 Now, she is working as a part-time instructor on the Miami Hamilton campus while continuing her research with Krekeler while she explores graduate schools to get her Ph.D.
Another of Krekeler's pupils, William Schellenbach, is now two years into his working career.
A 2003 graduate of Hamilton Badin High School, Schellenbach said he had no interest in science of any kind. After four years in the United States Marine Corps he enrolled at Miami Hamilton to study business.
Then he took Krekeler's environmental geology class.  And, like Burke, after Krekeler's class he began exploring the possibility of changing his major.
Still, he wasn't entirely convinced. So he travelled to Oxford one day to meet with his business advisor at the Farmer School to discuss the possibility of his transfer. He also decided to visit the geology department there, where he took a tour of the research labs and spoke with some of the professors.
It still took him a couple of weeks to make up his mind, he said, but Schellenbach finally decided to make the switch. Not long after, he started a research project on mine waste from a mine in Central Virginia. This research would be presented as poster presentations at conferences and eventually be published in a peer-reviewed journal.