Winning on the Court and in the Classroom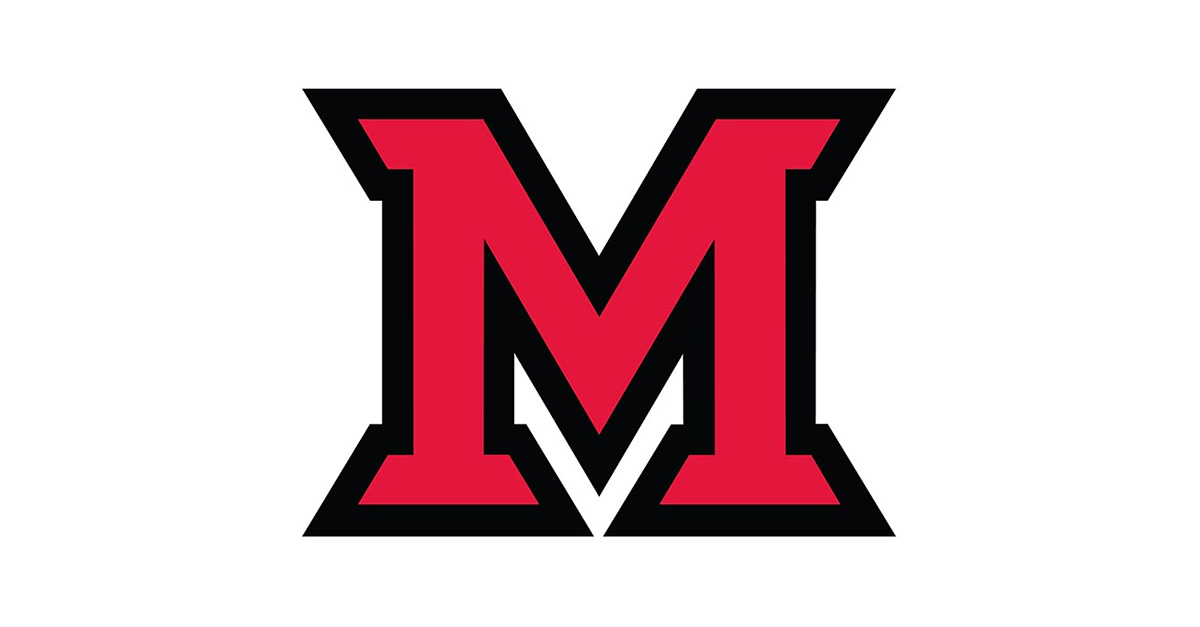 Feb 19, 2016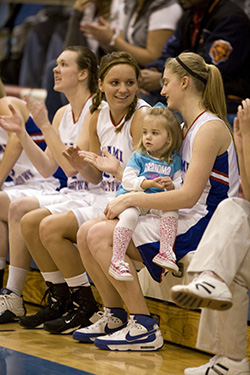 Shandar Musselman Thompson on bench during game with other players and her daughter McKayah.
Like many Miami University Regionals students, earning a degree was quite the balancing act for Shandar Musselman Thompson between her schoolwork, her job at a day care center, and her family.
But in addition to all that, she also excelled as a four-year member of the women's basketball team, for which she was recently inducted into Miami Middletown's Athletic Hall of Fame.
Shandar's first brush with Miami Regionals came when she graduated from Edgewood High School in 2001, where she was a stand-out basketball player, and enrolled at the Miami Hamilton as an education major.
"I have three sisters and the youngest are 10 years younger and 13 years younger than me," she said. "I always had a desire to help them with schoolwork to be with them. It seemed like a natural fit to go into education and I wanted to be a gym teacher."
It was a short-lived enrollment, however, as she soon discovered she wasn't quite ready for college, so she joined the Army.
"I thought going into the Army would make me more independent, give more meaning to my life at that time," she said. "They help pay for school, too, so there were a lot of incentives."
And after taking their aptitude tests, she entered the Military Police because "it was one of the better paying jobs and reputable job that I can use when I get out if I needed to. I could be a police officer and still be taking care of people, and that suited me."
What she really wanted was to play basketball for the Army team, and she did play some on her post, where she helped her team to great success, and was scouted by the All-Army team, who went so far as to request her high school records and video of her playing.
"But you have to go through your chain of command, and get an OK to do that," she said, "and they would not give that because of the need for the position that I held."
When she got out, she got married and started a family, and soon realized that in order to get to the next level of finding some professional success, she had to get back to college.
"I started contacting colleges to look into taking courses after my daughter McKayah was born," she said, "and then Jim Sliger, Miami Middletown's Athletic Director called me."
Her name had come up because Dave Hall, one of the assistant coaches at Miami Middletown had worked with her at Middletown High School where she was a varsity player as a freshman and sophomore before her family moved to the Edgewood district.
So they asked her if she was interested in joining the women's basketball team.
"I told them I just wanted to go to school and get my degree so that my daughter sees that hard work pays off and things aren't given to you free," she said. "We had a few discussions because I wanted it to be clear that my daughter was my first priority, and then school, and then I would do the basketball thing. I thought it would just be something fun, but it turned into a little bit more than just fun."
Indeed, she met with great success, named to the Academic All-Conference squad three times from '08-10 and won the Lynn Darbyshire Warrior Award in 2008. She finished her career as the all-time leader in rebounds and blocked shots with 808 rebounds and 56 blocks. She averaged 13.91 points per game and 10 rebounds per game.
Coach Rick Burns said that he got more than just a star player.
I've been coaching women's basketball for over 20 years and she's one of the best players I've ever had.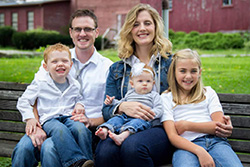 Shandar Musselman Thompson pictured with her husband Curt and their three children.
With Shandar, he also got a team leader, and in her daughter McKayah, a mascot, a cheerleader and a surrogate family.
"Shandar was a great competitive player," he said. "When the ball went up, she was going to get to it and nobody could stop her. But her biggest asset was her leadership, both on the floor where she showed all the younger girls what they needed to do and off the court where she could talk to them and they looked up to her not only because she was older but because she was a hard worker."
Coach Burns said he remembers that McKayah was just a babe in arms and that Shandar was quite concerned about her welfare while she was on the court.
"We're not a big-time program and she obviously needed a little help, so it wasn't any problem to bring her to practice," the coach said. "Through the four years, she went from being held in your arms to walking around with me. To keep her from roaming off while they were practicing, I'd keep her hand-in-hand and keep her busy so her mom wouldn't worry about her. We'd walk around the floor and she'd learn her letters from the letters on the floor. And she'd get after them to run harder and faster."
"We developed a good little relationship."
Shandar's husband Curt played basketball on the men's team, so Coach Burns got to know him, too, and they soon began interacting as a family.
"She knew how bad I wanted my boys to have kids so I could be a grandpa," Coach said, "so she let me practice on hers."
And they are still close, even going on vacations together.
"That's one of the great things about going to a smaller campus," Shandar said, "building relationships that last a lifetime. He's like a surrogate grandparent."
Now with two more children, Shandar has worked at "a phenomenal private school," the Overfield School in Troy for six years.
"Our philosophy is a lot different than most schools. We are Reggio Emilia-inspired school, where we are child-centered," she said. "We teach critical thinking at a young age. We want to know kids' thoughts and how they come to the conclusions they come to so they learn to think on their own at a younger age."
"I'm not a gym teacher yet, but I may be coaching next year."
Being inducted into the Hall of Fame was a remarkable honor for Shandar, she said.
"When I was there, I never expected anything this amazing to happen," she said. Now I am able to tell my kids about it, and I feel like I'm setting a good trend in my family.
"I'm setting the bar high."