Journeys to Miami Regionals: From the Navy to Advocacy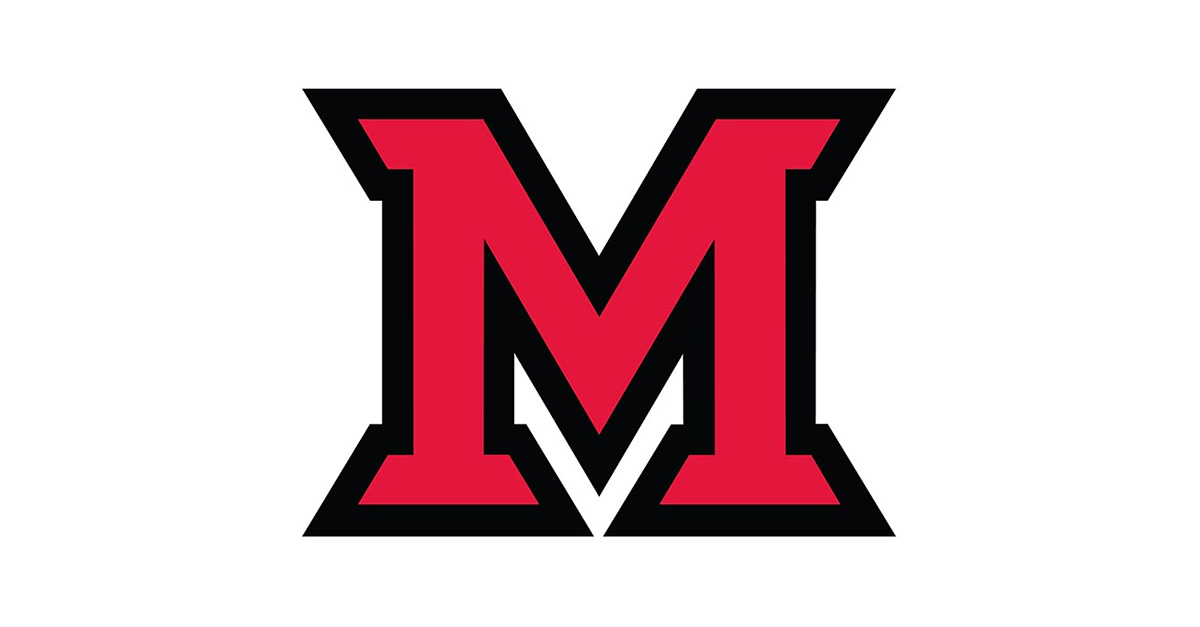 Apr 12, 2016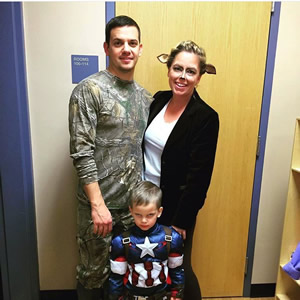 Jessica Rollins with her husband and son, Finn trick-or-treating with Campus Kids.
During her eight years in the U.S. Navy, Jessica Rollins saw a lot of good sailors get sent home because they fell in with the wrong crowd or otherwise fell victim to addiction issues.
And when they got out, she observed, they were left to fend for themselves.
"Once you're separated, you're no longer the military's responsibility," she said, "so they don't have a system for continuing treatment for people who are diagnosed with addiction issues."
"I feel there's a big need there," she said, so when she got out in the summer of 2013, she began looking for a way to help, and ended up seeking a liberal studies degree at Miami University Hamilton. In May Jessica will be among one of the first students to graduate with a liberal studies degree.
Unlike her husband Jessica isn't from Hamilton. She grew up in Jacksonville, Florida. She met Daniel Rollins while they were both stationed in San Diego working on planes together. She was an aviation structural mechanic, and he was an aviation electronics technician.
"I was doing tire changes, hydraulic work, metal work, painting, corrosion repair, brake work—taking care of everything you can see on the outside of the plane," she said. "He took care of the communications and wiring—all the stuff that I broke with my hammers."
Consequently, "we didn't like each other at first," she said. "He kept getting in my way when I was trying to work."
But they solved their differences, enough that they had three children before leaving the Navy. He had a job waiting back home, so they decided to settle here.
As it turned out, Jessica married into a Miami family. Her mother-in-law and sister-in-law are both alums, and her brother-in-law will graduate with her in the spring.
"I was looking at all kinds of schools," she said, "but I didn't want to drive all the way to Cincinnati to go to U.C. and I didn't want to risk the quality of my education with one of those on-line schools, so I inquired about Miami. Since it was five minutes from my house, I could get my degree and do what I want to do and move on with my life."
She said attending the Hamilton campus has been a "colorful" experience. Being a non-traditional student, she said it took some getting used to being around so many younger people, but there was enough diversity on the campus to keep it interesting.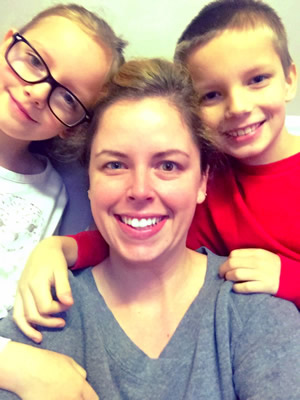 Jessica Rollins with her children, Ayden and Shelby.
"I've been around the world and have a lot of life experience that way, but I can have a single mom sitting next to me who has life experience that way. We both can make life connections that contribute to our learning, and that's what critical thinking is."
While on campus, she has gotten involved with the Students Veterans Association, currently serving as vice president, and started the parent's fundraising committee for the Campus Kids program, where she takes her youngest child.
"I've had wonderful professors in the sociology department," she said. "They've been amazing. There's a lot of brilliance here and it makes me want to learn more."
Although she still needs to get her master's degree to fulfill her ambition of being an addictions counselor for service members and veterans, she's going to enter the work force while she pursues that goal. Although she's not yet 30, she worries about her advanced years.
"When my dad got out of college he was a lot older than other people going into the work force and he had a hard time because of that," she said, "so I need to be in the work force while I continue my education. I'll be looking for advocacy type jobs that my degree will help me with while I'm working on my master's, someplace where I can put my bleeding heart to use and eventually be where I want to be.
"With my liberal studies degree, I've been learning a lot about inequalities and I've been taking a lot of social health courses, so with that I can move on to my addiction counselor's degree with a background to be able to better understand everybody, because not everybody is going to be a white female that comes into my office," she said. "I'll get people of all different colors, gender identifications, religious backgrounds, so in order to do that, I need to be able to be empathetic and understand that not everybody's story is the same."
"I believe that my education here has solidified my desire to listen, to be an advocate," she said. "It's something I knew and felt before I stepped into the classroom, but my degree helped prepare me to do it in reality. There are so many challenges and so many people need empathy, they need someone to stand with them and fight. I learned how to that better at Miami Regionals."