Three Miami Regionals Students Receive President's Distinguished Service Award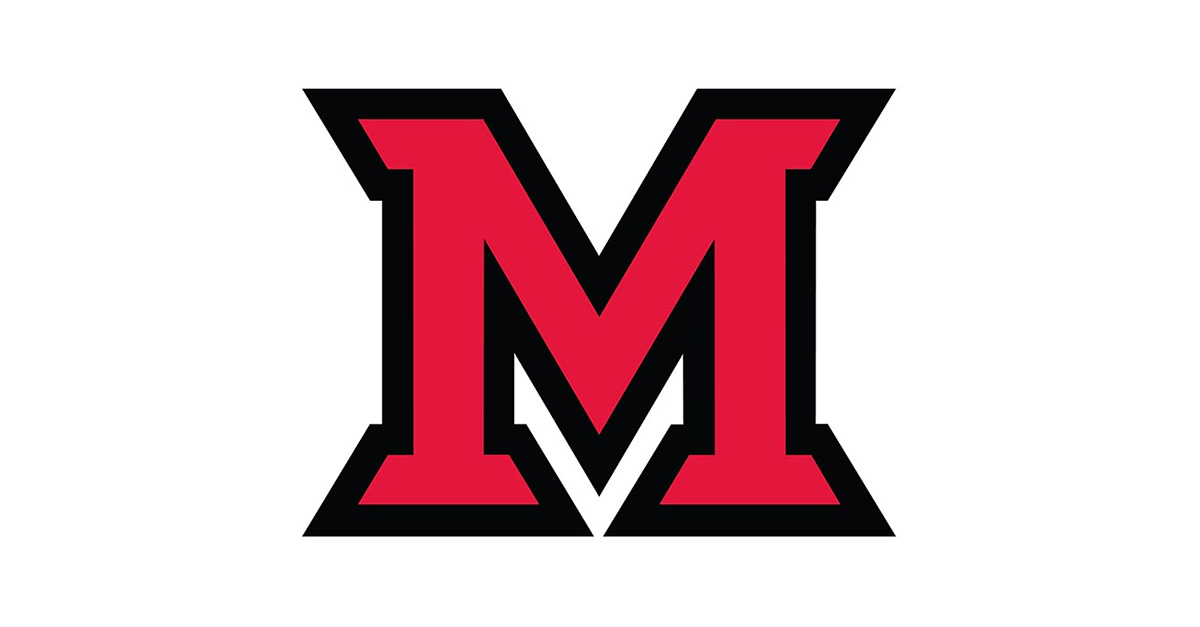 Apr 18, 2016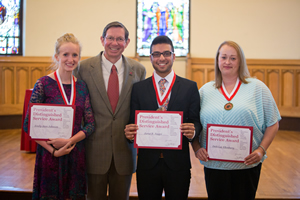 Emily Johnson, President David Hodge, Jaree Naqvi, and Debi Ellenburg.
Three Miami Regionals students were the recipients of the Miami University President's Distinguished Service Award, presented in Oxford on April 17. Jaree Naqvi from Miami Hamilton, Emily Johnson from Miami Hamilton and Debi Ellenburg from Miami Middletown received this prestigious award, which is given to those students whose service to the university has been extraordinary. Only 17 seniors from all of Miami's campuses received the award.
Jaree Naqvi is a biology major from Lakota West. He received his Bachelor's degree in December 2015. Jaree will be attending medical school at Wright State University in the Fall of 2016. His involvement in campus life at Miami Hamilton includes filling the roles of President, Senator and Marketing Director for the Student Government Association (SGA); a member of the Campus Activities Committee; an Orientation Leader and a tutor in Learning Assistance for math and sciences. Jaree is also profoundly involved in his community. He volunteers in Big Brothers-Big Sisters, serves as an EMT with the Oxford Fire Department, worked as a medical scribe at Cincinnati Children's Hospital Emergency Room, Elder Assistant at Otterbein in Middletown, and was a black belt Taekwondo instructor in West Chester. He has been awarded with the Outstanding Orientation Leader Award three times, the Outstanding Advising Assistant Award, and the Departmental Achievement Awards in Biology, Music and Microbiology. Jaree was also a Research Assistant for a newly developed cancer drug as part of a research team on the Oxford campus.
Emily Johnson is a Civic and Regional development major from West Chester. Her involvement with campus life at Miami Hamilton includes a community assistant in the Center for Civic Engagement, student STAYcation facilitator, member of the community garden initiative and a member of the Urban Teaching Cohort. She participated in the cultural civic engagement program SUSI (Study of the United States Institute on Civic Engagement), and helped set-up Service-Learning and Practicum experiences in the community. She has volunteered to develop and co-facilitate a Girls Leadership Conference at the YMCA, support an innovative education grant from the Ohio Department of Education, and working within Community First Solutions to help support their efforts.
Debi Ellenburg is an integrative studies major in health care administration with personal and community health perspectives from Middletown. Debi will graduate with her Bachelor's degree in May 2016. Her involvement with campus life at Miami Middletown includes being an Orientation Leader and Orientation Coordinator, Miami Middletown Student Government (MMSG) Senator and Treasurer, co-President of Miami Colors: A Gay Straight Alliance, a member of Project Civility, and is currently a Student Specialist for the Public Affairs & Marketing office. She has volunteered at the Derrico Community Egg Hunt, and has worked many events in her community through the Public Affairs and Marketing office. Debi has been awarded with the Achievement & Influence Award, and Leadership Award. She completed an internship with Liberty of Middletown last summer, and will complete her 9 month state mandated internship with Pristine Senior Living of Oxford after she graduates. Debi was also honored during the 2015 Spring Semester with the W. Lynn Darbyshire Award, the highest student award given at Middletown.