Historian, Educator and Archaeologist: It All Started at MUM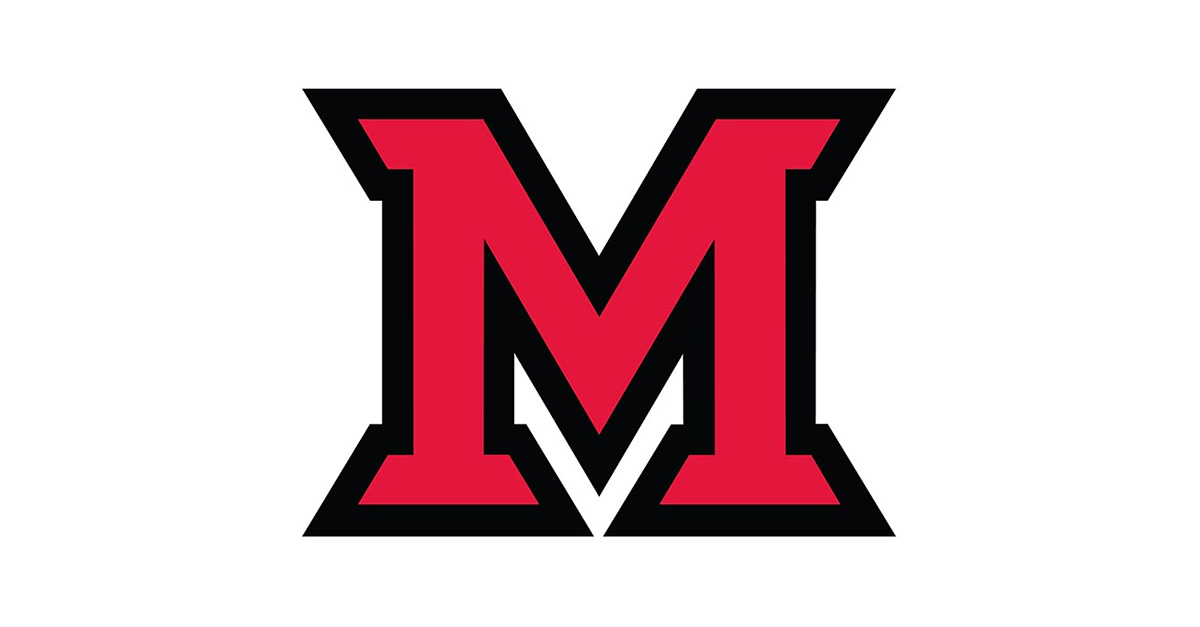 Jun 09, 2016
By Eleanor Gilmore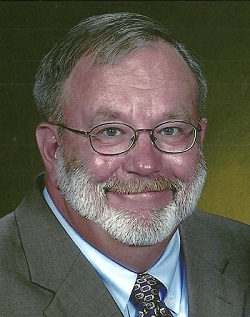 "I came out of Miami well prepared. And that preparation began with the foundation I received from the Middletown campus."
Kenneth Sowards, who was for a long time a "one-man department " at Fort Loramie High School where he was the only social studies teacher until enrollment increased, credits his third grade teacher, Miss Mildred Stein, for igniting his passion in American history and Native Americans and their culture.
Born in 1951 and raised in Middletown, Ken attended local schools before heading to Miami University Middletown in the fall of 1969. He recalls the Freshman English classes of Malcolm Sedam, and the history classes of Dr. Gelwick, Jim Lehman, and Joe Baxter. According to Ken, "Political Science Instructor, Ray Fening was probably the best teacher I had in my entire Miami experience, and there was an inspirational education professor who came to Miami Middletown from Oxford, Mike Fuller." Ken completed his BA in history at Miami Oxford and earned a master's degree in secondary education from the University of Dayton.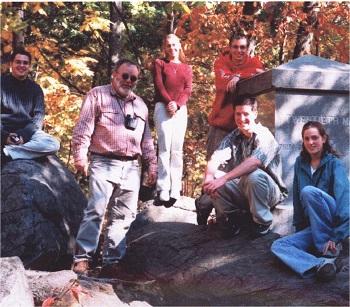 Ken with a group of students at the Gettysburg battle site in Pennsylvania.
During his thirty years as a high school social studies teacher, Ken became involved with an online international educational project called the "Virtual High School". As a part of that project, he developed a course on the Vietnam War and taught students from all over the world. His students noted that Ken made American history "come alive."
Since retirement, Ken has continued with his passion for history. In 2014, he participated in an archaeological dig near Fort Loramie, which located the site of a pre-Revolutionary War Indian trading post and Anthony Wayne's Fort Loramie along the Loramie Creek. In 2013, he helped pinpoint the exact location of a sycamore tree that was used to mark the starting point of the Israel Ludlow 1795 Greenville Treaty survey line. 
With Ken's knowledge of the Loramie and Mile Creeks, he worked with a group that included a surveyor from the Shelby County Engineer's Office and members of two local Historical Societies. Using 21st Century GPS coordinates, they were able to surmise the precise location where that important survey began.  The following year, they erected a stone marker commemorating the spot. In 2012, Ken contributed a chapter on Fort Loramie's early history to Main Street and Beyond, a book published by the Fort Loramie Historical Association. In 2009, Ken was instrumental in a local history project in which a local Indian artifact collection was placed on permanent display at the Fort Loramie High School. Ken speaks about those experiences to local historical and archaeological organizations throughout Ohio.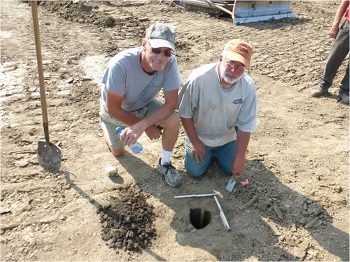 Ken (right) at excavated post mold hole which indicates the location of Peter Loramie's trading post.
Ken has received much recognition for his classroom teaching.  He was twice the recipient of the Sidney/Shelby County Exemplary Teacher Award and was also recognized as a Jennings Scholar. The Piqua, Ohio chapter of the Daughters of the American Revolution recognized Ken as an "Outstanding Teacher of American History in Miami and Shelby Counties." He has also been the recipient of the Shelby County Educational Service Center's "Outstanding Teacher with Winning Students" award. Ken is also named multiple times in "Who's Who Among American Teachers."
Ken and his wife, Monica, reside in a one hundred year-old farm house near Fort Loramie.