A Chance Meeting at Miami Middletown Leads to Lifelong Relationship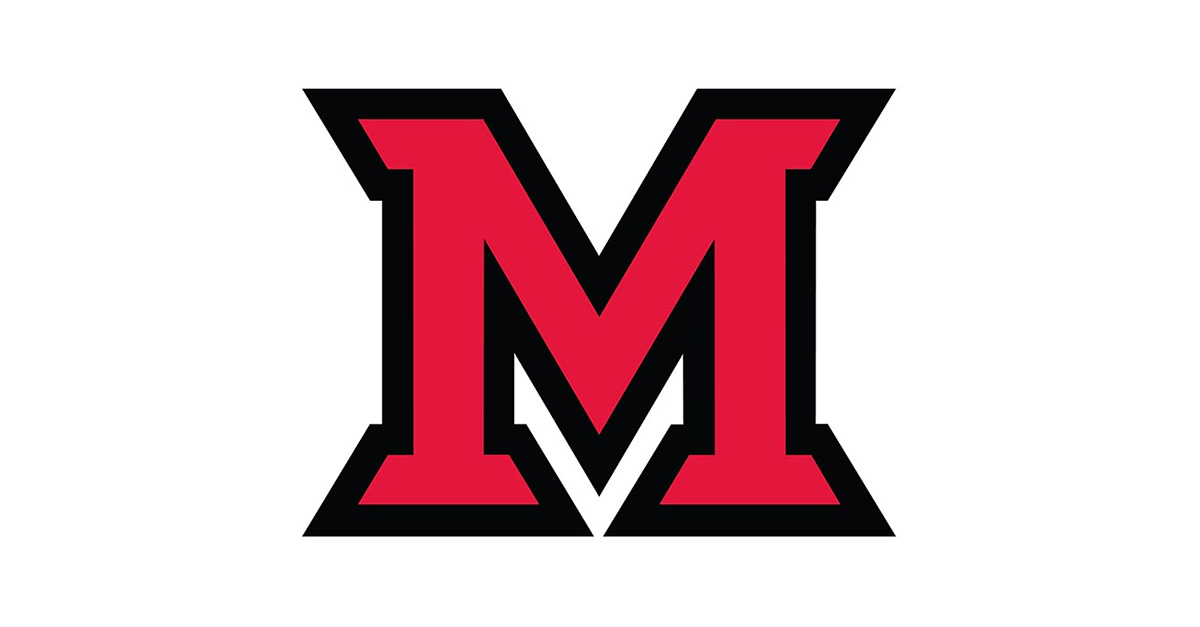 Jul 11, 2016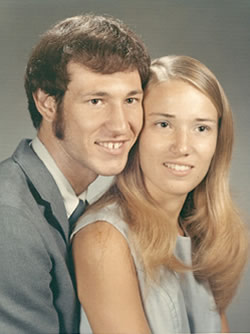 By Ron & Judy Johnson
Ron Johnson and Judy McCormick met at Miami University Middletown.
After graduating from Middletown High School, Ron began his college career in the fall of 1968; after graduating from Monroe High School, Judy began her college career in the fall of 1969. The couple was introduced to one another by a mutual friend and began a lifelong relationship over a game of foosball at Verity Lodge.
Ron transferred to the Oxford campus in the fall of 1970, and Judy joined him in the winter quarter of 1971. The bond that they had forged at Miami Middletown and nurtured at Miami Oxford culminated in a Miami Merger on August 26, 1972.
Ron graduated from Miami University with a B.S. in Marketing in 1972. He soon realized that Marketing did not really prepare him for a career that he envisioned and returned to Miami University Middletown in 1974 to take a series of accounting and finance classes to earn a second B.S. degree in Accounting.
Meanwhile, Judy lived in the Spanish corridor of Wells Hall on the Oxford campus for one of the two years she was there. This was a section of the dorm in which students majoring in Spanish were housed so they could study and socialize together while practicing Spanish. During her junior year, Judy decided to pursue a degree in education instead of a liberal arts degree. Lots of Ron and Judy's dates were spent studying together in the library of the Oxford campus. Judy graduated from Miami University with a B.A. degree and a certificate to teach Spanish in December of 1973. She returned to the Oxford campus to earn her certification to teach math in the summer of 1975.
For both Ron and Judy, though, degrees were not the only thing that they gained during their time at Miami.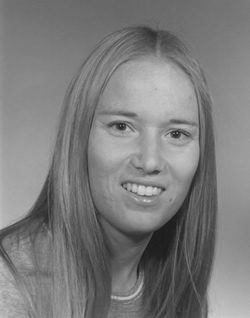 Several professors influenced Ron's short term life goals while he was at Miami, but the one man who stands out most prominently is Wayne Staton. Ron had the pleasure of taking two business law classes from Wayne. As a result of this, a friendship was formed between the two that has lasted to this day.
Life for the couple was full of twists and turns.
Upon graduation, Ron worked as a department manager of sporting goods at Kmart in Hamilton for 2 1⁄2 years. He then left to enter the accounting field and became an auditor with the State of Ohio Department of Taxation, a career that would last another 2 1⁄2 years. Ron then joined Armco Steel Corporation which the company eventually became known as the AK Steel Corporation. He worked in the Middletown Works plant while he finished his accounting degree.
Shortly after Ron's completion of his accounting degree, he was involved in a serious car accident that left him a C6/C7 quadriplegic. Ron was off work for 3 1⁄2 years, until Armco brought him back as a specialist in the Energy Department in 1983. Ron retired as a Senior Energy Engineer from this department in 2012 after a career that spanned 34 years.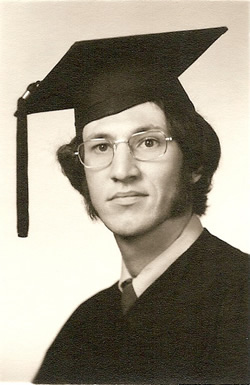 Upon graduation, Judy accepted a job as a Math Lab Aide at Middletown Freshman High School. She was then offered the chance to teach Spanish at Roosevelt Middle School in 1974-75. When cutbacks necessitated layoffs, she had the opportunity to teach math and later serve as the Department Head until 1981, when the Freshman High School closed and Judy transferred to Middletown High School and taught math until 1983. At that time, Judy was offered the chance to develop the Computer Curriculum at Middletown High. Judy then taught multiple computer classes at Middletown High until her retirement in 2004, completing 31 years of teaching.
Even with her busy schedule, she was able to find time to earn a master's in education from Marygrove College in 1999 and serve as National Honor Society Advisor for 9 years. A recipient of the Crystal Apple Teacher Award, Judy always felt that counseling and advising students in life situations is part of daily teaching.
After retiring, Judy worked for one year as an aide at MHS assisting a blind student in AP Calculus and AP Statistics and later was Special Education Aide at Verity Middle School. For 6 years, Judy worked as an ESOL tutor assisting foreign students, mostly Spanish speaking, in math. Currently Judy tutors students in a variety of math courses from several local high schools at her home as an independent contractor.
In August of 2016, Ron and Judy will celebrate a Miami Merger of 44 years and are retired from satisfying careers, traveling on vacations, and enjoying life together.
Miami helped make all of that possible!