Community Commitment Began at MUM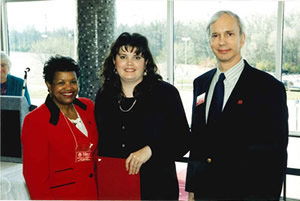 Apr 06, 2016
By Jan Toennisson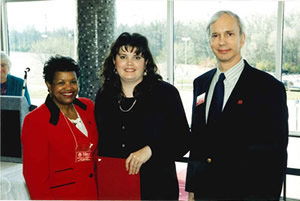 Pictured from left to right: Dr Myrtis Powell, VP Student Affairs at Miami, Margaret A. Brubaker, Dr James Garland, Miami President at the Miami University President's Distinguished Service Award on April 13, 1999.
When Peggy Brubaker found her way to Miami Middletown in the late 1990s, things immediately began to fall into place. "I had gone to U.C. in the evening for a couple of years, but stopped when my daughter was born. I decided to try to finish up my degree and Miami Middletown seemed to be the best choice. When I came by campus to apply, Mary Lu Flynn in Admission read over my transcript and told me of a scholarship that would be perfect for me, but the deadline was at 5 p.m. that day. I went home, wrote an essay, filled out the application and got that scholarship."
Brubaker made the most of her years at MUM. An education major, she created an organization called Miami Mentors that paired Miami Middletown students with Middletown elementary teachers to volunteer as reading mentors. She also connected her organization to the state's mentoring program, OhioReads. For her efforts she received Miami Middletown's Darbyshire Award and the Miami University President's Distinguished Service Award.
The community and volunteer experience that she got at MUM has carried on to her 15-year professional career as a K-8 teacher and teacher leader at Middletown City Schools. She has been a driving force behind Central Academy's Week of Giving, a yearly program that sees approximately 300 young students doing volunteer work for the Salvation Army, Family Services Food Pantry, Red Cross, First Baptist Church and many other community outlets.
"MUM was just a perfect fit for me in so many ways," she said. "I had always been just terrible at geography, but by the time I was through Ron Garrett's class, I was a geography tutor. Larry Greeson in educational psychology liked to challenge his students in surprising and unusual ways, but I learned so much from him. MUM was full of great teachers that could give you the confidence and tools to take the next step."