Tony Hale: The Music of Home Brought Him Back to MUM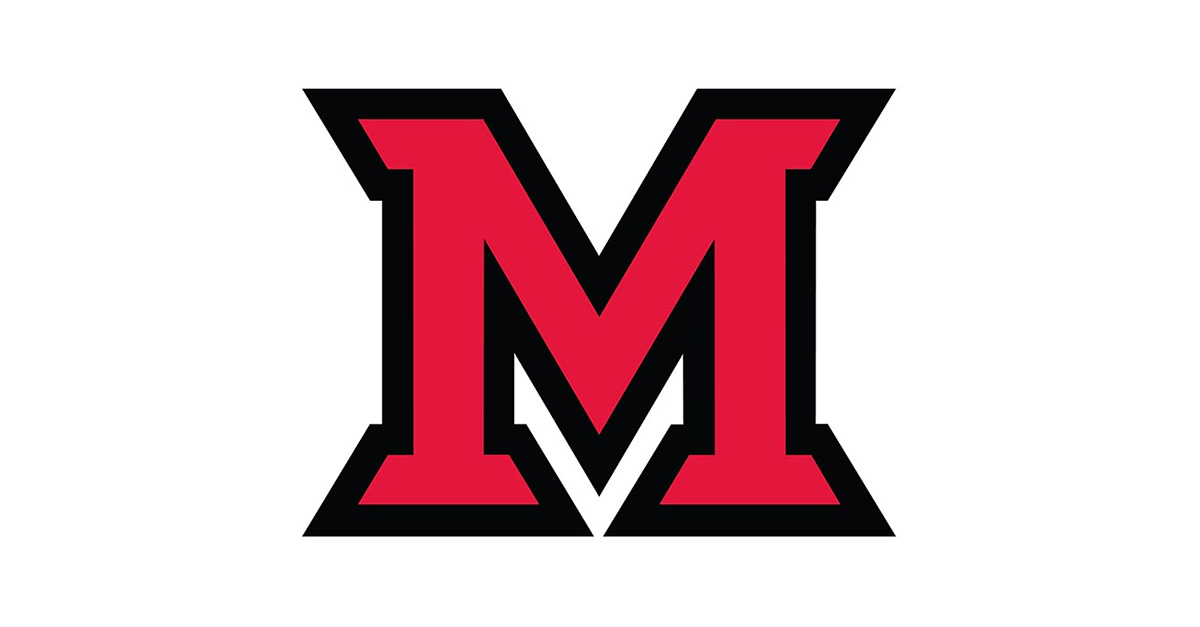 Mar 27, 2017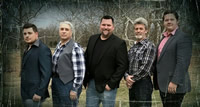 Tony Hale and Blackwater.
When Verity Traditions presented Tony Hale and Blackwater this past February, it was a homecoming for the group's leader.
Tony began his Miami experience on the Middletown Campus in the fall of 1989, and took classes there through fall 1991 while working on his degree in Marketing. He began commuting to Oxford in spring 1992, and then was accepted into the Scholar Leader Program, living in Elliott Hall during his senior year.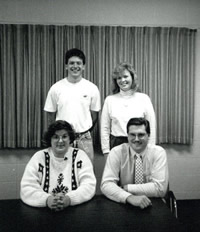 1990 student government officers, Tony at the bottom right.
A first generation college student, Tony's time at Miami Regionals' Middletown Campus was busy both inside and outside of the classroom. Actively engaged in student activities there, he served as manager of WMUM, and later as student government president, working alongside mentors Lynn Darbyshire and Jim Sliger. Tony also fondly recalls working with professors Dave Ballard, Mel Cohen, Bob Dieffenbach and Al Cady, as well as with director of public relations and marketing Dick Sollmann.
An entrepreneur from an early age, beginning while attending Monroe High School and continuing during his time at Miami, Tony operated his own lawn service from his home in Monroe, and enlarged the business after graduating from Miami in 1993. The following year he married his wife, Melissa Preusch, whom he met at Monroe High School at school play try-outs, and who he continued dating throughout college.
Tony built his business for the next decade, and when he and Melissa began their family he joined Clearcreek Township in January 2004 as Park Operations Manager. He now maintains five historic cemeteries, manages Patricia Allyn Park and Hoffmann Reserve, a joint 200-acre facility for the township, and is engaged in planning for the new Harbaugh Park under development.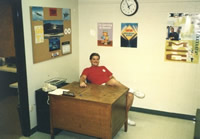 Tony at the WMUM manager's desk
His involvement in music dates back to his time at Monroe High School when he played in the orchestra and sang in the choir led by Miami alumna Patty O'Toole. Bluegrass music came later, thanks to the influence of his uncle, Ernie Sexton, who in 2002 encouraged Tony to learn bass to join his bluegrass group. Tony taught himself bass and guitar, and soon formed his own group, The Bluegrass Favorites, and kept that group going while at the same time joining Special Delivery as its lead singer.
After his uncle's passing in 2011 Tony formed Tony Hale and Blackwater, the group's name being an homage to Blackwater Creek in Kentucky where his mother and uncle were born. Today the group plays once a month at Haddix Hall in Hunter, Ohio, as well as at area festivals. Included in their performances are several Southern gospel selections, a tribute to Tony's family singing tradition.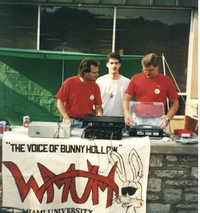 Jarrod Strick and Mike Handy with Tony Hale at the turntable at WMUM outdoor event
In addition to the music, Tony and Melissa are busy with their fourth-grade son Evan who is active in soccer and basketball. Daughter Laura, who is now in 7th grade, enjoys volleyball, and is following in the musical and acting footsteps of her parents having just made her musical debut in a production of BIG.
"I wouldn't take anything for my time at Miami University Middletown," Hale recently commented. There was such a sense of community there. It seemed like everyone cared about you and your success. From the professors and the administrators, to the ladies who worked in the Commons serving food and sweet Dorothy who always greeted you with a smile at the information desk, it seemed like a family."
"Taking my classes at MUM allowed me to continue working and to save money by commuting. I made many good friends and have such fond memories from the radio station, the school paper, working for Lynn Darbyshire and Jim Sliger in the Student Affairs Office, and serving on the Student Government. Some of the best memories were time spent in the Commons with friends having lunch and playing Euchre and pool – maybe a little too much time my freshman year."