Her paintings are Larger Than Life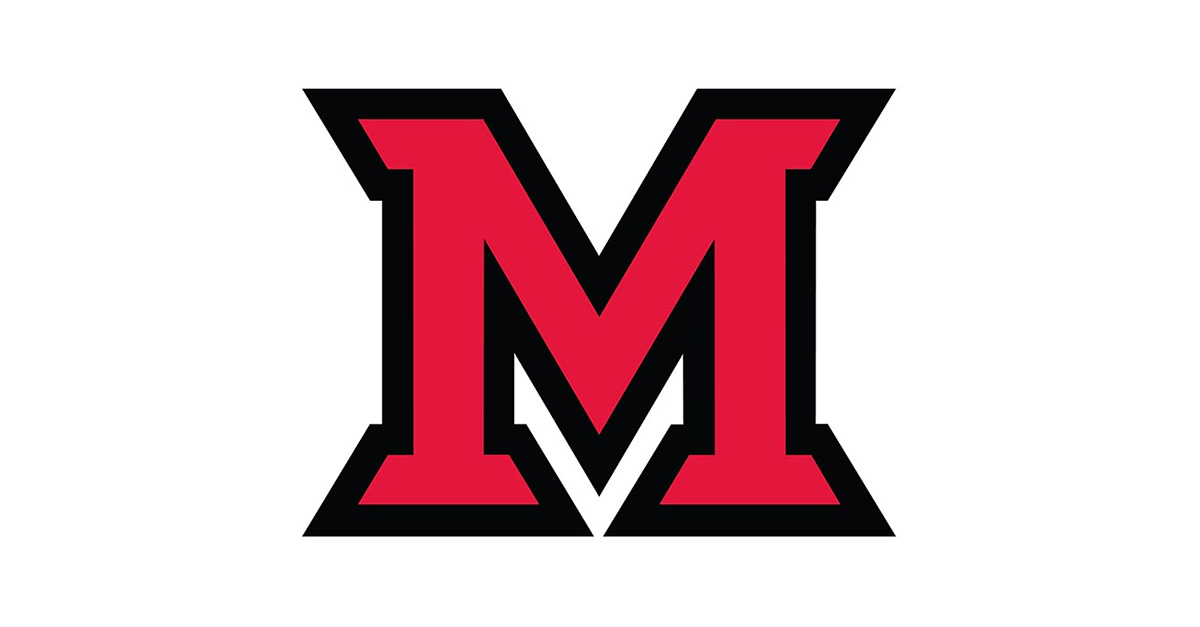 Jul 17, 2017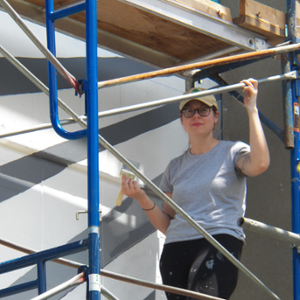 Nicole Trimble working on her current piece Taking Flight.
Nicole Trimble '11 is carving a niche throughout the Greater Cincinnati arts community, and her work is gaining fame BIG time.
Trimble is a mural painter, accustomed to working outdoors on multi-story scaffolding in the warmth of a summer day. During the school year, Trimble is art instructor at Miami University's Hamilton campus.
Her current project is a mural painting on the George McDulin Memorial Garage in downtown Hamilton depicting the release of a paper origami bird. Taking Flight was designed by local artist Taylor Scott Welch.
Last summer, Trimble designed and painted a seven-story, pop-art image of Annie Oakley as part of the Cincinnati Legends series sponsored by ArtWorks, a Cincinnati public arts organization. Little Sure Shot adorns the side of the Voltage Lofts building on Madison Road in – you guessed it -- Oakley.
In 2016, she designed and painted Alexander Hamilton next to True West Coffee at Main and D streets on Hamilton's west side. Alexander celebrates the city's rich history and is based on John Trumbull's iconic 1806 portrait of the American statesman and one of the Founding Fathers of the United States of America.
Both Alexander and Taking Flight were murals commissioned by StreetSpark, a new partnership between the city of Hamilton and the Fitton Center for Creative Arts to further the arts identity in the city through exciting public art projects.
In 2015, Trimble painted the very large Grain to Glass mural on the side of Christian Moerlein Brewing Company's Lager House on the banks of the Ohio River near Great American Ball Park.
She is pleased to be working with StreetSpark in Hamilton again this summer.
"Between Hamilton and Cincinnati, I think we have a market cornered in the mural world. It's very expensive to paint a mural. Funding comes through fundraising efforts and grants from various nonprofit organizations. A lot of people in Hamilton are working very hard behind the scenes to make it happen -- people who care about Hamilton and care about the arts," Trimble said.
"I love working in a community like Hamilton that is thoroughly embracing the arts. You can feel the energy. I'm really happy to be able to carve this niche in the art landscape of Southwest Ohio," she said.
Trimble loves teaching and working with young artists.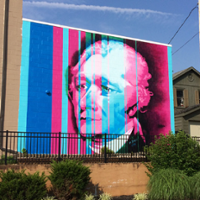 Nicole's mural of Alexander Hamilton.
"I love Miami University and ArtWorks and StreetSpark. I'm passionate about public art and making it available to everyone as a way to bring art to the public and help beautify communities. I like to work with youth who are just getting interested in art. That's what got me excited when I was a senior at Badin High School -- my teachers sparked my passion in art. I have talented assistants working with me on these mural projects. It's inspiring to work with talented youth. They take pride in the accomplishment. It's really cool when the scaffolding comes down and you step back and look at it."
Trimble said she was excited to learn Miami University is now offering a bachelor's degree program in Community Arts available exclusively at the regional campuses in Hamilton and Middletown.
"You don't have to be a studio artist to be an art major. You can work for an organization that brings public art to the community. The BA in Community Arts opens the door for more career opportunities in the arts outside of studio art or design," Trimble said.
"Community Arts is a new way to think of art. It's an up-and-coming thing. It brings communities together through art, attracting greater exposure. People engage with art every day, walking and driving. It's not like just being inside a gallery. No one is excluded. Everyone is exposed to it and can appreciate it."
A Cincinnati-based artist and educator, Trimble grew up in Oxford. She has a studio practice grounded in painting and observation of the human figure. Her work has been exhibited in galleries throughout the United States and in national publications such as Professional Artist magazine and Studio Visit.
Trimble holds a bachelor's degree in fine arts, with an emphasis in painting and printmaking, from Miami University. She earned an MFA from University of Cincinnati's College of Design, Architecture, Art, and Planning.
Her murals and other artwork can be viewed at nicoletrimble.com.