Miami Regionals Expands Horizons through Study Abroad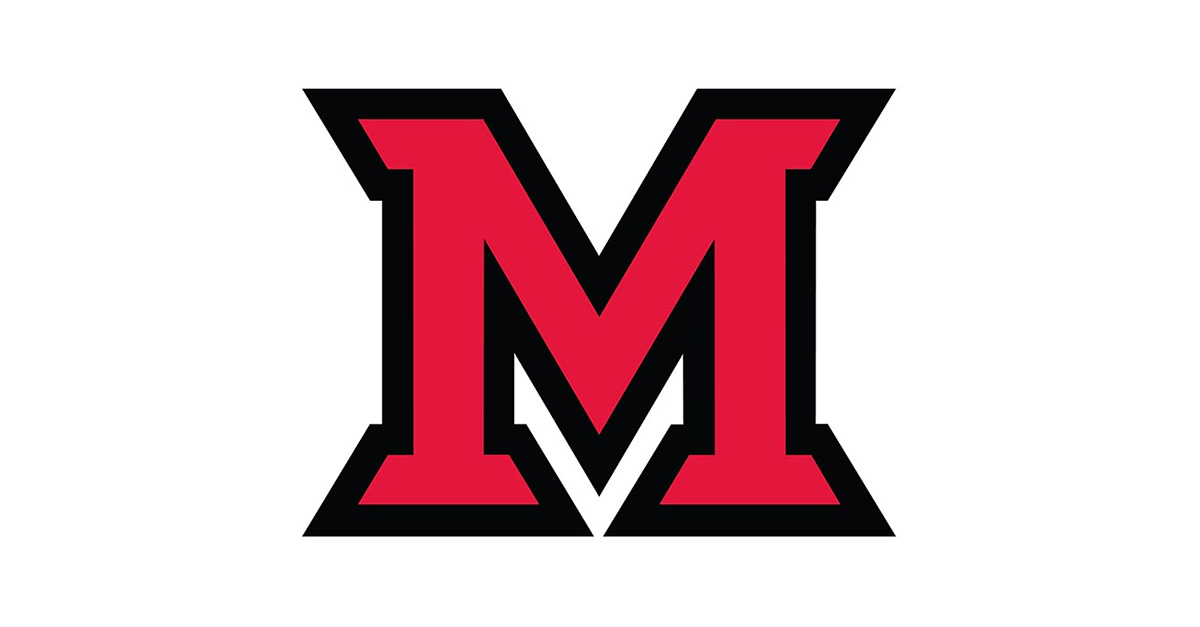 Jul 01, 2018
By Erika Nisbet, Student Writer for the Office of Communications and Marketing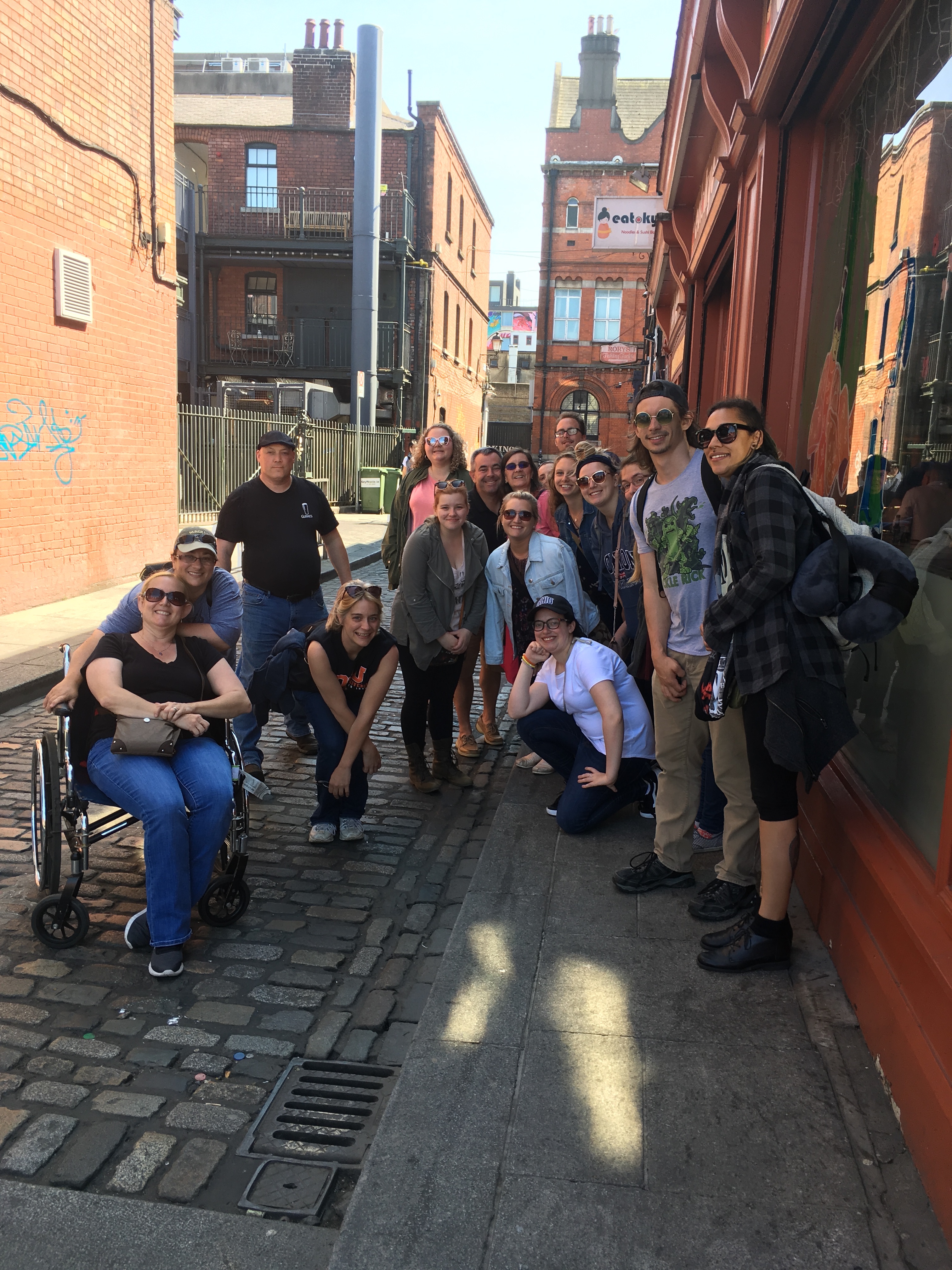 Students on a side street in Dublin
"I found it!," an excited Miami student shouted across the silence of the National Gallery of Ireland, much to the shock of the other visitors. She spotted The Visit of the Queen of Sheba to Solomon, a painting by Renaissance painter Lavinia Fontans. A group of Miami Regionals' students, alumni, and professors recently traveled across the British Isles and Ireland to study abroad and learn about art history.  The nineteen participants, which included Miami professors Starla Alexander and Caryn Neumann, visited Edinburgh, London, and Dublin over the course of ten days.
Alexander has been teaching at the Regionals for almost seventeen years and Neumann has been a professor here for eleven years. Alexander is an adjunct instructor in the Humanities and Creative Arts. Neumann is an Associate Teaching Professor in Interdisciplinary and Communication Studies. This is the third year that they have led study abroad programs together. In the past they have visited Greece, Italy, France and London.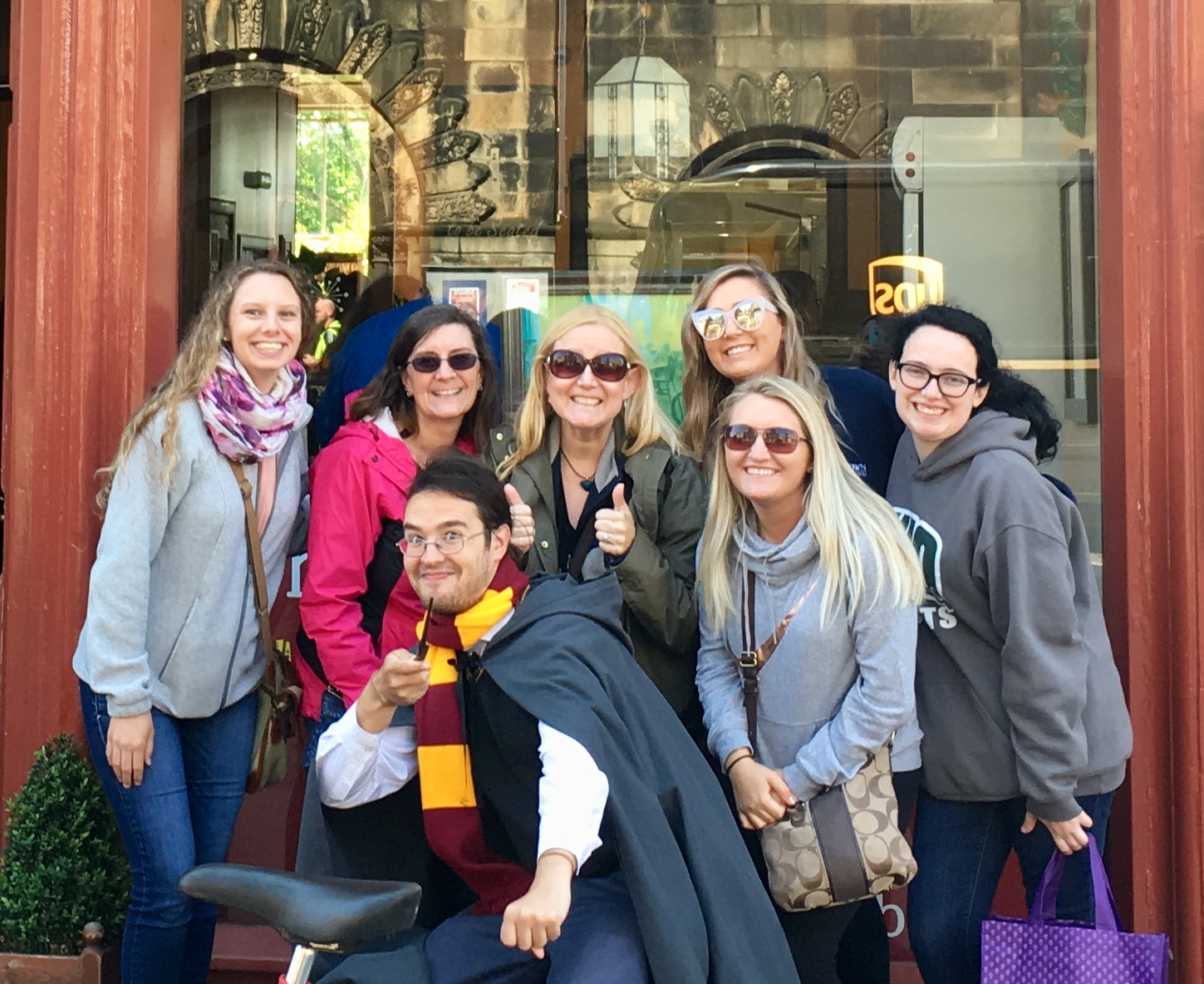 Students outside the elephant house where JK Rowling wrote Harry Potter.
During their time abroad, Alexander believes that the students and alumni gained both educational experiences and important life experiences. "They're getting so much more out of this than just going to the museums," she stated, "so many of them have never been anywhere, never flown in a plane, never had to get a passport. Even going to a restaurant in a different county is a big deal." Nor do things always go as planned. From getting lost in London, to sampling black pudding without realizing the ingredients, the group enjoyed many of the challenges of international travel.
When they weren't learning about art history in museums, they were taking underground ghost tours, seeing plays in London's theater district, and learning about Georgian doors in Dublin. Other stops included The Book of Kells, the Abbey Road studio where The Beatles recorded, Winston Churchill's bomb shelter, and many more.
Alexander and Neumann say that the benefits gained by those who participated in the trip are too numerous to count. Whether standing in the ruins of Dublin Castle or gazing upon St. Patrick's Cathedral, the trip offered a variety of experiences that allowed them to open their eyes and see the world around them. "I feel like I help the participants grow up in a sense. I help them see that there's a bigger world than this campus." Alexander and Neumann want the trip to be something that students can enjoy as they learn about other cultures and peoples.