Miami Regionals Showcases New Engineering Technology Equipment for State Leaders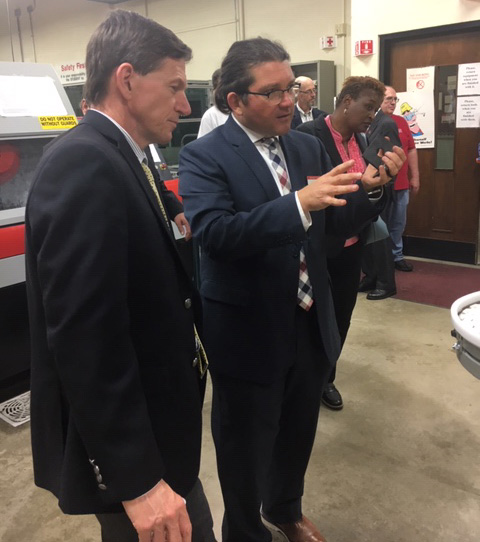 Jun 03, 2019
By Perry Richardson, Senior Director Media & Community Relations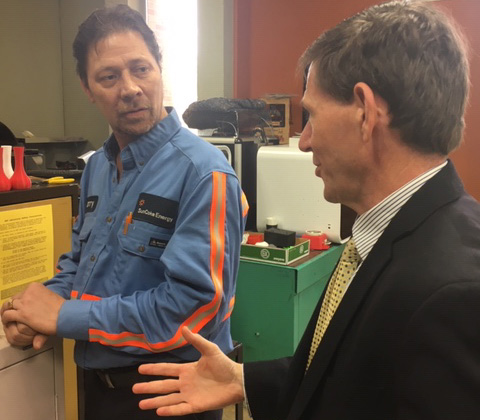 ENT student Larry Gardner, an AK Steel
employee, talks 3D printing with John
Magill, assistant vice chancellor of the
Ohio Department of Higher Education.
Miami University Regionals' Department of Engineering Technology (ENT) on May 29 welcomed officials from the Ohio Department of Higher Education (ODHE) who wanted to see a demonstration of highly specialized equipment the State of Ohio funded through a successful Miami grant proposal.

The state-funded project is called Regionally Aligned Priorities in Delivering Skills (RAPIDS), a series of capital equipment grants awarded to Miami in support of education and training for in-demand occupations in Southwest Ohio.

 John Magill, ODHE assistant deputy chancellor for Economic Development, was joined by Steve Tirpak, ODHE regional workforce and Ohio Means Internships director, and Tracey Taylor, director of the Ohio Educational Technology Conference.

ODHE has awarded Miami three RAPIDS grants since 2016 totaling more than $1 million for Additive and Advanced Manufacturing Infrastructure (RAPIDS 1), Infrastructure for Digital Technology Workforce Development in Cyber Security, Data Analytics and Robotics (RAPIDS  2) and Cloud Manufacturing and Smart Building Automation Infrastructure and Training (RAPIDS 3).

"You couldn't have done a better job with the money," Magill told Jim Oris, Miami University associate provost for Research and dean of the Graduate School, and Cathy Bishop-Clark, associate provost and dean of Miami Regionals who welcomed the state leaders. Oris and Bishop-Clark were joined by Ayodele Abatan, ENT chair, and Mert Bal, ENT associate professor and RAPIDS project coordinator.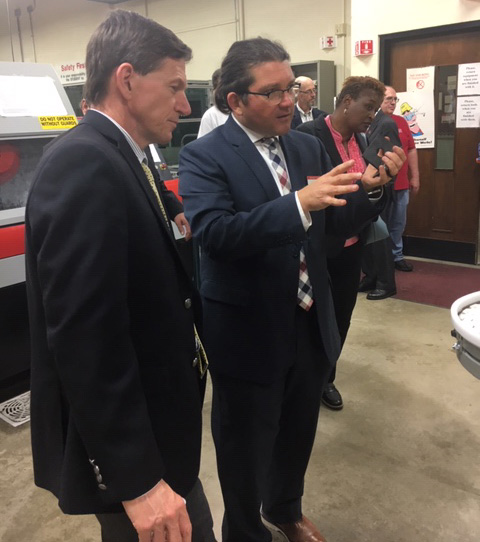 Mert Bal, ENT associate professor and
RAPIDS project coordinator, provides
a robotics demonstration for ODHE
assistant vice chancellor John Magill.
Bal, in providing an overview prior to the equipment demonstrations, said the winds of change are blowing from "automated" to "smart" factories that are more agile, and more quickly and efficiently able to change their product line setup.

"This technology increases the capabilities of small businesses to accept and produce highly complex parts for larger companies. We are educating those who want to use this (advanced) technology," Bal said.

Miami Regionals is working with Cincinnati State to create flexible advanced manufacturing components integrating machines, robots, conveyors, and sensors, providing hands-on training for certificate and associate degree students, incumbent workers, students enrolled at Butler Tech, and area high school students in the region interested in advanced manufacturing.

According to Abatan, these RAPIDS grants are enabling Miami to greatly enhance the attraction, retention, and graduation of students who will obtain a certificate, associate or bachelor's degree leading to an in-demand career in advanced manufacturing.

"We are partnering with regional employers to ensure alignment with industry needs, and to develop co-op and full-time employment opportunities for students trained in the career pathway," Abatan said.