Madison Thompson found the right fit close to home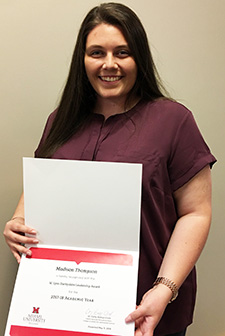 Jun 25, 2019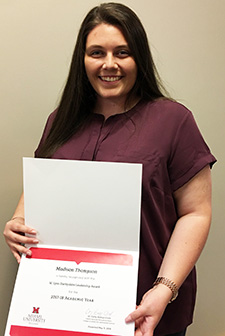 By Noah Wolfenbarger, Student Writer for the Office of External Relations & Communications

Madison (Madi) Thompson, a 2016 Franklin High School graduate, started her college journey taking College Credit Plus classes in high school through Cincinnati State Technical & Community College and Sinclair Community College. Upon graduating from Franklin, she was only two classes shy of being a sophomore in college.

While Thompson was prepared academically for the next step of her educational journey, she was not sure if a big school atmosphere was right for her. After attending a campus visit event at Miami Middletown, she quickly decided Miami University Regionals was the right choice for her, offering a student-life college experience with smaller and more intimate class settings. 

Thompson decided to pursue a Bachelor of Science degree in Commerce with a major in Small Business Administration. She also developed an interest in psychology and began to take psychology classes, which led her to double major in Commerce and Psychological Sciences.

Learning from people with real-life experience in her field of study, and watching how they apply that knowledge to their teaching at Miami Regionals, has been enlightening for Thompson. Recalling her experience with Dr. Beth Dietz, professor of Psychology, Thompson said "the class would read multiple research articles and then have three-hour, in-depth discussions about each article. Some of the published research articles were the work of Dietz herself."

"It allowed us to understand the research process behind the article and better interpret the findings," Thompson said. "Experiences like these show that Miami Regionals faculty are dedicated, trained, and experienced in their profession. They are truly life-long learners."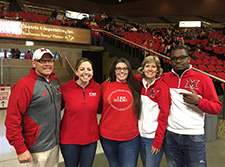 Perhaps the most influential aspect of her college experience has been her time spent on campus as a paid student worker. Thompson works in the Office of Admission on the Middletown campus and serves as a member of the orientation team that interacts directly with incoming students. She enjoys working with current and prospective students because it gives her the opportunity to share what life at the Regionals is really like. 

Work and classes have not been Thompson's only focus during her time at Miami Regionals. She quickly became involved in the Campus Activities Board (CAB) serving as both Vice President and later President. Thompson also played on the Miami Middletown women's fast-pitch softball team.

Her combined experiences with CAB, athletics and working as a student greatly helped Thompson find her niche on campus. She encourages incoming and current students to do the same. 

"Ask questions and get connected to people and organizations. Becoming connected to people through CAB, work, and classes have really made my Miami experience what it is today," said Thompson.

Thompson plans to work in human resources after she graduates in December 2019.
"I really like working with people. If you have the chance to help somebody, to make something fair, then you should do it," she said.

Thompson said her career goal is to work for a progressive company and help it maintain a healthy work environment for all employees.