Miami U. research provides new foundation for future environmental studies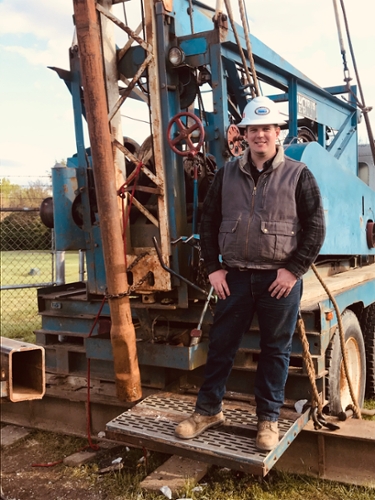 May 27, 2020
Written by Perry Richardson, Regionals External Relations & Communications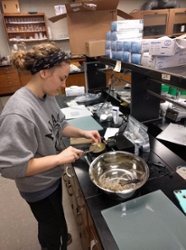 Olivia Faraci '19 working in the 
science lab at Miami Hamilton.
A five-year research project driven by students at Miami University is the first of its kind in the Midwest, providing a new foundation for environmental studies throughout the region and serving as a vital resource for future environmental pollution studies in Butler County and beyond.
This study is particularly important to post-industrial cities that are converting to service and technology-based economies with associated redevelopment. The geochemical and mineralogical composition of the glacial till serves as an important baseline to compare with areas of sand, silt, clay and soils that may have been polluted from more than 150 years of industrial activity.
Dr. Mark Krekeler, associate professor of geology (Department of Mathematical and Physical Sciences, Hamilton campus) and Dr. Claire McLeod, assistant professor of geology (Department of Geology and Environmental Earth Sciences, Oxford campus), and alums Matt Barnes '15 and Olivia Faraci '19, recently published an extensive study of glacial sediments from Butler County in the peer-reviewed journal "Environmental Earth Sciences."
Krekeler said data collected on a glacial till sediment unit from Peffer Park in Oxford provides a means to compare future investigations on glacial sands, flood plain soils and bedrock throughout Southwest Ohio. This provides an improved understanding of background mineralogy, and the abundance of metals of concern relevant to urban pollution studies.
"The research will serve as a reference point for extensive post-industrial areas -- not only in and around Butler County but also across the Midwest. While there has been interest in the metal pollution of Butler County and other urban settings in Ohio, detailed investigations of metal pollution in broader environments in the Ohio-Kentucky-Indiana region are not numerous compared to other regions of the USA," Krekeler said.
Faraci said the research project -- her senior capstone project -- was by far the best educational experience she has ever received.
"Being challenged in learning new techniques, working with different instruments, presenting findings and collaborating with other students and professors was a very worthwhile experience," Faraci said. "Being a part of the recently published manuscript was such an honor. I realized more of what I was capable of, and I will not forget the opportunity Dr. Krekeler provided me with this research," Faraci said.
Barnes said the research experience provided him the opportunity to build invaluable skills like critical thinking, technical writing and professional networking.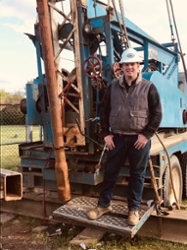 Matt Barnes '15 on the job as operations 
manager in the water resources industry.
"These skills helped position me for success upon graduating from Miami University and entering the water resources industry," Barnes said. "Miami University, both at the regional and main campuses, have a standing tradition of producing qualified young professionals ready to enter the workforce upon graduation. I am proud to have spent time at both the regional and main campuses and to be a part of that long-standing tradition now as an alumnus," he said.
According to Krekeler, the research culminated invaluable information that otherwise would not be available.
"The data provided in the study would normally cost $100,000 to get a private contractor to do it at the level we've done it," Krekeler said. "Scientifically, there's no study quite like this for the entire Midwest." 
The research was funded in part by a National Institute of Justice grant, and the published paper will be of interest to the U.S. Environmental Protection Agency, Ohio EPA, Butler County Water and Soil District and Butler County Parks, providing important reference data for environmental consultants, construction engineers and geotechnical engineers throughout Butler County, Krekeler said.
Dr. Claire McLeod said the recent publication is key to supporting local and regional efforts aimed at characterizing the nature and sources of environmental pollution.
"Key to the success of this work was the collaboration between Miami undergraduate students and faculty in the field, in the lab and throughout our communication of results to the broader (scientific) community," McLeod said. 
"The support of undergraduate research and student professional development by Miami within these contexts was invaluable. As a faculty mentor, it is incredibly rewarding to see the student successes that result," she said.

Barnes, a geology major, started his educational journey on the Hamilton campus and relocated to Oxford to complete his bachelor's degree. He is currently employed as an operations manager for National Water Services, LLC, which has field offices in Dayton and Columbus.

Faraci, an education major, is currently working as an English as a Second Language tutor at Fairfield Junior High School. Faraci took classes at both the Hamilton and Middletown campuses before relocating to Oxford to complete her bachelor's degree.

Krekeler said Barnes applies the knowledge he gained from the research project to his current position, while Faraci not only learned how to conduct high-end research but also acquired the ability to transfer field and lab lessons into her classroom.

While Krekeler and McLeod guided the students, it was Barnes and Faraci who drove the research project. Both alums were winners of the prestigious Student Scholar Symposium as students at Miami University Regionals, Barnes in 2014 and Faraci in 2019.

As a Miami senior, Barnes was a presenter at the national meeting of the Geological Society of America. Krekeler said when Barnes graduated, Faraci picked up the project and finished it off, focusing on geotechnical aspects and examining X-ray scanning and reflective spectroscopy data the researchers received from their collaborators at Vanderbilt University.

Krekeler said when conducting environmental investigations, it's important to determine the background of metals of environmental concern that are hazardous to human and animal health.

"One of the big things we found is the glacial till is well mixed and the amount of rocks and sediment is fairly uniform as a result of bulldozing through the area thousands of years ago. Glacial till is representative of natural background levels. When you do chemical analysis of soil, you can compare that to the chemical composition of the till. That's important for determining how polluted other samples are. Other measurements are useful for environmental restoration projects, and for understanding how building foundations behave," he said. "One unique thing about the study is we used multiple methods to characterize this till, and that's highly unusual."

Krekeler said it was surprising how generally uniform the till was in some of its bulk characteristics. "We thought it would be much more variable for metals such as lead, zinc, copper, chromium, nickel -- metals that can be hazardous to human and animal health," he said.

Drs. Krekeler and McLeod are currently working with more than a dozen Miami University students and alumni to present and publish other environmental and geochemistry projects focused both in Butler County and nationally.