Alumnus Brent Billingsley putting it together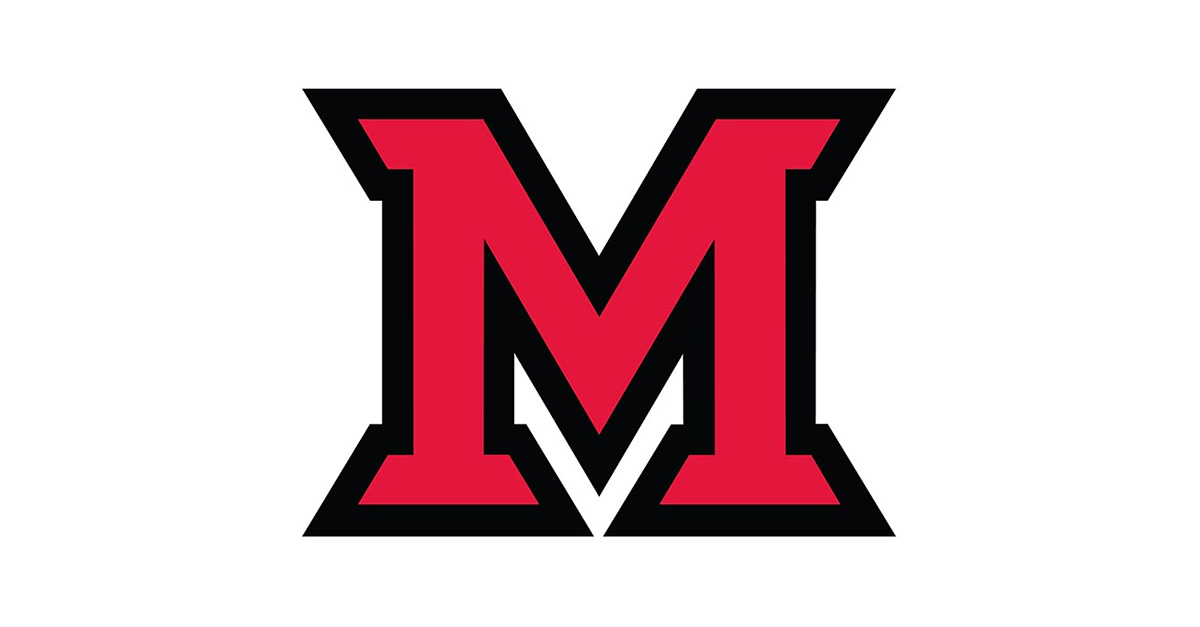 Dec 11, 2020
Written by Rod Nimtz, External Relations & Communications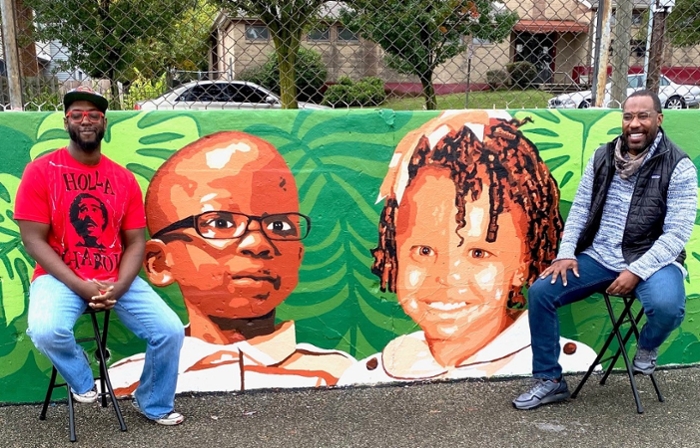 Billingsley (L) and Michael Coppage (R) in front of the Avondale mural.
"Bit by bit, putting it together," from Steven Sondheim's SUNDAY IN THE PARK WITH GEORGE, is the perfect description of the life path of artist and entrepreneur Brent Billingsley (Miami '13).
Born in Hamilton, he moved to Mansfield where, after graduating from high school, he began a 16-year career working locally for Ford Motor Company and General Motors. While those jobs provided financial stability, he was looking to do something broader and deeper in impact.
"I have always been a bit of an entrepreneur," Billingsley shared, "and tried a few things, but always with the manufacturing job as my safety net. I realized I needed to take that leap and step away from the plant floor and into the classroom."
He began as a full-time student at Miami Hamilton studying business while still working part time and raising a family.  While at Hamilton a chance meeting with professor Jennifer Purdum led him into the studio and onto a new education and career path – art.
It was while completing his Miami degree he began working in group homes in Cincinnati, finding a full-time position with Children's Hospital in an adolescent  mental health unit. There weren't any art therapy degrees at that time in Ohio, so he immediately began his master's in social work to augment his art degree.
Billingsley (L) with young artists and Bishop Richard Jackson (R).
Children's helped by providing space, materials, and display areas. "Art became the way to build trust with kids," Billingsley shared. One of the most basic approaches is having participants create a portion of a larger work of art, and then, bit by bit, putting the whole picture together.
"We use all facets of art – drawing, mosaics, poetry – to help patients share emotions or difficult past experiences. Art becomes a focus or a distraction, but most importantly the way they can express things that they cannot share in words."
As his work at Children's continues, he is expanding with a non-profit formed with his colleague Michael Coppage called "PIECES." Following the pattern of piecing elements together to form a whole work, they have been engaged in many Cincinnati projects including the Black Lives Matter mural on Plum Street.
Just prior to that mural work Billingsley visited Purdum's Introduction to Community Art class to share his experiences, and his invitation to join in led several Miami students to take part in the project.
Their most recent PIECES project was a mural at the South Avondale Elementary School that was part of a partnership with the Cincinnati Reds, Children's, Procter and Gamble, and the Cincinnati Zoo. The mural features Cincinnati leader Marian Spencer and longtime Avondale teacher William Joel McCray.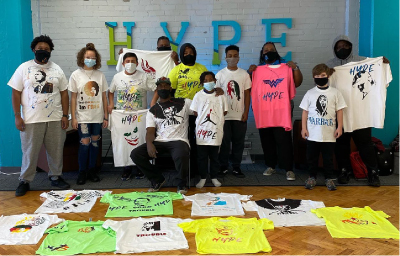 Billingsley and Pastor SHAQ with H.Y.P.E. (Hamilton Young People Empowered) a youth organization servicing Hamilton and surrounding communities.
PIECES work reaches out to community and business organizations to help with diversity, equity, and inclusion awareness and training. Most recently Billingsley was part of presentations for Back 2 Back ministries, an international group with a Cincinnati operation that works with marginalized youth.
New projects on the horizon include creating a Truth and Reconciliation city-wide art and poetry event to engage youth across multiple communities in Cincinnati. And that approach to putting pieces together to create the work of art continues to guide the planning.
"I believe that artists change the world, one piece of art at a time," Billinsgley commented, "and what I love most about art is that it is everywhere!"
To see more of Brent's work visit his Instagram account.