Miami University Regionals' Hamilton campus ranked top Ohio public college for ROI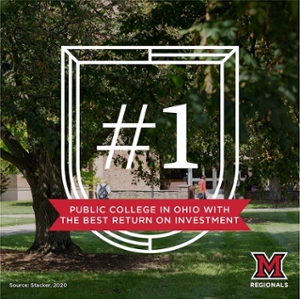 Jan 10, 2021
Written by Ruth Orth, Marketing & Communications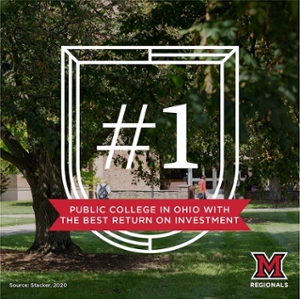 Miami University Regionals' Hamilton campus has been ranked number one in Ohio by Stacker as the best return for your investment among public colleges in every state. 

This places Miami Regionals in excellent company. Megan Spanel, director of Admission, said, "being ranked alongside schools like Purdue University and University of Kentucky showcases the quality of our graduates and the education in and out of the classroom they receive while they are at Miami University Regionals."

Stacker compiled its list using a 2019 College ROI study conducted by Georgetown University that focused on schools that award bachelor's degrees. The study indicated which college in each state had the highest 40-year ROI. The findings were based on net present value, which calculates future earnings based on income ten and forty years, respectively, after starting college. 

After ten years, Miami University Regionals graduates averaged $134,000 return on investment.  

"When selecting a major, it's hard for prospective students to fully understand the cost of their education and how it impacts their potential lifetime earnings," said Dr. Cathy Bishop-Clark, dean of Miami Regionals. "This ranking reaffirms our belief that Miami Regionals is a strong value."

Many Miami Regionals alumni can attest to the long-term value of a Miami Regionals bachelor's degree. According to Josh Hodges, 2010 Miami Regionals graduate and esquire at Kruger & Hodges, LLC, "one of the most rewarding aspects of my career as an attorney has been owning my own law firm. Starting my own firm not only provided me with the freedom to work on the types of cases that interest me, but it was also a good financial decision for my family. Choosing Miami Regionals helped me to graduate with a low student debt burden which was an integral factor in my ability to start my own business rather than work for other lawyers." 

Regional students can get a bachelor's degree in-person or online for roughly $27,000 from one of 30 plus majors.

View the full list of public colleges in every state with the best ROI.