Miami Regionals graduate to continue educational experience with summer internship in Brazil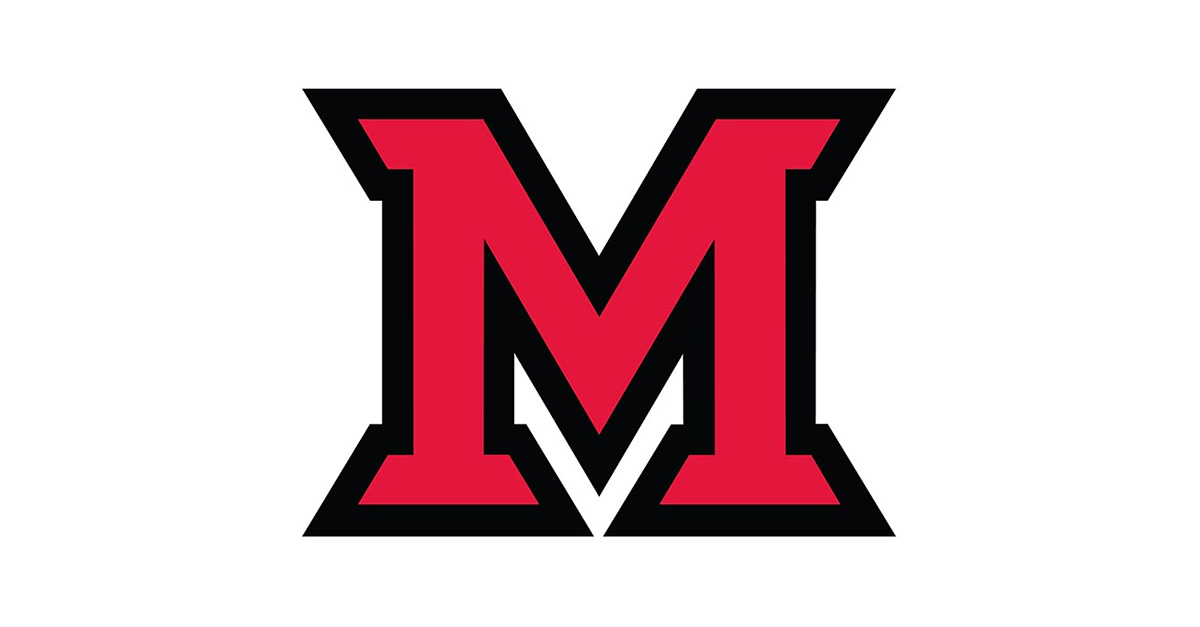 May 11, 2021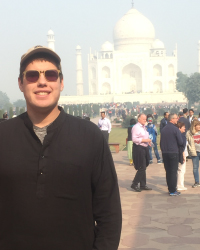 By Mary C. Dillon for Miami University Regionals
Ralph Waldo Emerson is often credited with saying, "Life is a journey, not a destination." Miami University Regionals senior Nik Baumlein is determined to prove him right.
Baumlein's journey has taken him from his native homeland, Russia, where he was adopted at 9 months of age, to Bargersville, Indiana, where he spent the next 14 years. He and his family then relocated to Ohio, where he graduated from Kings Mills High School and matriculated to Miami Regionals.
But unlike many of his classmates, when Baumlein, a commerce major, crosses the stage with the Class of 2021 his education will continue with the next step in his journey: a three-month internship in logistics and the import/export business with Grupo Pinho in Brazil.
"I chose to go overseas because of my extensive international travels over the years and wanting to stay in one country for a longer period of time," said Baumlein. "I found Brazil by digging up agencies and positions online and found an agency that helped put me in contact with my future employer."
After an hour-long Zoom meeting, Baumlein was selected as Pinho's first American intern. He will help the company, which has more than 60 years of experience in cargo handling, organize paperwork tied to shipments between the U.S. and Brazil.
"I will be coordinating with Pinho's American partners to help facilitate shipments between the two nations. It will be a very exciting challenge for me to help understand their business culture and how it differs from companies in the U.S."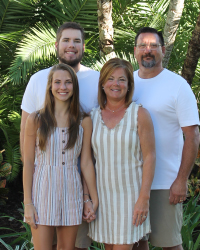 Nik Baumlein with his family.
His first obstacle may be in the language department, since he doesn't know a single word of Portuguese, Brazil's native language. "I am hoping to at least get a basic grasp of it while I'm there," he said. "I am excited to learn some words and phrases because I think it will help me feel more ingrained into the culture as well."
In his spare time, Baumlein, who will be living with his boss and his family, hopes to explore that culture and meet some new life-long friends. "Living with them will give me the opportunity to understand the Brazilian culture from a family perspective. I'm hoping that being in this international environment will get me out of my shell and my comfort zone, which will only add to my experience."
Baumlein chose Miami Regionals for his educational journey because he "wanted to graduate with no debt" – which he will accomplish on May 13 – at a school with small classes that cared about him as a person.
"During the school year, I would work Fridays and Saturdays at a local golf center, and Friday through Sunday evenings I delivered food for a Chinese restaurant," said Baumlein. "Working two jobs taught me so much and helped me build mental toughness. It also gave me the motivation to finish school and earn my college degree.
"I was able to manage a heavy load by prioritizing my schedule," Baumlein continued. "In the summer it was work, work, and work, while the school year was school first then work. I had a system down and a routine that easily allowed me to manage my time and set correct priorities."
"Many undergraduate students have a hard time keeping up with their academics. Nik carried a full-time course load to graduate in four years while working a job and volunteering," said W. Brian Furnish, assistant vice president of corporate and foundation relations at Miami. "He told me several years ago it was his goal to get an international internship, and even in the midst of a global pandemic, he managed to do so. His commitment to set goals and achieve them is admirable."
Baumlein credits two people – Barbara Caudill and Jerry Martin – with helping him along the way.   
"Caudill helped me pass my statistics class thanks to her patience and understanding of my math struggles," Baumlein said. "She met with me whenever I needed help even though I think at times I frustrated her by not knowing some of the material. She was always so encouraging and once I got through her class, I knew I could overcome any other academic challenges that may come up during my college career."
"Nik was a very conscientious student who gave 100 percent in my statistics class. He would visit me in my office each week for extra assistance with the coursework," said Caudill, coordinator of instructional design for Miami Regionals E-Campus. "As the semester progressed, Nik settled into the class and I witnessed the growth of his problem-solving and critical thinking skills. These enhanced skills produced success in statistics, which I am sure carried forward to other classes. I am sure these skills will be an asset as he starts his new position in a new country."
"Martin helped me understand the benefits of living in another country doing something that you love," Baumlein continued. "He spent many years in Japan teaching English and his experience made me want to try living overseas for a longer period of time. He is a big reason that I tried so hard to get this internship."
"Nik was a great and highly engaged student. Right away he exhibited interest in the global business class and actively shared his opinions and thoughts," said Martin, director of Regional Campuses Global Programs. "Nik will benefit from his international internship in a number of ways, including acquiring Portuguese language skills, increasing his global competencies skill sets, and experiencing a real-world global work environment.
"Companies, whether international or global, are all looking for these skills and experiences in their employees," Martin continued. "Nik already has pretty extensive international travel experience, and so with this internship in Brazil, he will no doubt be an actively sought-after candidate in the global workforce."
That is exactly the destination Baumlein is hoping for. "My plan for my post-internship future are to hopefully get a job offer from Pinho that would allow me to live in Miami, Florida, helping them to get their new warehouse up and running."