Student makes the most out of research opportunities at Miami University Regionals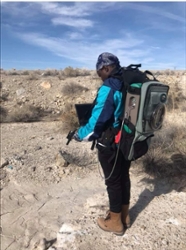 Aug 30, 2021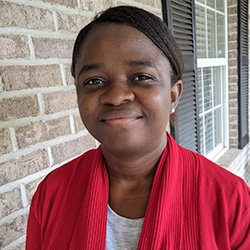 Written by Mary C. Dillon for Miami University Regionals
Most people are unaware that pollution is all around them. Mireille Fouh Mbindi, a senior at Miami University Regionals majoring in
Environmental Earth Science
, hopes to change that.
"Metal pollution can be found commonly in parks, playgrounds, and beaches," said Fouh Mbindi. "People often do not recognize it and are not aware of the harm it can cause."
Selected for the National Science Foundation-funded
Research Experiences for Undergraduate program
, Fouh Mbindi spent the summer conducting projects to further her research in the ecology of human-dominated landscapes. The work took her from her research lab on the Regionals' Hamilton campus to Salt Creek Nature Sanctuary in southeastern Indiana and the Mount Baldy sand dunes, which border Lake Michigan and is located in a national park.
In addition to completing a service activity at Salt Creek, which included digging around ponds for amphibians and marking newly planted trees, Fouh Mbindi was able to investigate industrial pollution at Mount Baldy, which has been linked to U.S. Steel's Gary Works plant, which at one time was the world's largest steel mill.
"We want to assess the impact of metal pollution in communities in regard to the environment," she said. "I recently presented the project at the 2021 ecology REU final symposium in its nearly finished version."
Fouh Mbindi will continue to analyze the samples she collected for her next presentation, which will be at the annual meeting of the Geological Society of America in Portland, Oregon, in October. While for some, presenting at a national meeting of renowned researchers may be frightening, for Fouh Mbindi it's something she's been working toward since she first stepped foot on campus. 
A native of Cameroon, Fouh Mbindi joined her husband in the U.S. in 2016 after living in Canada. She enrolled at Miami Regionals in 2017 and became an inaugural member of
FYRE
, the First Year Research Experience program on the Miami Regionals campuses, which introduces students to research experiences and techniques.
"
Mark Krekeler
, who taught the course, assigned us to groups where we investigated rare earth elements in volcanic New Mexico sand," Fouh Mbindi said. "We learned skills such as teamwork, how to find resources online, and how to best use the Miami University Library." Rare Earth Elements are a set of 17 critically important elements that are used in various sectors of the U.S. economy including health care, transportation, power generation, petroleum refining, and consumer electronics. 
A new mother at the time, Fouh Mbindi found the work and time management challenging but it paid off in the spring of 2018, when she and her partner did a poster presentation at the Undergraduate Research Fair in Oxford, which led to a presentation at the GSA's national meeting in Indianapolis, Indiana.
"Beyond the opportunity to present my project to a vast audience, that experience allowed me to develop my networking skills," Fouh Mbindi said. "I had qualitative conversations with people interested in my presentation, especially those with no knowledge of the importance of REEs."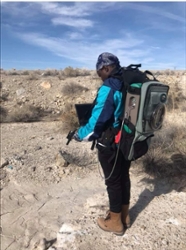 In her sophomore year, she was selected for the
AUGITE
-- Advancing Undergraduate Geosciences Through Integrated Training Experiences -- project. Led by Krekeler and
Claire McLeod
from the Oxford campus, the NSF-funded project took the research team to Tonopah, Nevada, over spring break, where it visited a gold mining company and took samples of sediments and minerals.
"It's always fascinating to have a real experience and contact with concepts and materials covered in class," said Fouh Mbindi. "We had the opportunity to see gold nuggets in their mining form, a blast, and we coordinated the transportation of sediments back to our lab."
With a stout research portfolio under her belt, Fouh Mbindi will head to Oregon with confidence.
"I will go to GSA more confident compared to my first experience, where I was shyer and relied on Dr. Krekeler for help," she said. "Passionate about pollution, I plan to use this project for my master's thesis and, if possible, for publication in a research journal."
Her work doesn't stop there. She is currently helping a lab partner collect samples for a project that looks at road sediment and painting sampling in Ohio, Kentucky, and West Virginia. She hopes it will help her better understand her own research project.
"Mireille is an excellent example of a student that chose to explore undergraduate research and has created her own path exploring a wide range of topics," said Krekeler. "She currently is working on her project but is a valuable resource for numerous other students helping out in the lab and in the field. I am excited and look forward to her publishing her project in the coming year."