The Technology Services Departments work to bring innovation to the campuses and support students, staff, faculty, and the community in the use of technology. We work to lead the campuses with the most current technologies for teaching and learning, to bring excellent customer service and access to Miami University's information and technology resources.
Hours During Semesters
Monday-Thursday 8 a.m. -9 p.m.
Friday 8 a.m. -5 p.m.
Hours During Summer and Breaks
Monday-Friday 8 a.m. -5 p.m.
Regional IT Staff
Hamilton Campus
Middletown Campus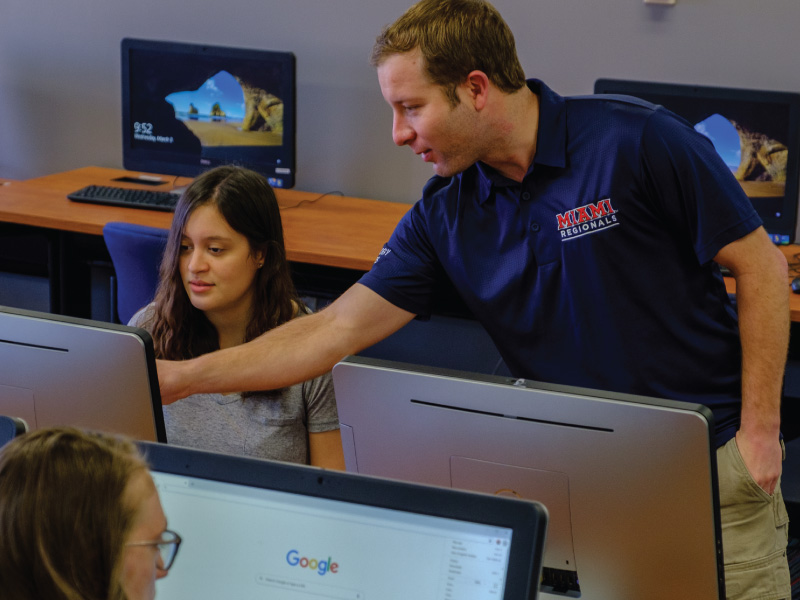 Student Worker Opportunities
Miami University requires its student workers to be registered for a minimum of six credit hours and allows workers a maximum of twenty-two hours per week during the fall and spring semesters and forty hours during breaks.
Openings are available at both the Hamilton and Middletown campuses.
Four reasons why you should apply:
Convenient work location. (You're here anyway, right?)
Quiet study location. (You can study during downtime)
Good resumé-building material. (Working in the Technology Services Department will enhance your skills and could also provide a good reference to future potential employers)
Training is FREE!
Technology Services
Hamilton Campus, Mosler Hall
Middletown Campus, Gardner-Harvey Library