America Reads America Counts at Miami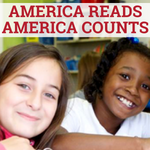 Make a difference!
Calling all Tutors, Mentors, and Future Generation Inspirers!
Aug 20, 2018
Miami students can develop a greater sense of intellectual and civic engagement by tutoring and mentoring local K-6 children through the American Reads America Counts initiative. This is a paid opportunity and no prior tutoring experience is necessary.
Regardless of career plans or academic interests, Miami students will enrich their personal and professional skillsets by providing the personal attention these children need as they learn basic reading and math skills. Both tutoring programs allow students who are eligible for the Federal Work-Study Program to assist local children while earning money for college.
To learn more, visit the Miami America Reads America Counts page. Or, contact Kimberley Jenkins (jenkink@MiamiOH.edu) and put "America Reads America Counts" in the subject line.