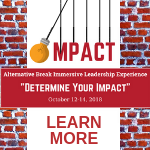 Fall Break, 2018
The purpose of MPACT is to develop the leadership capacity of Miami students.
Sep 14, 2018
MPACT is a three-day immersive, student leadership challenge dedicated to cultivating valuable leadership skills that will empower students to lead change initiatives in the Miami community. MPACT takes place over Miami's Fall Break, October 12-14, 2018, at Hueston Woods Retreat and Conference Center (transportation provided from campus). Registration is open now through September 28 and space is limited to 30 participants.
Contact the Wilks Leadership Institute with questions. A sample schedule is below.
Friday, October 12th
Kickoff and Orienteering
Workshop: Model the Way
Free Time
Workshop: Inspire a Shared Vision
Late Night Programming
Saturday, October 13th

Workshop: Challenge the Process
Free Time
Workshop: Enable Others to Act
Low Ropes Course
Bonfire and Smores
Sunday, October 14th

Workshop: Encourage the Heart
Action Planning
Closing Ceremony