Welcome Weekend and First 50 Days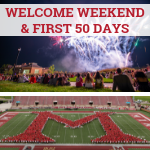 Welcome (Back) to Miami!
Seven weeks of events for new and continuing Miami students
Sep 14, 2018
Welcome Weekend
To celebrate and support their transition to Miami in August, first-year students experienced Welcome Weekend from Thursday, August 23 through Sunday, August 26. During this time, your students had the opportunity to learn the Miami fight song, take their class picture, see a hypnotist and fireworks, and continue learning about campus resources and expectations.
First 50 Days
Though we are now in the fourth week of the semester, and many students are settling (back) into college life, most students continue to adjust and may need several more weeks to establish new academic and social norms. Orientation and Transition Programs continues to support students in their transition through First 50 Days. This is 50 days of nearly 400 events for students. Coordinated with over 70 campus partners, First 50 Days provides additional opportunities for students to find their place on campus, learn about various types of campus resources, make connections with other students, explore their interests, and more.
First 50 Days program information and details are available in the Miami University Events app. Once in the app, view the Orientation and Transition 2018 guide for a full calendar of events happening each day until Sunday, October 14th. While Sunday, October 14 concludes First 50 Days, more programs and events can be found on the HUB and University Events Calendar.