Faculty/Staff Connections
Report It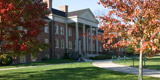 Hate Crime
If you believe you're the victim of a hate crime, you should report it to the appropriate campus security authorities.
Sexual Assault
Learn more about Miami's strategies for sexual assault prevention as well as resources for students who have experienced sexual misconduct or assault.
Harassment/Discrimination
The Office of Equity and Equal Opportunity (OEEO) works to investigate and resolve issues through formal and informal resolution procedures.
Bias Incidents
If you believe you're the victim of a bias-related incident, email biasreporting@miamioh.edu or visit the Bias Incident Reporting site to find out how to report it and take advantage of available resources.
EthicsPoint
This program provides a confidential and anonymous method for reporting illegal or unethical conduct that violates Miami's policies.
Student Concern Management
If you think a student is experiencing significant distress, call 513-529-1877, email deanofstudents@miamioh.edu, or use the automated student concern reporting system to pass along that important information.
Office of Diversity Affairs (ODA)
Located within the Division of Student Affairs, the Office of Diversity Affairs offers direct support to diverse student populations through multicultural programming that centers on academic, professional, and social development. The ODA staff also provides support to faculty and staff through diversity-related training, seminars, and consultation on matters of inclusion.
Office of Equity and Equal Opportunity (OEEO)
This office provides an equitable environment for students, faculty, and staff and works to achieve this with compassion, understanding, and fairness to all parties involved. The OEEO staff works closely with faculty and staff on matters related to equitable hiring practices, ADA compliance for persons with disabilities, and issues of discrimination as well as providing information and training.
Center for American & World Cultures (CAWC)
The Center for American and World Cultures implements programs and activities that celebrate the richness of diversity, both within the United States and abroad. As part of their co-curricular focus, the CAWC supports faculty, staff, and students in efforts to create a richer educational experience while fostering the value of continuous learning about cultures and diverse ideas. The Center also partners closely with faculty and staff to incorporate visiting scholars, lectures, and programs into current courses to provide students with a richer educational experience.
Confucius Institute
Serving as a platform to internationalize current and future Miami students, the Confucius Institute uses such efforts as their host outreach program to expand the Chinese language and Miami's cultural offerings.
Women's Center
Offering programs and resources that enhance the lives of women at Miami, the Women's Center works to educate the campus about equity and climate issues and the contributions of women and advocates for women's full access to and participation in the institution.
Faculty/Staff Organizations
Asian and Asian-American Faculty & Staff Association (AAA-FSA)
Established in 2007, the AAA-FSA consists of employees of Miami University at the Hamilton, Middletown, and Oxford campuses. Its mission includes the following actions:
Advocate for Asian, Asian American, and Pacific Islander faculty and staff at Miami. We will support and defend the rights and privileges accorded to faculty and staff. We will make efforts to increase opportunities for current faculty and staff in order to raise our profile on campus. We will function as a liaison to the university regarding matters of concern to our community.
Promote the intellectual and personal development of Asian, Asian American, and Pacific Islander students at Miami. We will work with students for the purpose of guiding their academic and cultural interests.
Collaborate with other Miami organizations and the community at large to foster a greater understanding of Asian, Asian American, and Pacific Islander issues and concerns. We will build networks and foster partnerships among academic affairs, student affairs, and community organizations to advance diversity, equity, and social justice.
Celebrate the cultures and contributions of Asian, Asian Americans, and Pacific Islanders in the United States and in the Diaspora. We will support university and community activities that fall within the scope of our organization's mission.
Association of Black Faculty & Staff (ABFAS)
As one of the oldest university Black Faculty & Staff associations in the country, the ABGAS has worked for over 40 years to attract and retain diverse faculty and staff at Miami. In addition, the ABFAS strives to create a curriculum representing the Black Diaspora in which we live and a climate that is welcoming to peoples of African descent. The Association works to implement three primary functions:
Assist the university in increasing the faculty, staff, and student composition to secure a "critical mass" of diverse peoples.
Provide a crucial voice calling into question any inequitable practices or policy at Miami University.
Offer support to faculty, staff, and students.
Association of Latino/a Faculty & Staff (ALFAS)
The ALFAS has been formed by Miami University employees (Hamilton, Middletown, and Oxford campuses) to foster Latino/a (defined as Luso-Hipanics) representation, improve work conditions, and enrich the social and cultural environment for all faculty, staff, and students. Toward that end, the Association has adopted the following goals:
Increase our visibility and participation in decision-making processes as Latino/a employees at Miami University.
Establish collaboration efforts with other constituencies on our campuses.
Aid in the recruitment, retention, and promotion efforts of other qualified Latino/a faculty and staff.
Aid in the diversity-related efforts set forth by the university.
Enhance the sense of community among Latino/a employees at Miami University.
Promote the personal and professional development of our members as Latinos/as in Higher Education.
Help prepare ourselves and the university for the dramatic demographic changes of our society, particularly the increase in the Latino/a population in the U.S.
Educate others about the Latino/a culture.
Serve as role models and mentors for all Latino/a students at Miami University.
Aid in the recruitment and retention of qualified international Latino/a students.
Enhance awareness and acceptance of cultural differences.
The LGBTQ Advisory Group has the role of bringing together several separate constituencies (undergrad/SPECTRUM, grad/HAVEN, faculty and staff/GLEAM) as well as representatives from the regional campuses in order to educate the university community about LGBTQ concerns and to address injustices perpetrated against LGBTQ community members in policy or practice. Originally constituted in 2003 as the LGBTQ concerns committee, the group focuses on issues of gender identity and sexual orientation, and works on behalf of the lesbian, gay, bisexual, transgender, and queer (LGBTQ) community at Miami. The organization's goal is to educate the Miami University community about LGBTQ concerns and address injustices perpetrated against LGBTQ community members in policy and practice.
Past accomplishments include domestic partnership benefits and the creation of a Gender and Sexuality Studies thematic sequence. The group continues to provide opportunities for socializing (including the GLBT Gala in February) and political engagement. Everyone, regardless of sexual orientation and gender identity, is welcome to join.
For more information, visit the LGBTQ website or email us at glbtq@miamioh.edu.