About the Bridges Program
Miami University is proud to present the Bridges Program, an engaging experience that provides an inside look of Miami University to prospective students. This program invites high-achieving high school seniors from historically underrepresented populations, as well as students who have a commitment to promoting a deeper understanding of and appreciation for diversity, to engage with our current students, faculty, and staff. The program attracts students who represent various diverse identities — racial/ethnic, sexual orientation and gender identity, and socioeconomic.
---
Bridges Program Scholarship
Students who complete the Bridges Program, apply, are accepted, and enroll on the Oxford campus for Fall 2022 will be eligible to receive the Bridges Program scholarship. Last year, Bridges scholarship values ranged from $2,500 to $5,000 annually. Students can "stack" this scholarship with other Miami awards, which means multiple scholarships can be used for student expenses. In fact, most Bridges participants receive multiple awards, for total values ranging from half to full tuition.
---
2021 Bridges Program Dates
The 2021 Bridges Program dates have passed. Dates for the 2022 Bridges Program will be available late spring/early summer 2021.
---
2021 Inspiring Programs in STEM Award
Miami's Bridges Program has been awarded one of the 2021 Inspiring Programs in STEM Award from INSIGHT Into Diversity. This award recognizes the unique and innovative efforts for improving access to science, technology, engineering, and math for underrepresented students.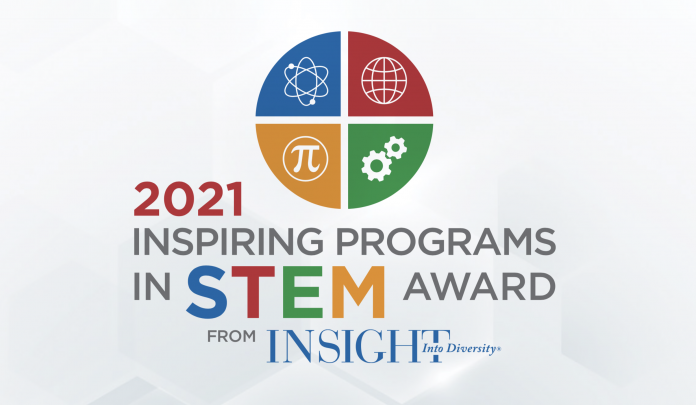 ---
Application
Student accepted to the Bridges Program usually meet the following application criteria:
High school students graduating in 2022
Minimum of 3.00 GPA on a 4.00 scale or top 25% of graduating class
Rigorous curriculum
Demonstrated leadership/co-curricular involvement
Test scores (PLAN, ACT, SAT, PSAT) are NOT required
The application for the 2021 Bridges Program is now closed. More information regarding the 2022 application and program details will be available in summer 2022.
---
FAQs
Questions? Check out our list of frequently asked questions for more information about the Bridges Program.
---
Contact Information
Office of Admission
513-529-2531
outreach@MiamiOH.edu