Big cats visit environmental literature capstone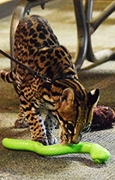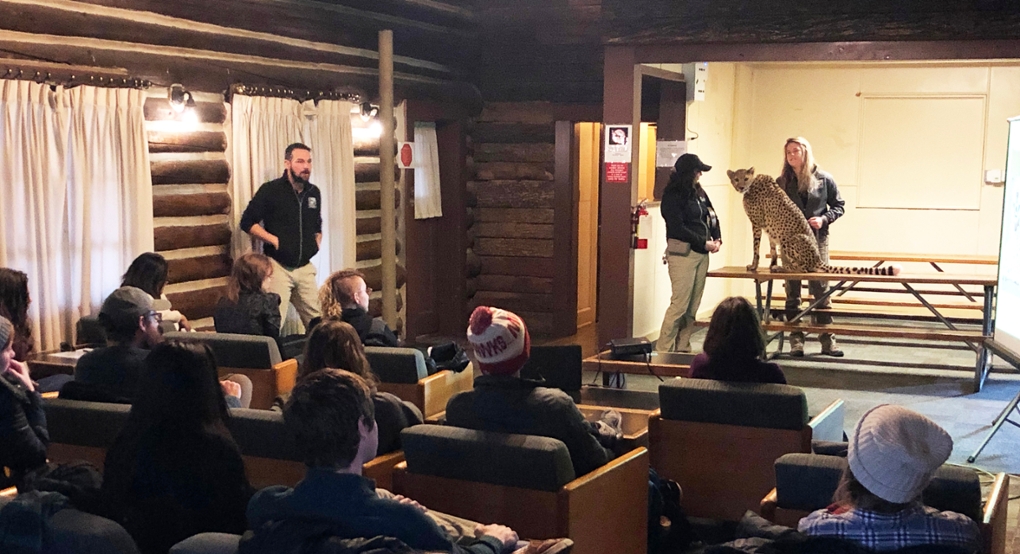 Nov 30, 2018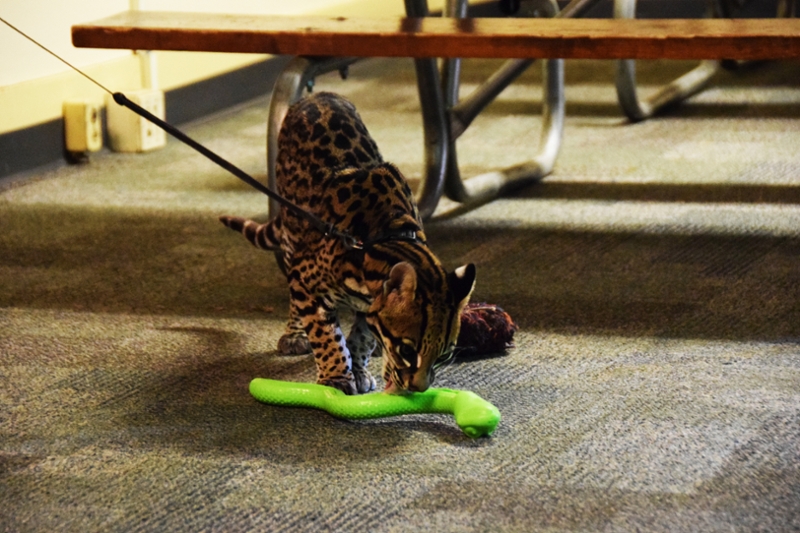 Students in Professor Anita Mannur's ENG 495E: Postcolonial Environments capstone class recently had some very unusual visitors. The Cincy Big Cat Ambassador Program brought a cheetah, ocelot, housecat, and a dog to Western Lodge to kick off discussions on conservation and adaptation. 
"We've talked a lot about nature and the relationship between human beings and the environment," said Cat Looby, a senior classical humanities and English literature double major. "So it was really cool to actually hear people talk about conservation in action in very real terms instead of theoretical or fiction and to see some real animals… I didn't know that cheetahs could purr!"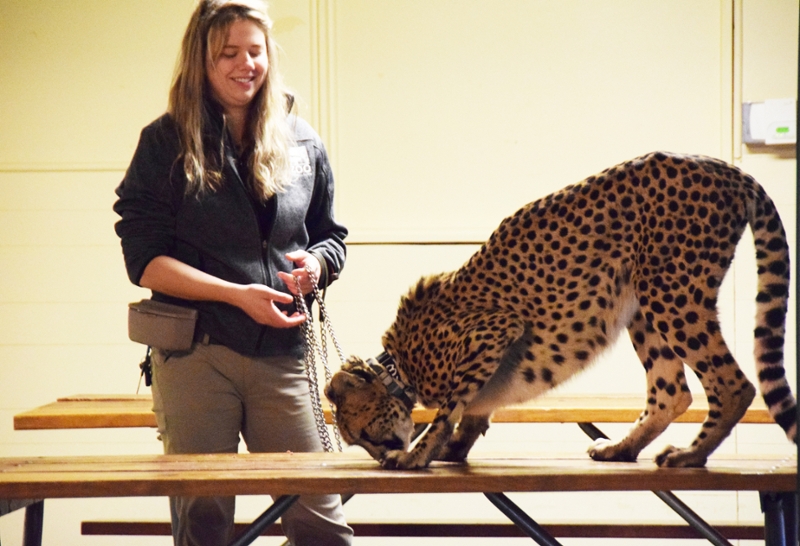 Mannur assigned a chapter from a book called Slow Violence: Environmentalism of the Poor by Rob Nixon. "I thought it would be a good opportunity for us to think about a concept the author raises," Mannur said. "He describes how we have a particular empathy for what he calls 'charismatic mega fauna' and so I was curious about why we are so often moved by animals like Harambe the gorilla, or Fiona the hippo or Cecil the lion? Why do we think that these animals are more deserving of protection and care than animals raised in slaughter houses that will end up on our dinner table?"
Though Mannur realizes bringing the cats in could further this idea of certain animal life being more valuable, she also sees it as an opportunity for this class to think about "how local efforts are working towards educating the public about these animals that are often endangered."
Capstone student Austin Snyder, an Integrated ENG/Language Arts major, said it was interesting to hear about the strategies the Cincinnati Zoo uses when it comes to the draw towards certain types of mega fauna: "They have to ride on that wave of interest for lions and gorillas and guide it towards the smaller, less-cool fauna."
The inclusion of the housecat and dog is another example of the ambassador program seeking to connect the charismatic with the known. Housecats, the ambassador team explained, can be very destructive when allowed to roam free.
"It showed that all the cats are pretty much the same and we don't think about how housecats need to be treated with care," Snyder said.
The dog, Moose, who visited is a companion to the cheetah, Donnie, who is from a one-cub litter. This practice is fairly typical for zoos. 
"It was cool how they brought the dog out," Snyder said. "They showed every aspect of what it means to raise a cheetah in the most natural way and the most beneficial way, even though there are limitations."
The capstone focused on how representations of nature, land, or the environment have communicated particular ideas about class, race, and racial categories. Some of the authors they read included Amitav Ghosh, Indra Sinha, Ruth Ozeki, Sonali Deraniyagala, Rob Nixon and Anna Tsing.