Hailiang Dong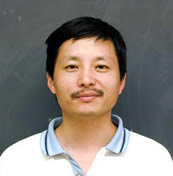 Professor
Ph.D. 1997 University of Michigan
207 Shideler Hall513-529-2517
dongh@miamioh.edu
---
The overall objective of my research program is to understand how and why microorganisms and geological media (rocks, minerals, water) interact and how we can study their mutual interactions to understand a range of biogeochemical processes on Earth and beyond... My current research is focused on three broad areas:  1) mineral-microbe interactions; 2) life in various extreme environments (saline lakes on Tibetan Plateau, hot springs, and deep continental subsurface) and implications for life on Mars; 3) environmental bioremediation of heavy metals and radionuclides as well as organics such as TCE and BTEX.  I employ a number of geological, mineralogical, geochemical, and microbiological techniques to study these processes including microscopy, spectroscopy, aqueous geochemistry, molecular microbiology and cultivation, and modeling.  Most of my research projects are funded by NSF, DOE, DOD, ACS-PRF, and other internal (Miami University) and foreign (international) sources.
Possible thesis/dissertation topics:
Clay mineral-microbe-organic matter interactions
Microbial remediation of heavy metals, Cr, U, As and nitrate.
Green bioenergy research (microbial conversion of biomass and fossil fuel to methane and ethanol)
Biogeochemical cycling of C and N in hot springs.
Current/recent graduate research:
Zhang, Jing (Ph.D. 2013) Microbe-clay mineral-organic matter-metal interactions.
Glasser, Paul (M.S. 2013) Kinetics and mechanisms of Cr6+ reduction of structural Fe(II) in clay minerals.
Huang, Qiuyuan (Ph.D. 2014) Carbon and Nitrogen Biogeochemistry in Terrestrial Hot Springs.
Bishop, Mike (Ph.D. 2015) Bioremediation of heavy metals at DOE contaminated sites.
Singh, Rajesh (Ph.D. 2015) Bioremediation of heavy metals Cr and Co with methanogens and degradation of organic contaminants with nitrate and metal reducing bacteria.
Zhao, Linduo (Ph.D. 2015) Remediation of groundwater nitrate coupled with oxidation of Fe(II) in clay minerals.
Zhang, Li (Ph.D in progress) Synthesis of biogenic nanoparticles and their industry applications.
Srivastava, Shreya (Ph.D. in progress) Microbial response and feedback to climate change.
Kugler, Alex (Ph.D. in progress) The impacts of environmental stresses on the rates of mineral-microbe interaction
Zuo, Hongyan (Ph.D. in progress) Microbial processing of organic matter associated with soil minerals
Selected Publications:
Zhao, L., Dong, H., Kukkadapu, R.K., Zeng, Q., Edelmann, R.E., Pentrak, M. and Agrawal, A (2015) Biological redox cycling of iron in nontronite and its potential application in nitrate removal.  Environmental Science & Technology, 49, 5493-5501.
Sing, R., Dong, H., Liu, D., Zhao, L., Marts, A.R., Farquhar, E., Tierney, D.L., Almquist, C.B., and Briggs, B.R. (2015) Reduction of hexavalent chromisum by the thermophilic methanogen Methanotherrmobacter therrmautotrophicus.  Geochmiica et Cosmochimica Acta, 148, 442-456.
Sing, R., Dong, H., Liu, D., Marts, A., Tierney, D. and Almquist, C. (2015) [Cobalt(III)-EDTA]-reduction by thermophilic methanogen Methanotherrmobacter therrmautotrophicus.  Chemical Geology, 411, 49-56.
Liu, D., Dong, H., Wang, H. and Zhao, L., (2015) Low-temperature feldspar and illite formation through bioreduction of Fe(III)-bearing smectitie by an alkaliphlic bacterium.  Chemical Geology, 406, 25-33
Schaefer, C.E., Towne, R.M., Lippincott, D.R., Lacombe, P., Bishop, M.E. and Dong, H. (2015) Abiotic dechlorination in rock matrices impacted by long-term exposure to TCE.  Chemosphere, 199, 744-749.
Huang, Q., Briggs, B.R., Dong, H., Jiang, H., Wu, G., Edwardson, C., Vlaminck, I.D. and Quake, S. (2014) Taxonomic and functional diversity provides insight into microbial pathways and stress responses in the saline Qinghai Lake, China.  PloS One 9(11), e111681.
Zhang, J., Dong, H., Zeng, Q., and Agrawal, A. (2014) The role of methanogens in the preservation of organic matter in smectite mineral. Chemical Geology, 389, 16-28.
Bishop, M.E., Glasser, P., Dong, H., Arey, B., and Kovarik, L. (2014) Reduction and immobilization of hexavalent chromium by Fe-bearing clay minerals.  Geochimica et Cosmochimica Acta, 133, 186-203.
Selected Grants:
Collaborate Research:  Nitrate Reduction by Redox-modified Fe-bearing Clay Minerals
NSF-EAR 1148039, Dong, PI, Miami Budget $187,778, 5229-5246.
PIRE:  Toward a holistic and global understanding of hot spring ecosystems:  A US-China based international collaboration.  
NSF, PI at Miami, the Miami budget:  NSF OISE #0968421, $460,413 (plus all travel costs through the University of Nevada @ Las Vegas), 8/15/2010 - 8/14/2015.
Integrative Field Studies for the Deep Carbon Observatory
The Alfred P. Sloan Foundation
Teaching Interests:
GLG 121 - Environmental Geology
GLG 211 - Chemistry of Earth Systems
GLG 402/502 - Geomicrobiology
GLG 496/596 - Isotopes in Environmental Processes
GLG 602 - Microbes and Geology
For a complete description of courses please see the 2018/2019 Miami Bulletin.