Carrie Tyler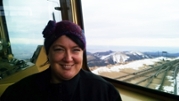 Assistant Professor
Ph.D. (2012) Virginia Tech
117 Culler Hall
513-529-8311
tylercl@miamioh.edu
I received my Ph.D. in Geosciences at the Virginia Tech and completed a post-doctoral fellowship at the Florida Museum of Natural History, University of Florida. My research includes processes governing the distribution, paleoecology, and evolution of marine invertebrates, the role of taphonomy and the fidelity of the fossil record in the development of macro-evolutionary and macro-ecological models, the application and development of quantitative paleontological methods, morphometrics and functional morphology of marine invertebrates, and ecosystems response to and recovery from perturbation.
The interdisciplinary nature of Paleontology requires an understanding of the dynamic interactions between the biosphere, lithosphere, and atmosphere throughout Earth's history. This provides an ideal opportunity to frame coursework in ways that are directly relevant to important societal issues, and for students to integrate concepts and knowledge from a variety of disciplines. In addition to wrestling with topics such as past climate change and natural resources, students in my classes also learn about ecosystem functioning and recovery, habitat loss, and mass extinction.
Possible thesis/dissertation topics:
Using fossil food webs to understand marine ecosystem functioning and recovery.
Conservation geobiology and quantifying anthropogenic effects in the Outer Banks, North Carolina.
Taphonomy and the fidelity of the fossil record, Outer Banks, North Carolina.
Predation and the utility of proxies for predation intensity, Vancouver Island, Canada.
Quantifying biotic interactions on macroevolutionary timescales using echinoid associated traces.
Selected Recent Publications:
Tyler, C.L., Schneider, C.L. (eds). In Preparation. Marine Conservation Paleobiology (Topics in Geobiology). Springer Verlag, New York. Proposal approved May 10th, 2015. Target publication date October, 2016.
Stafford, E.S., Tyler, C.L., Leighton, L.R. 2014. Shell Repair Frequency Tracks Predator Abundance in Intertidal Gastropods. In Press Marine Ecology (Accepted June 21st 2014). 
Tyler, C.L., Leighton, L.R., Stafford, E.S. 2015. Quantifying Predator-Prey Interactions: The Utility of Wax Replicas for Measuring Crab Attack Frequency of Gastropods. Journal of the Marine Biological Association of the United Kingdom 95(2):361-369.
Tyler, C.L., Kowalewski, M. 2014. The Utility of Marine Benthic Associations as a Multivariate Proxy for Paleo-Bathymetry. PLoS One 9(4). 
Tyler, C.L., Leighton, L.R., Kowalewski, M. 2014. The effects of Limpet Morphology on Predation by Adult Cancrid Crabs. Journal of Experimental Marine Biology and Ecology 451:9-15.
Tyler, C.L., Leighton L.R., Carlson, S.J., Huntley, J.W., Kowalewski, M. 2013. Predation on Modern and Fossil Brachiopods: Assessing Chemical Defenses and Palatability. Palaios 28:724-735. 
Tyler, C.L., Schiffbauer, J.D. 2012. The Fidelity of Microstructural Drilling Predation Traces and Gastropod Radula Morphology: Paleoecological Applications.  Palaios 27:658-666.
Tyler, C.L., Leighton, L.R. 2011. Detecting Competition in the Fossil Record: Support for Character Displacement among Ordovician Brachiopods. Palaeogeography, Palaeoclimatology, Palaeoecology 307:205-217.
Selected Grants:
National Science Foundation (SGP), awarded 2011
Higher-Taxon Fidelity: Comparative Taphonomy of Marine Benthic Associations in Holocene Depositional Systems of Coastal North Carolina.
Teaching Interests:
GLG 204 – Survival on an Evolving Planet
GLG 244 - Oceanography
GLG 500/600 – Conservation Paleobiology