About Latin American, Latino/a, and Caribbean Studies
Latin American, Latino/a and Caribbean Studies (LAS), in the Department of Global and Intercultural Studies, explores Latin American and Caribbean cultures, economies, social and political systems, literature, art, music, history, and geography across the hemisphere. Opportunities to study abroad and to engage with Latin American communities in Ohio promote the active application of international knowledge to vital issues in today's changing world.
The LAS program highly values study abroad and study away in all contexts. Each year Miami offers numbers of Summer and/or Winter term workshops in such locations as the Bahamas, Cuba, Mexico, Argentina, and Peru. LAS students are encouraged to study in programs offered by other universities and organizations.
Careers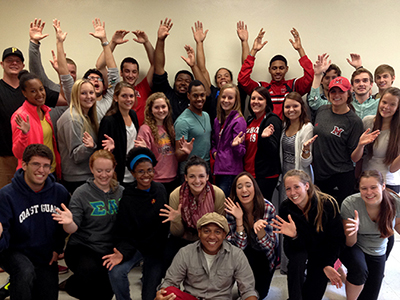 Introduction to Latin America (LAS 208) students prepare for the Global Rhythms World Music program.
The Latin American, Latino/a and Caribbean Studies (LAS) program provides students with a broad range of highly sought after liberal arts competencies and tools to succeed across a spectrum of career choices.
Recent students have gone to work for:
US government
state and local governments
nonprofit sector
community organizations
international organizations
businesses working in both the US and internationally
See also:
Career Planning Steps
When students declare an LAS major, we encourage them to complete a series of experiences that we think will help students to both explore possible careers and increase their attractiveness as future job candidates. To that end, we hope that all LAS majors will be able to complete at least 4 of the 5 steps below between the time of declaring a major and graduating from Miami.
Visit the Center for Career Exploration and Success in Hoyt Hall. During that visit, students should sign up for a listserv of job and internship opportunities that is closest to their career interest, as well as explore the variety of resources available through the Career Services.
Students should attend at least one workshop/panel offered by LAS, another interdisciplinary program, or related department focused on career or graduate/professional school opportunities after Miami. You will receive notices of upcoming workshops through the LAS majors and minors listserv.
Students should have at least one LAS experience in an area of study abroad/study away, internship, or independent study that can be used as an example of workplace skills and competencies that would strengthen your application for future employment.
Students should attend at least one career event held on campus each year. Opportunities range from Career Fair (as a full participant or observer), informational meetings about things such as Peace Corps or Teach for America, and campus talks by people working in a field that might be of interest.
As part of students' culmination course (required for the LAS major), students will complete an assignment which links learning outcomes in the LAS major to the skills sought by employers in their field of interest.
Students are encouraged to meet with LAS faculty for more information about any of the above experiences or just to brainstorm about how their interest in Latin American and Latino studies might be related to future employment opportunities.
Faculty
Core Faculty
LAS Committee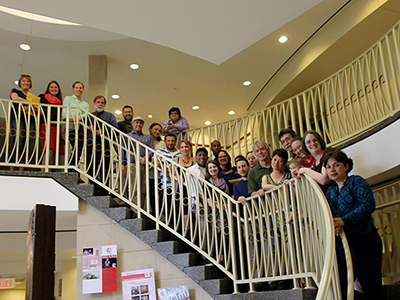 LAS faculty and staff after a meeting
The Latin American, Latino/a and Caribbean Studies Committee brings together faculty, staff and students who have scholarly, teaching and personal interests in Latin America, the Caribbean region, and Latino/a issues in the United States.
conducts research that includes comparative study of Latina and African American women's fiction, with emphasis on ritual as an analytical paradigm for comparison.
[PhD, University of Washington]
Berman, Mary Jane (Director, Center for American and World Cultures, Anthropology)
conducts research on the archaeology of the Bahamas and Cuba, with a focus on paleoethnoaeobotany and environmental archaeology. The Center for American and World Cultures promotes inclusion, equity, and global education through classes and co-curricular programming such as lectures, discussions, festivals, film series, read-ins, and conferences.
[PhD, SUNY-Binghamton]
Brandyberry, Erin (Coordinator of Global Programs, Global Initiatives)
is working on expanding international study in Latin America. She is interested in coordinating cross-cultural competencies and experiences for students, and in facilitating the development of faculty-led study abroad workshops.
[MSEd, Old Dominion University]
was born in México and has lived in Cuba. Gerardo researches modern and contemporary European architecture and his interests include Latin American cultural background and its contemporary expressions in architecture, music and art.
[M.Arch., Cornell University]
has interests that include the preparation of language teachers, uses of technology in the language classroom, and the preparation of generalist teachers to work with English Language Learners. Martha offers a summer language course in Honduras.
[PhD, University of South Florida]
was born in Belize and returns as often as possible. He provides support for the Miami-Honduras workshop and plans to start a workshop in Belize. Darrel is interested in all things Technology.
[PhD, University of South Florida]
teaches developmental biology and cancer biology and directs student research. Katia's research focuses on determining the cellular and molecular mechanisms of tissue regeneration.
[PhD, National University of México]
teaches a Spanish civic-engagement class, a course for Spanish Heritage Learners as well as other intermediate-advanced Spanish language courses. Katie's interests include integrating the community into the classroom, the Latin American diaspora in the United States and curriculum development for Heritage Learners.
[MA, University of Arizona]
teaches Latin American music, Brazilian culture, ethnomusicology and popular music. His research and performance interests span the classical-popular continuum in Latin American music, and the music of Heitor Villa-Lobos.
[PhD, Duke University]
is Information Services Librarian and liaison to the LAS Program. Katie supports students and faculty in their studies and research.
Gnivecki, Perry (Anthropology, Hamilton Campus)
conducts archaeological research in Cuba, Peru, US, and Bahamas, where he directs a field-school. Perry studies the emergence of complex societies, neotropical island archaeology and ecology, and human spatial organization.
[PhD, SUNY Binghamton]
researches and writes on Latina immigrant communities in the U.S. and lectures on Latina and women of color feminism
[MFA, University of Miami]
Ianes, Raúl (Spanish and Portuguese)
is from Montevideo, Uruguay, and he has lived and studied in Argentina. His teaching and research is focused on 19th century Latin America, with particular interests in history, memory, and national subjectivity in relation to literature and culture, as well as uneven Latin American transitions to modernity.
[PhD, University of Pennsylvania]
Kuykendoll, Megan (Family Studies and Social Work, Hamilton Campus)
teaches a course on child development that examines the influence and impact of cultural, environmental and familial factors on children's developmental outcomes. She incorporates topics such as bilingualism/multilingualism, immigrant families, and the diversity of cultural norms into the larger discussion of child development.
[MS, Miami University]
Motta, David (Spanish and Portuguese)
teaches Spanish and English Linguistics along with other intermediate Spanish language courses. David's interests and studies include morphology and dialectal variations across Latin America.
[ML, Universidad de Costa Rica]
specializes in the history of the American West, the U.S.-Mexican borderlands, and comparative frontiers. He has an ongoing interest in Mexico and the Southern Cone.
[PhD, Yale University]
focuses on ecocritical theory, posthumanism, and environmental humanities, ecological economics and political ecology, network and systems theory, digital culture, and global studies.
[PhD, Texas Tech University]
is a Peruvian geographer. Jacque develops and implements co-curricular programs including the UniDiversity program, Latin American and Caribbean Festival, Human Rights and Social Justice Program, and Study Abroad, among others.
[MA, Syracuse University]
travels to Brazil and Central America to study bird and reptile biology in tropical forests. He is interested in tropical conservation and development.
[PhD, Northern Arizona University]
Student Organizations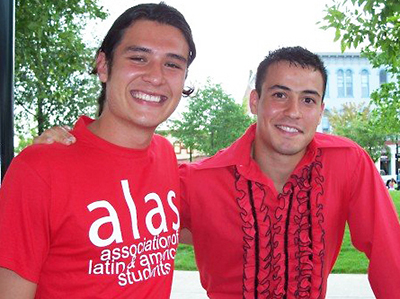 Two ALAS members smile for the camera.
Association of Latin and American Students
Association of Latin and American Students (ALAS) provides information about upcoming activities involving the Latino community and the Miami University student body; members have opportunities to participate in volunteer and service activities in the Oxford area.
Support the Program
The Latin American, Latino/a, and Caribbean Studies (LAS) Program at Miami University is committed to helping students gain a better understanding of the historical, cultural, economic, and political experiences, and environmental challenges, of Latin American and Caribbean people. The LAS Program provides educational enrichment to a wide range of students. Opportunities include the LAS Major, Minor, Study Abroad Workshops, Thematic Sequences, and Miami Plan Foundation courses. LAS is committed to providing our students with the necessary tools and experiences to be successful in their careers and as global citizens.
Through the generosity of donors to the LAS Program, we can continue to expand opportunities for Miami students to learn about and experience Latin America, the Caribbean, and Latino/a issues in the U.S. Please consider how valuable a resource the LAS Program is to Miami University students and help us continue these efforts with a gift.
There are several ways you can help us.
Unrestricted Gifts
These gifts allow us to apply your gift to the area of greatest need.
Designated Gifts
Sponsor Symposia/Lecture Series on issues and scholarship in LAS
Assistance to students who struggle to purchase textbooks for classes
Scholarships to our very best students
Grants to offset travel expenses for students to study in Latin America and the Caribbean
A classroom enrichment fund to enhance the LAS resource library
Travel grants for faculty for research activities