Recent News
Recent Accomplishments
Marisa Policicchio receives the SPARC Award
Marisa Policicchio received the SPARC Award (Students Preparing for Academic and Research Careers) given through the American Speech Language Hearing Association. The SPARC award involves completing both a research project and a teaching project. After submitting her budget proposal, Kara received a grant to use on her projects. For her teaching project, she developed an online assignment and a grading rubric for students in Dr. Susan Baker Brehm's Speech and Hearing Science course. Marisa's research project is entitled The Use of Video Modeling for Home Practice of Voice. Her study examined the effect of using a video model during home practice of vocal exercises as compared to standard instruction in healthy participants. Marisa presented preliminary results before the Ohio Speech Language Hearing Association in March. Awards for the projects will be presented this November. Marisa is pictured here (left) with co-authors and current graduate students Victoria Xidas (middle) and Katie Duffy (right).   
---
SPA Department offers Four Semesters of American Sign Language
Beginning in 2014, the Department of Speech Pathology and Audiology began to offer four semesters of American Sign Language.  These courses satisfy the College of Arts and Science's foreign language requirement.  A full language immersion approach is utilized through all four semesters.  Students are required to participate in events that happen within the local Deaf community and engage in meaningful dialogues with Deaf adults at each.In addition, the department also offers a Global Perspectives on Deaf Culture.  In this course, students examine the history of Deaf Culture in America, societal trends, education methods, and cultural perspectives pertaining to deafness. They then take what they have learned and compare and contrast those cultural ideals with those in other parts of the world.  As ASL is the third most used language in the United States, completion of this sequence will prepare students to communicate with and be sensitive to the cultural needs of Deaf individuals in a variety of settings and wherever their majors and careers may take them.  
---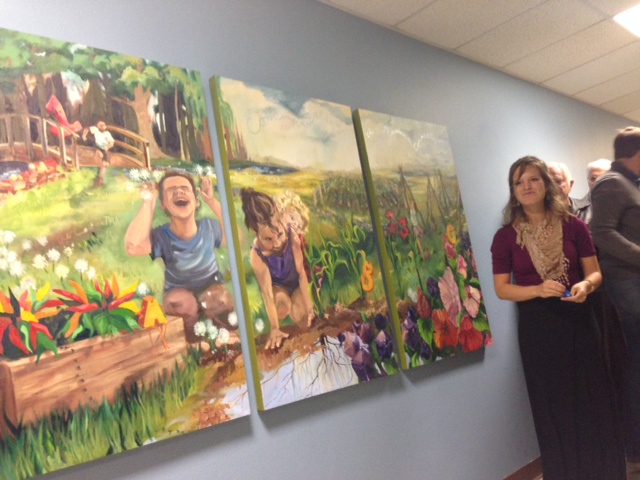 Jessica Passen's Orignial Mural Brightens the Clinic
In Fall 2014 an original painting by speech pathology & audiology major/art minor, Jessica Passen (BS 2015; current 1st year Master's student) was hung in the Clinic. This painting, which brightens the hallway outside the therapy rooms, was celebrated with a reception and unveiling in December 2014. It consists of three canvases, each 3 ft. x 4 ft. in size. The year-long project was conceived by Jessica and came to fruition through the combined efforts of the Department of Speech Pathology and Audiology, the Art Department, NSSLHA. Jessica proposed several communication themes for her work at the Miami University chapter of the National Speech Language Hearing Association voted on these themes. The chosen "Garden" theme, as explained by the artist, "expresses the process and the beauty of all stages as we learn and grow through therapy."
---
Dr. Hutchinson Marron Recieves OSLHA Award
At the 2015 Annual Ohio Speech Language Hearing Association Annual meeting, Kathy Hutchinson Marron, Ph.D. (Professor Emerita) received Fellow of the Association. We are so pleased that Kathy's many years of research, teaching, and service to our department and the profession could be recognized in this way.  Kathy is seen here with her nominators – Susan Baker Brehm, Ph.D. and Tammy Brown (nominator, Katie Baker not pictured)
---
Faculty News
Faculty Updates
Renee Gottliebson, Ph.D., CCC-SLP
Dr. Renne Gottliebson was promoted to a clinical faculty member in 2016. Dr. Gottliebson is a speech-language pathologist whose interests include the evaluation and treatment of voice disorders, particularly the care and training of the professional voice. Additionally, Dr. Gottliebson specializes in adult spoken communication enhancement and spoken English enhancement.
---
Kelly Knollman-Porter, Ph.D., CCC-SLP
Dr. Knollman-Porter was promoted to an assistant professor in 2016. Dr. Knollman-Porter is a speech-language pathologist whose interests include adult neurogenic language, speech, and cognitive disorders and dysphagia. She is currently directing the Miami University Stroke Group and Concussion Management Program. 
---
Retirees
Kathleen Hutchinson Marron, Ph.D., Professor Emerita, Miami University
Dr. Kathleen Marron retired in June of 2015. She and her husband, Dr. Michael Marron, have relocated to Tucson, Arizona.  Dr. Marron continues to review Audiology papers for the Journal of the American Academy of Audiology and the International Journal of Audiology.  Additionally, she has recently published two manuscripts.  Dr. Marron enjoys playing tennis and pickleball, reading, doing yoga, and spending time with family.  She says, "Most days I feel like I'm on summer vacation and that this is not my life."
---
Alice Kahn, Ph.D., Professor Emerita, Miami University
Dr. Alice Kahn fully retired in May of 2015. She recently was the winner of the 2016 Ohio Wildlife Legacy Stamp contest, through the Ohio Department of Natural Resources (ODNR) Division of Wildlife competition. She captured the winning photo of a butterfly in her very own backyard, and it will be commemorated as a stamp for all to see! Read more about this contest at: http://wildlife.ohiodnr.gov/stay-informed/news-announcements/post/buckeye-butterfly-selected-as-the-image-for-the-2016-ohio-wildlife-legacy-stamp
---
Barbara Weinrich, Ph.D., Professor Emerita, Miami University
Dr. Barabara Weinrich fully retired in December of 2013. She continues to see patients in her private practice in Middletown, Ohio and continues in her role as a research associate at Cincinnati Children's Hospital Medical Center. She is currently leading a research project at Cincinnati Children's examining voice change in young males in a partnership with the Cincinnati Boychoir.