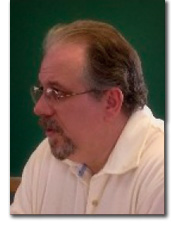 James Hanges, Professor in the Department of Comparative Religion, is a Miami (BA Classical Greek /MA Religion) Alumnus (Ph.D. University of Chicago, New Testament).
His primary research interest is the migration of religions in the Hellenistic and Roman Mediterranean. This general interest includes Judaism, and the early Christian communities as developments within Judaism, as an evolving and migrating spectrum of related communities that both shape and are shaped by the cultural contexts into which they move.
His classes consequently engage with questions that reflect a sociological approach to religious change within the larger context of societal changes. Such questions foster discussion of variation and not simply generalities, discontinuities and well as continuities.