Graduate Studies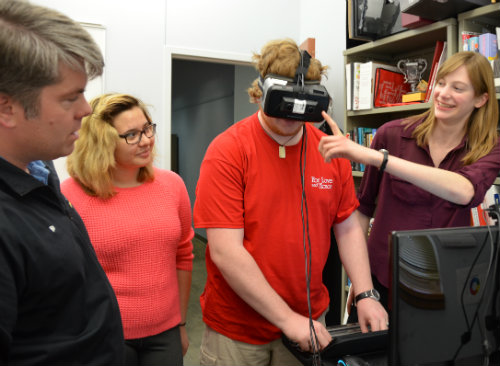 The Computer Science and Software Engineering Department offers a master's degree and a combined bachelors/masters degree program. Three tracks of study are offered: Academic (thesis-oriented research), Industry with Research Experience (project-oriented research), and Industry.
The mission of the Master of Science in Computer Science program is to prepare students for computing professions that require research or invention, or advanced or specialized knowledge. This includes possible pursuit of a PhD in computer science. Students (who are expected to hold a bachelor's degree in computer science or a closely related field) will learn contemporary topics in computer science that go far beyond what most undergraduate programs can provide, and will have the opportunity to work on independent research with a faculty advisor. The experience in research and invention that we provide prepares students for work at the cutting edge of computer science.
Combined Bachelor/Master's Program
This program provides the opportunity for high-achieving students to simultaneously complete any Miami University bachelor's degree along with a master's degree in computer science. The combined program is open to students of any major, provided they meet admission requirements (see below). Students admitted to the combined degree program may count nine credit hours of their graduate coursework towards their bachelor's degree, thus enabling them to complete their degrees in an accelerated fashion. With an undergraduate major in computer science or software engineering students can complete the combined program in five years. For more information on this program visit the Miami Bulletin.
Master's Program Requirements
For information on the program requirements for a Master of Science in Computer Science visit the Program Requirements section in the Miami Bulletin.
Research
Faculty have received grants from the National Science Foundation (NSF), Army Research Office (ARO), Office of Naval Research (ONR), National Institutes of Health (NIH), National Aeronautics and Space Administration (NASA), as well as other external support including grants from Proctor and Gamble, and the PhRMA Foundation. Two faculty members are National Science Foundation CAREER Award winners.
Research areas include:
Virtual and Augmented Reality
The Semantic Web, Ontologies, and Knowledge Representation
Artificial Intelligence, Evolutionary Computing, Machine Learning
Software Engineering Education and Computer Science Education
Bioinformatics
Model-driven Software Engineering, Design Patterns
For more information about research interests, visit our faculty web pages.