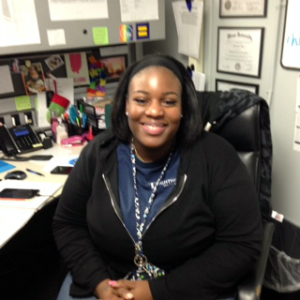 Amber Wynn, L.S.W., is a shining example of what our graduates can achieve as she has touched the lives of so many children and families across the community. Amber was one of the first students to enter the Greater Miami Valley Joint M.A.S.W. program, a collaboration between Miami and Wright State University. Four years old, our program is growing in both the number of students and field placements. We are honored to spotlight Amber who represents one of the most important components of our program, equipping passionate and skilled professionals who serve clients, families and communities.
After receiving her M.A.S.W., Amber began working with children and families in the Foster Care and Adoption program at Lighthouse Youth Services. She provides support and resources to foster families and the children placed with those families. Her daily activities vary but include providing intensive support to her young clients and the foster families that are working to meet the need of the new child in their home. Amber often completes assessments for clients who are receiving a mental health diagnosis for the first time, and connects them to psychiatric services in the community. Amber is also working towards becoming a Licensed Independent Social Worker (L.I.S.W.) and has a personal commitment to studying at least thirty minutes daily.
Amber has been working for nearly two years in the social work field after receiving her Masters of Arts in Social Work (M.A.S.W.) degree from Miami University nearly two years ago. Before obtaining her M.A.S.W., Amber received her B.S.W. from Miami. She completed her field placement in a local YWCA and Christ Hospital where she honed her social work skills in biopsychosocial assessments, case management and discharge planning.