Events subject to change. Check back throughout the summer for more details and events.
Friday, September 28
Art Museum Exhibitions Open
10 am–5 pm, Art Museum
Admission is free to all. Learn more about the exhibits on the Art Museum website.
---
Admission Information Session and Campus Tour
10 am–Noon, Admission Visit Center – Shriver Center
The Office of Admission hosts a 30 minute information session followed by a 90 minute student-led campus tour.
---
Miller Center for Student Disability Services Open House
2–5 pm, 304 Shriver Center

The Miller Center for Student Disability Services invites our RedHawk family to an Open House celebrating the generous gift made by J. Scott and Susan MacDonald Miller to support students with disabilities at Miami. Stop by to meet and thank the Millers, enjoy refreshments, meet the Miller Center staff and tour our new space, and delight in our collection of stunning artwork from regional organizations featuring local artists with disabilities.
---
Family Welcome Center
3–6 pm, Armstrong Student Center Atrium
As you arrive in Oxford, stop by our welcome center located in Armstrong Student Center. Enjoy free refreshments while picking up information on all of the weekend's fantastic events. It's the best way to start an amazing weekend of celebration.
---
Office of Diversity Affairs Open House
4–6 pm, Armstrong Student Center – Cultural Center, Women*s Center, LGBTQ* Services
Visit the Office of Diversity Affairs Open House and learn about their three functional areas and the many services/programs they offer to serve the Miami University Community. All are welcome and encouraged to come!
---
Study Abroad Information Sessions
4:30–5:15 pm; 5:15–6 pm, MacMillan Hall
Did you know that almost 60% of Miami students study abroad or away before graduation? Come to one of our two information sessions to learn about the many programs open to Miami students. Members of our staff will also be available to answer questions.
---
Honors Program Reception
4:30–6 pm, Old Manse
Families with students in the University Honors Program: Join us for a drop-in reception at Old Manse to meet Honors Program staff and start off Family Weekend! Light refreshments will be served. RSVP not required, but appreciated for catering numbers. Please contact honorsadvising@miamioh.edu with RSVPs, dietary restrictions, and questions regarding accessibility.
---
Greek Week Bandstand
7 pm, Millett Lawn
Friends and families are invited to the Millett Lawn to enjoy live performances for student organizations and Greek Chapters here on campus. There will be free food from food trucks, lawn games, and hours of entertainment as Fraternities and Sororities compete to be Greek Week champions!
---
Chinese Festival: Global Confucius Institute Day 2018
5:30–8:30 pm, Cook Field & Uptown Parks

Confucius Institute at Miami University (CIMU) is proud to host the 4th Annual Chinese Festival in Oxford. Participate in this globally recognized event and join our local community to learn Chinese culture, language, and enjoy cultural activities. All activities are free and open to public.
Saturday, September 29
Oxford Farmers' Market & Student Performances
8 am–Noon, Uptown Parks
More than just produce, this award winning Farmers' Market has baked goods, little sprout kids activities, and artisan wares. Enjoy yoga in the park, free donuts and coffee and student group performances.
---
Classes Without Quizzes
9–10 am & 10:15–11:15 am, Armstrong Student Center
A perennial favorite with Miami alumni, Classes Without Quizzes hits the Family Weekend scene again this year! You're certain to learn something new during these classroom sessions with top Miami faculty. Classes Without Quizzes is free and open to all, with no advance registration required. Class topics TBA.
---
2018 Hike-A-Thon Plus
9 am–2 pm, Miami University Natural Areas Trails (just past Miami Equestrian Center and Miami Police Dept.)
Take a hike and support a great cause! This free, rain or shine event will raise funds for "Paws for a Cause Miami", a service dog charity. It also offers opportunities to discover our local natural resources, learn from various demonstrations, and explore by hiking on marked trails at the Miami University Natural Areas. With over 1,000 acres and 17 miles of trails that cross beautiful streams, woodlands and wildlife, Miami University's Natural Areas are perfect for beginner, moderate, and experienced hikers interested in this 1-, 3-, or 5-mile event. No registration is required – just show up!
---
Continental Breakfast & Panel Discussion: "Navigating Substance Use Issues in College"
9:30–11:30 am, The Haven Outpatient Center, 16 S. Campus Ave.
Join Miami students in recovery and their parents for a lively panel discussion as they share their experiences and provide perspective on getting through what can be a challenging time for families. The panel will be facilitated by Miami Alum William Lammers '70 and Jeremiah Gardner, Director of Communications and Public Affairs at The Hazelden Betty Ford Foundation--both men in long term recovery who are passionate advocates for addiction education and recovery advocacy. William recently set up the "William J. Lammers Educational Fund for Alcohol and Other Addictions" at Miami, which focuses on education and programming involving both students and their families.
---
Dance Theatre Family Weekend Performance
9:30–11 am, 115 Phillips Hall
Dance Theatre invites you to attend our Family Weekend Showing for family, friends, and those that enjoy dance. Join us for a continental breakfast at 9:30 am, followed by a company warmup and demonstration of movement across the floor. At 10 am there will be a showing of work from our upcoming December Winter Concert. This is a wonderful opportunity to meet the 2018-19 Dance Theatre company and get a glimpse of the dances that will be in the concert. Everyone is welcome!
---
M.O.V.E. Outdoor Bootcamp
10 am, Lewis Place, 301 E. High St.
M.O.V.E (Miami & Oxford Value Exercise) Outdoor Bootcamp was established as a town-gown event for all levels and taught by Miami Rec Group Fitness Instructors. Join President and University Ambassador Crawford for a 45 minute workout followed by an unofficial social event where we have light snacks and t-shirts for participants.
---
Career Center Open House
10–11:30 am, Center for Career Exploration & Success, 0045 Armstrong Student Center
---
Greek Week Puddle Pull
TBD, Millett Hall West Lawn
Come watch members of the Greek community battle it out in the puddle pull competition!
---
Admission Information Session & Campus Tour
10–Noon, Farmer School of Business – Taylor Auditorium

The Office of Admission hosts a 30 minute information session followed by a 90 minute student-led campus tour.
---
Miami RedHawk Tailgating
10:30 am, Millett Lawn & East Lot

Start gameday off right with tailgating! Set up your own tailgate or join with another tailgate in the RedZone, located on the West side of Millett. Tailgaters can also help welcome the Miami Football team to the stadium roughly two and a half hours prior to game time. Are you looking for more information on Miami's fraternities or sororities? Please join the Interfraternity Council (IFC), National Pan-Hellenic Council (NPHC), and the Panhellenic Association (PA) for our Go Greek Family Weekend BBQ! Come out for free food, lawn games, a DJ, and a chance to meet current fraternity and sorority leaders! Join one of the many tailgates before the football game!
---
Hawk Walk
Just before 1 pm, Millett Parking Lot

Welcome the RedHawks to the Stadium at the Hawk Walk. Be there to meet the team with the Miami University Marching Band and Cheerleaders before the big game.
---
Miami University Marching Band Concert
2:30 pm, Field Hockey Complex

Enjoy a free concert before kickoff - The Field Hockey Complex is just west of Yager Stadium.
---
Football vs. Western Michigan
3:30 pm, Yager Stadium

Cheer on the RedHawks as the open Mid-American Conference play against the Western Michigan Broncos. Tickets may be purchased by calling (513) 529-4295 or by visiting MiamiRedHawks.com.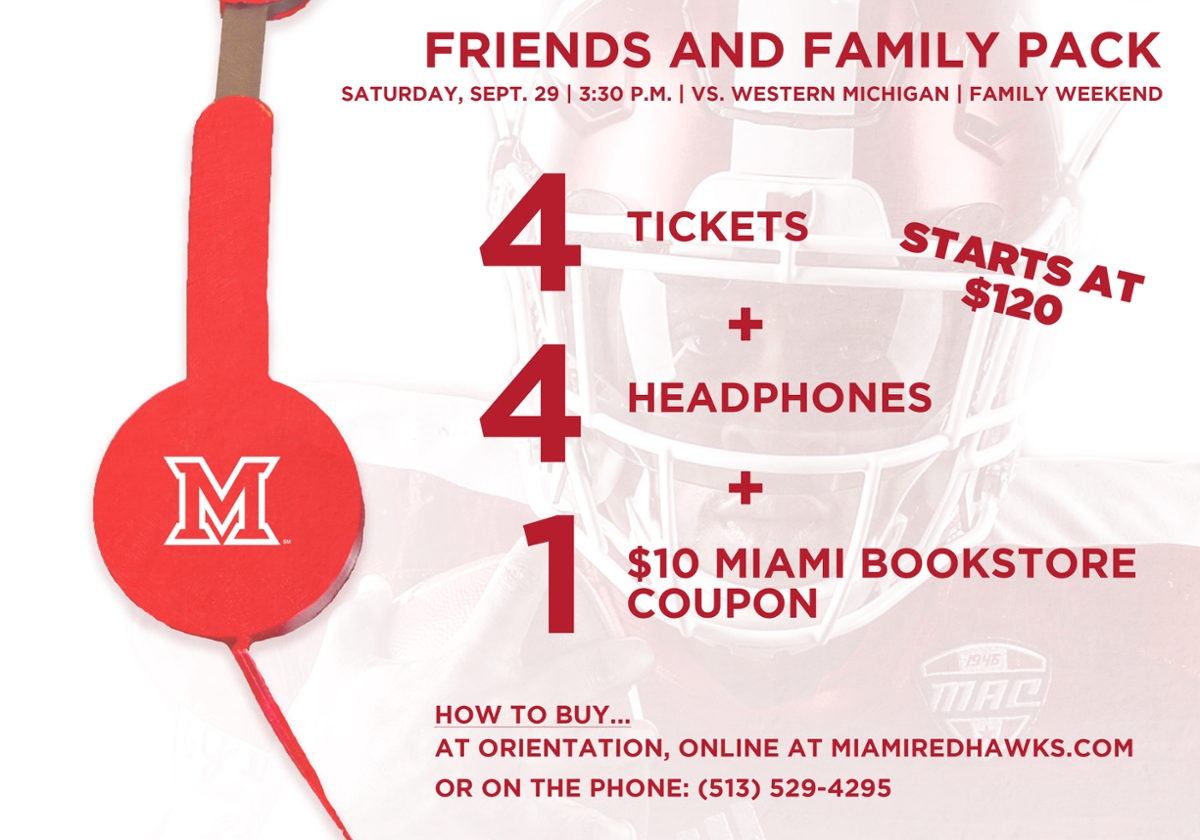 ---
Family Weekend Feast
5–8 pm, Martin Dining Commons
Enjoy a delicious dinner between Family Weekend Activities. The Martin Dining Commons location is ideal to grab dinner between the football game and the Gabriel "Fluffy" Iglesias performance. Cost: Buffet swipe for students; Guest swipe or cash/card ($12.95) for families. No reservations needed. First come, first served.
---
BINGO!
TBD, Armstrong Student Center Dining Area
Join the Residence Hall Association for some family-fun featuring BINGO! Come play to win amazing prizes that will include Miami gear and a variety of other prizes!
---
Gabriel "Fluffy" Iglesias, Live!
8:30 pm, Millett Hall
"ONE SHOW FITS ALL" World Tour
$48* all seats
Tickets On Sale Now!
Celebrating 20 years in stand-up comedy, Gabriel "Fluffy" Iglesias is one of America's most successful stand-up comedians performing to sold-out concerts around the world, bringing his hilarious stand up to Family Weekend 2018.
One of the most watched comedians on YouTube with over 350,000,000 views and has over 9 million fans on Facebook. Gabriel's stand-up comedy is a mixture of storytelling, parodies, characters and sound effects that bring his personal experiences to life. His unique and animated comedy style has made him popular among fans of all ages.
*Includes box office fees; other fees may apply
Content may not be appropriate for all ages.
Sunday, September 30
MAP and MUSF Brunch and Silent Auction with President & Dr. Crawford
10:30 am–Noon, Armstrong Student Center- Fritz Pavilion

Hosted by Miami University Student Foundation (MUSF) and Miami Activities and Programming (MAP).
Enjoy a great brunch buffet! Bid on a variety of items, from gift baskets to golf clubs, while supporting Miami University student scholarships. Over the last 15 years, MUSF has raised thousands of dollars to support student scholarships through our Family Weekend Auction. Be a part of changing a Miami student's life and join us for a morning of entertainment, food and both a silent and live auction!
---
Volleyball vs. Northern Illinois
2 pm, Millett Hall
Cheer on Miami Volleyball as the RedHawks take on the Northern Illinois Huskies at 2:00 p.m. in Millett Hall. Tickets can be purchased by calling (513) 529-4295, visiting MiamiRedHawks.com, or by visiting the Ticket Office located in Millett Hall.
For accommodations related to a disability, please contact the Miller Center for Student Disability Services: sds@MiamiOH.edu or 513-529-1541 (v/t). All campus shuttles running during Family Weekend are accessible.