Note: more events and details will be added as they are confirmed. All events are subject to change. Check back later for updates to events. 
Friday, October 6
The Clothesline Project

10 am–3 pm, Art Museum
Each year the Women*s Center highlights Domestic Violence Month by hosting "The Clothesline Project." This project began as a way to bring awareness and attention to the issue of violence against women. Over the years the event has expanded to include trans women, and those affected by violence due to their gender identity. As part of the event the Women*s Center provides opportunities for individuals to create a t-shirt that is representative of the personal struggles survivors of domestic violence experience.
---
Art Museum Exhibitions Open

10 am–5 pm, Art Museum
Admission is free to all. Learn more about the exhibits on the Art Museum website.
---
Classes Without Quizzes

3–5 pm, TBD
A perennial favorite with Miami alumni, Classes Without Quizzes hits the Family Weekend scene this year! You're certain to learn something new during these classroom sessions with top Miami faculty. Classes Without Quizzes is free and open to all, with no advance registration required. Location and class topics TBA.
---
Family Welcome Center

3–6 pm, Armstrong Student Center- Atrium
As you arrive in Oxford, stop by our welcome center located in Armstrong Student Center. Enjoy free refreshments while picking up information on all of the weekend's fantastic events. It's the best way to start an amazing weekend of celebration.
---
Center for Career Exploration and Success (CCES) Open House
TBD, Armstrong Student Center- CCES 0045
---
Honors Program Reception
4:30–6 pm, Old Manse
Families with students in the University Honors Program: Join us for a drop-in reception at Old Manse to meet Honors Program staff and start off Family Weekend! Light refreshments will be served. RSVP not required, but appreciated for catering numbers. Please contact honorsadvising@miamioh.edu with RSVPs and questions.
---
Family Fest

6 pm, Armstrong Student Center
Enjoy a Taste of Armstrong! The first 300 people will enjoy free samples from various food locations in the building. Not one of the first 300? Stop by for some dinner and join us in the Pavilion for games and activites!
---
Volleyball vs. Akron
7 pm, Millett Hall

Cheer on Miami Volleyball as the RedHawks take on the Akron Zips at 7:00 pm in Millett Hall. Tickets can be purchased by calling (513) 529-4295, visiting MiamiRedHawks.com or by visiting the Ticket Office located in Millett Hall.
---
Hockey vs. Providence

TBD, Goggin Ice Center

Miami Hockey opens the 2017-2018 season at Steve "Coach" Cady Arena in Goggin Ice Center against Providence College. Tickets may be purchased by calling (513) 529-4295 or visiting MiamiRedHawks.com.
---
Symphony Orchestra Performance

7:30–9:30 pm, Hall Auditorium
The orchestra concert will be held on Friday, October 6 featuring Beethoven's Symphony No. 7 and Cole Tutino's first performance as soloist with the Miami Orchestra, playing Joseph Joachim Raff, Concerto No. 1, Op. 193, a romantic concerto for cello.
Saturday, October 7
Run with the Crawfords: Family Weekend Edition

8:30 am, Leaves from Lewis Place
Want to make sure you get in some exercise during your Family Weekend experience? Join our President and University Ambassador, Greg and Renate Crawford, for a morning run and see some of Miami's Natural Areas before starting the day's activities. All ability and skill levels are welcome!
---
Oxford Farmers' Market

9 am–Noon, Uptown Park
More than just produce, this award winning Farmers' Market has baked goods, little sprout kids activities, and artisan wares. Our market is a staple of the Oxford community, join us!
---
Family Takeover of Oxford

9 am–Noon, All over Uptown
Explore Oxford's history and unique quirks with this area scavenger hunt. Win prizes and see all that Oxford has to offer. To get started, meet at the the red info cart located Uptown in the park, anytime between 9am and 12pm.
---
Admission Preview Day

9 am–Noon, Farmer School of Business
Have a high school junior interested in Miami? Join our Office of Admission for a Preview Day. Interact with our professors, students, and admission experts to learn more about the academic, student life, and experiential learning opportunities that await you.
---
Dance Theatre Family Weekend Performance

9:30 am–Noon, 115 Phillips Hall
Dance Theatre will be presenting our annual Family Weekend showing to family and friends. We will share with you our technique class structure by showcasing a brief warmup and across the floor movement. After this, the Company will dance rehearsed pieces as well as show short previews of each piece that will be performed in our 2017 Winter Concert.
---
Parent & Family Facebook Group Meetup

10 am, Uptown Park
---
Study Abroad and Miami Luxembourg Open House

10–11 am, MacMillan Hall Lobby

Did you know that almost 60% of Miami students study abroad or away before graduation? Come learn about study abroad opportunities for your students while enjoying European-style waffles and coffee!
---
Apple Butter Festival

10 am–5 pm, Hueston Woods State Park - Pioneer Farm

The Hueston Woods Apple Butter Festival provides a vignette of 19th century farm life and features continual making and canning of apple butter in the pioneer fashion throughout the event.
---
Tailgate

TBD, Millett Lawn/Lot
Start gameday off right with tailgating! Pre-purchase a parking pass starting at just $10 (through Sept. 26) and set up your own tailgate or join with another tailgate in the RedZone, located on the West Side of Millett. Tailgaters can also help welcome the Miami Football team to the stadium roughly two and a half hours prior to game time.
---
Miami University Marching Band Concert

TBD, Field Hockey Complex

Enjoy a free concert before kickoff - The Field Hockey Complex is just west of Yager Stadium.
---
Football vs. BGSU

TBD (Noon OR 2:30 pm—not yet announced), Yager Stadium

Cheer on Miami as they take on Bowling Green State University! Kick times won't be available until late September, but will either be 12 pm or 2:30 pm
Friends and Family Football Package
4+ Tickets
4+ Miami Hats
1 $10 Bookstore Coupon
*A minimum of 4 tickets must be purchased to receive this special pricing.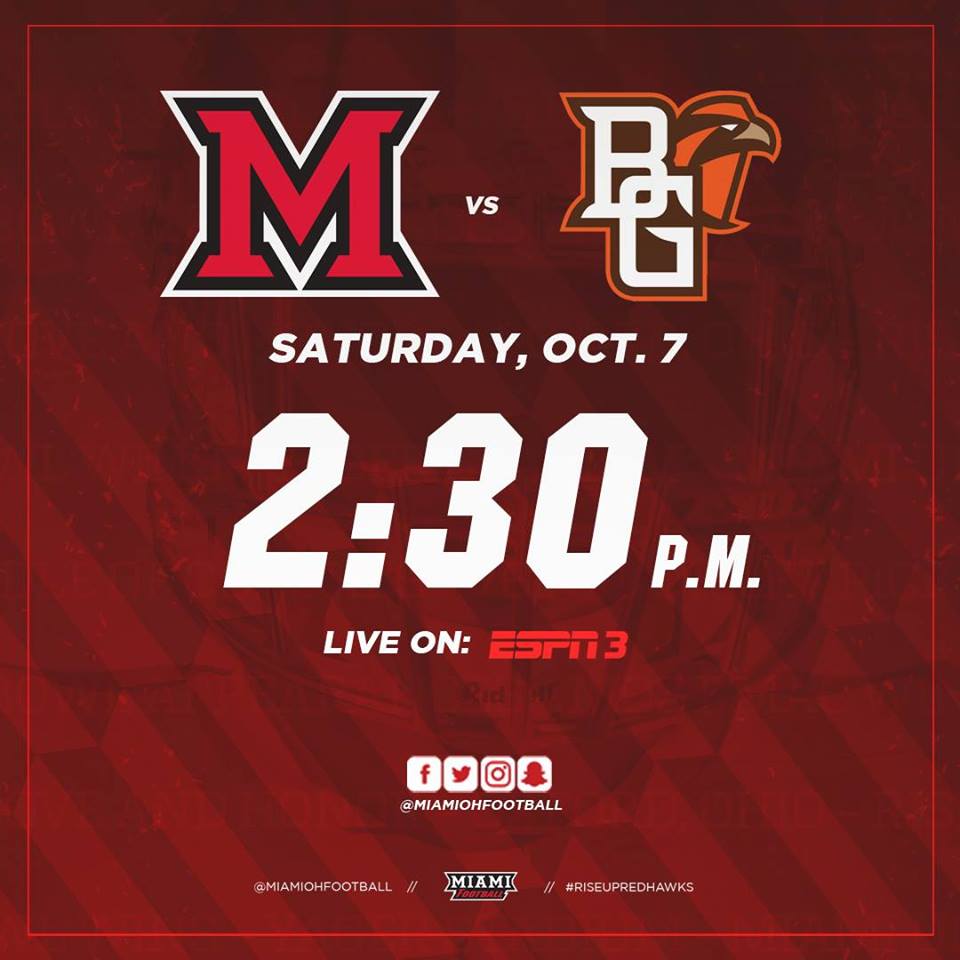 ---
Public Ice Skating
4–7 pm, Goggin Ice Center
Goggin Ice Center hosts weekend public ice skating sessions. Great fun for the entire family. Admission is free. Skate rental is $3.25, if needed. Visit the Goggin Ice Center website for details.
---
Special Family Weekend Dinner
5:30–7:30 pm, Martin Dining Hall
Enjoy a delicious dinner between Family Weekend Activities. The Martin Dining Hall location is ideal to grab dinner between the football game and the Trevor Noah performance.
---
Hockey vs. Providence
TBD, Goggin Ice Center
Cheer on the RedHawks for the second night of hockey during opening weekend against Providence. Tickets may be purchased by calling (513) 529-4295 or by visiting MiamiRedHawks.com.
---
Outdoor Movie in the Quad

TBD, Central Quad
---
Trevor Noah, Live!

8:30 pm, Millett Hall
Tickets $45*
On sale 10 a.m. EST, Wednesday, May 31
New York Times best-selling author and host of the award-winning TV show, The Daily Show, Trevor Noah, brings his hilarious stand up to Family Weekend 2017. Learn More »
*Includes box office fees; other fees may apply
---
Midnight Madness 2017

11 pm–1 am, Uptown Park
Join the excitement with Miami Athletics to kick off the Basketball Season! Immediately following the MU Hockey game or Trevor Noah Show, venture to Uptown Oxford to Main Street to watch a shoot out competition!
Sunday, October 8
Apple Butter Festival

10 am–5 pm, Hueston Woods State Park - Pioneer Farm

The Hueston Woods Apple Butter Festival provides a vignette of 19th century farm life and features continual making and canning of apple butter in the pioneer fashion throughout the event.
---
MAP and MUSF Brunch and Silent Auction with President and Dr. Crawford

10:30 am–12:30 pm, Armstrong Student Center- Fritz Pavilion

Hosted by Miami University Student Foundation (MUSF) and Miami Activities and Programming (MAP).
Enjoy a great brunch buffet! Bid on a variety of items, from gift baskets to golf clubs, while supporting Miami University student scholarships. Over the last 15 years, MUSF has raised thousands of dollars to support student scholarships through our Family Weekend Auction. Be a part of changing a Miami student's life and join us for a morning of entertainment, food and both a silent and live auction!
---
Softball Doubleheader vs. Rio Grande

Noon–4 pm, Softball Field

Cheer on Miami Softball as they face Rio Grande in a doubleheader - First game at 12:00pm, second scheduled for 2:00pm.
---
Soccer vs. Western Michigan

1 pm, Soccer Field

Cheer on the Miami Women's Soccer Team as they take on Western Michigan. This event is FREE to ALL!
---
Field Hockey vs. Longwood

2–4 pm, Field Hockey Complex

Join us for a Field Hockey game against Longwood!
For accommodations related to a disability, please contact Student Disability Services: sds@MiamiOH.edu or 513-529-1541 (v/t). All campus shuttles running during Family Weekend are accessible.