Mini-MBA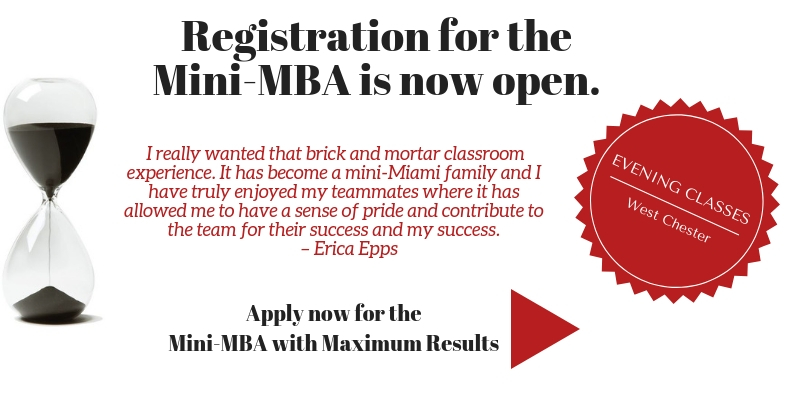 Looking to make a bigger impact at work…but lacking the business knowledge and tools?
Wondering if you need to spend several years and thousands of dollars to get a graduate degree to move your career forward?
Identifying what's limiting your career growth is the essential first step. And, you're not alone. Gaps in business knowledge are the barrier to better results and career advancement for many otherwise successful businesspeople. With organizations seeking ways to maximize their workforce productivity, employees who can contribute in different areas, and work seamlessly with employees with different skillsets are more valuable than ever.
That's why we created the Miami Mini-MBA Program.
The Miami Mini-MBA is an intensive fourteen-week program designed to meet the demanding schedules of working professionals. Classes meet one evening a week at Miami's Voice of America Learning Center in West Chester.
Students receive a broad-based, practical education in all the basic business areas - from accounting to strategy. Taught to be easily understandable and immediately applicable, by educators who are also business professionals.
These are the same faculty members who teach in our highly regarded MBA program. Their goal is the same as yours - giving you the tools you need to succeed!
Your path to accelerated career advancement starts here.