2011
Elizabeth French, Microbiology, "Differences in Growth Behavior of Ammonia Oxidizing Achaea and Ammonia Oxidizing Bacteria"
2011 Graduate Research Forum Top Poster Presentation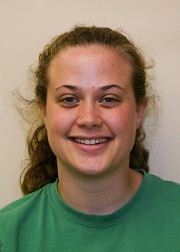 Elizabeth French, a graduate student in the department of Microbiology, received recognition as one of the top Poster Presentations at the 2011 Miami University Graduate Research Forum for her work "Differences in Growth Behavior of Ammonia Oxidizing Achaea and Ammonia Oxidizing Bacteria."  This research focused on the competition that takes place between ammonia-oxidizing bacteria (AOB) and ammonia-oxidizing Achaea (AOA).  Under close lab monitoring, the study involved growth experiments to measure how fast each group of organisms could grow under a variety of different conditions.  "By comparing these growth results, I was able to generate a model" said French.  "This model suggests that AOB are the predominant ammonia oxidizer in high substrate environments while AOA are more successful competitors in low substrate environments."
French developed an interest in microbiology while taking an introductory undergraduate course, which led to the pursuit of graduate work.  WIth further exposure to diverse lab opportunities, she decided to focus specifically on environmental microbiology and microbial ecology.
For this project, with the assistance and support of faculty advisor Annette Bollman, French worked with various cultures grown under a variety of conditions in order to measure the rate of growth under each condition.  "Annette helped me by teaching me how to work with the organisms that I study and helping me develop research questions and hypotheses to address via experimentation in the lab" said French.
French hopes to continue her current research with ammonia oxidizers in the summer of 2012 when she plans to test her current model.  "By studying how these organisms grow and respond to changes in the environment in which they function, we can better understand what role each is playing in the nitrogen cycle."  After graduation from Miami, she plans to work as a post-doctoral fellow in the field of environmental microbiology with the hope to one day teach biology at a small college or university.