Our learning space environment continues to explode. This boom adds an urgency to the need to develop a comprehensive institutional model to support this landscape in a seamless, consistent, and reliable manner whether the support is provided by central IT staff or the technology experts housed within the academic divisions.
A team has been formed and has begun developing a project charter, stakeholder analysis, and a project plan that will help build this comprehensive support model for all learning spaces across the Oxford campus.
Learning Space Tech Optimization team
Scott Campbell, CEC
Ricki Davidge, IT Services
Brian Henebry, IT Services
Randy Mikesell, IT Services
Guy Moore, CAS
Hitesh Naik, CEHS
March 13, 2018: 
Technology optimization project: Check your sticker!
Hopefully you've been keeping up with the recent TechTalk articles about the University-wide technology optimization project (here and here). University IT partners have been working hard to strengthen classroom support processes. To that end, we're starting a new content series from the learning space technology optimization team.
Today's How-to: New classroom signage!
Our teams have been hard at work making sure support numbers are displayed clearly in each room. Some of them look like this: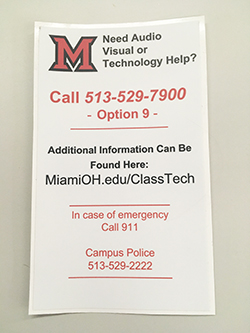 These stickers reflect how to obtain the quickest help for each space. Depending on the classroom, the phone numbers may differ, so please double check before calling IT Help.
Next week, we'll talk about the different routing options and who, exactly, supports your classroom.
May 2017 to February 2018 Updates
2/2/2018 Update
In December 2017, the Technology Support Services (TSS) team finished auditing and cataloging more than 500 learning spaces across the Oxford campus. These classrooms are in nearly every academic building, and figuring out how to support them is a key component to the tech optimization strategy.
For a complete project update, please visit Digital Transformation Across Campus in the December/January IT SErvices newsletter.
---
12/21/2017 Update
Updated project goals, status, and next steps:
Goals & Status
Ubiquitous and Standardized technology across five hundred Learning Spaces (eg: Inventory all rooms and Identify learning space standards). Achieving a ubiquitous standard requires collaboration across all University divisions. - Draft tech specs completed by Tech Optimization project team. Technology audit completed on over 500+ Learning Spaces.
Next Steps
Finalize tech spec draft and review with IT Leadership, PFD and CEC to validate alignment with Learning Space supportability and future needs.
---
9/22/2017 Update
Progress toward identified project deliverables:
Create a list of all learning spaces within the scope of the Technology Support Services (TSS) team

Learning space routing added to TDX and being evaluated by first responders. A discrepancy was identified in the Support Desk process and is being resolved.
Funding approved to pay student(s) to audit and finalize the list.
A process will need to be drafted for ongoing audit and maintenance.

Create a list of the standard technologies to be supported by the TSS team

Team will work on finalizing the supported technologies standards
A procurement process is needed for learning space purchases to assure standards are followed.

Identify all technologies needed to support and enable the above-mentioned deliverables

Will be completed in parallel with supported technologies documents.

Publish formal job descriptions and the overarching Job Family Structure for all TSS roles
Measurement Plan for monitoring performance and identifying potential future CI

Infrastructure discussions scheduled for next week around the use of FUSION.
Routing and ticket processing issues need to be resolved to start collecting data along KPIs. KPIs need to be identified and finalized.

Clearly documented definitions (that will be published on our website) of what services will be included within the scope of Technology Support Services Team – and – what, if any, services will be outside the scope of TSS. This deliverable is a Best Practice and avoids the potential for this effort to become… all things to all people all of the time.
---
8/4/2017  Update
Here is a summary of recent accomplishments:
Survey of credit bearing learning spaces has been completed for 200ish of 340ish (~60%) identified spaces.
Gap analysis documents the differentiation between core and premium requirements.
Student(s) will be hired to complete the survey work. Anticipated start August 7.
Purchasing process for equipment placed in credit bearing learning spaces has been documented.
Updated work process document to reflect new purchasing process.
Held working session to capture staff input to training needs for dispatch, tier I, tier II, tier III staff.
Created list assigning first responders to each room. Need to confirm the list.
CASiT has finalized their transition to TeamDynamix for ticketing and casithelp@MiamiOH.edu now generates tickets in TDX.
---
6/16/2017  Update
Recently the team has:
Reviewed drafts of the first set of related deliverables (service expectations, the list of potential learning spaces to be supported by TSS, standards for those spaces, and the work process to enable them) which are now available for a broader audience for review and comment
Updated the list of credit-bearing learning spaces for Fall 2017 to serve as the basis for technology-enabled credit-bearing learning spaces
Finalized the data model for technology-enabled learning spaces to use to collect critical support information and aggregate into a single source of truth
Boyd Hall was used as a prototype for detailed room inspections of credit-bearing learning spaces
---
5/1/2017  Update
Reviewed the classroom support process with a focus on how to allocate resources for first response. Talking through several potential approaches.
The Support Analyst I position has been posted to HireTouch.