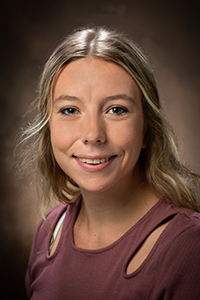 Stella Beerman
Stella joined the Myaamia Center in 2022 as a recent graduate of Miami University through the Myaamia Heritage Award Program. As a member of the Miami Tribe, it was during this program she deepened her understanding of her culture and strengthened her connection with the Myaamia community. She graduated in 2022 with a Bachelor's Degree in Journalism and Interactive Media Studies.

During her undergraduate experience, Stella found many ways to engage with the community; including serving as a counselor for the Eemamwiciki summer programs, attending community gatherings in Myaamionki, 'the Miami homelands,' and spending a summer interning in Miami, Oklahoma where the tribal headquarters are located.

Along the way, Stella found a passion for learning new ways in which a community spanning across the country can stay informed and connected with one another through means of digital communication. As a Communications Specialist at the Myaamia Center, Stella strives to inform and connect the Miami Tribe community with each other, as well as educate the greater Miami University community about the Myaamia Center's work.